Politics on Sunday – Sajid Javid, security, immigration and Northern Ireland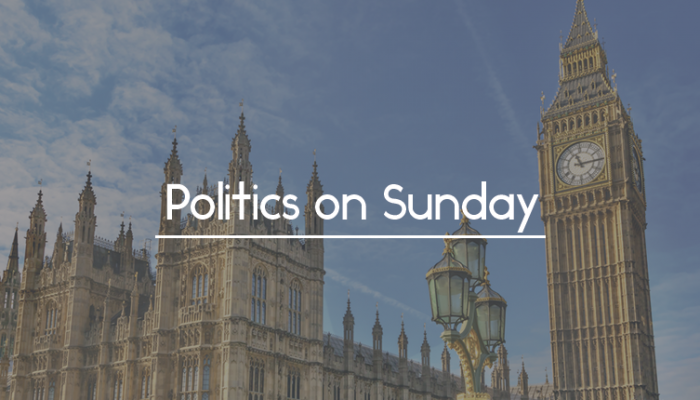 With Peston on Sunday off air until September, The Andrew Marr Show dominated the Sunday political coverage. The highest profile guest was home secretary, Sajid Javid.
Javid started with the issue that saw off his predecessor, the Windrush scandal. He revealed that 32 of those who have been deported are offenders and he does not want them to come back into the country. Of the 31 that remain, who the Home Office is trying to get into contact with and bring back to the UK, Javid said only seven have been contacted.
When asked about detentions, the Home Secretary said he did not know how many people had been detained but he accepted that people have been detained and made it clear that those who need the help are getting it most urgently. Javid said the first priority was to the people who need documentation right now, second was to those who have been deported and third to those who have been detained.
Javid also spoke about the immigration policy of the Government. He said he is committed to the Conservative manifesto and is committed to getting it to lower sustainable levels. When pushed on whether he is committed to the tens of thousands ambition, Javid said he is committed to the manifesto. Javid made clear he does not like the term 'hostile environment' he said it is 'un-British' and he prefers the term 'compliant environment'. Javid said lessons need to be learned from this policy and the hostile environment policy is being reviewed by the Home Secretary.
He also signalled a possible shift in policy by saying he will look at students being counted in the net migration numbers. Marr asked about tier two visas (the visa a foreign doctor would need), he said there are thousands of vacancies for doctors up and down the country and thousands of doctors are being denied visas. Javid again said this is something he will look at.
The Home Secretary said he will be asking for more money for the police, outlining the areas in which demand is rising. Javid said he does not have any commitments from the Chancellor on whether he will get more money or not. He also spoke about the Government's actions to tackle the terror threat; he said his 'number one priority will always be to keep our country safe'. He was, of course, asked about Brexit albeit briefly, saying he does not think any of the doom and gloom scenarios presented would come to pass.
Last week the Muslim Council of Britain and Baroness Sayeeda Warsi called for an investigation into Islamophobia in the Conservative party. Javid said the Muslim Council of Britain do not represent Muslims in this country, and that Marr would be hard pressed to find a group of Muslims who feel they are represented by the Council. On their point about Islamophobia in the Conservative party, he replied by saying look at who the Home Secretary is.
Stella Creasy and Andrew Lloyd Webber also appeared on Marr and both spoke about Brexit. Creasy said it does not look as though Brexit is going well and that the public should have a say on the final deal the Government achieve with the EU. Andrew Lloyd Webber said he does not feel as though he could sit in an unelected chamber and vote against the vote of the people. Lloyd Webber, who is a remainer, said the House of Lords has changed a lot over the 20 years he has been a peer.
Creasy also spoke about abortion laws focusing on Northern Ireland, she gave the example that a woman who has been raped and fell pregnant and then got an abortion could face a longer prison sentence than the person who raped her. What Creasy wants is legislation to be repealed as it is outdated and it is stopping people 'having medical rather than criminal laws about abortion'. Creasy also spoke about abortion on Ridge on Sunday and she was questioned on the claim that she was respecting devolution. Ridge said women in Ireland voted for the decriminalisation of abortion in Ireland so why should politicians in Westminster decide what is right for Northern Ireland. Creasy said the only women in Northern Ireland with a say over abortion in Northern Ireland is Arlene Foster and by repealing the law it does not write a new law for Northern Ireland, it just leaves a gap for legislation to be put into place.
An interview with Arlene Foster was published on Ridge, where she made clear that marriage equality and abortion are devolved issues. Foster also said she has received emails from nationalists and republicans who will now be voting for the DUP as they believe they are the only party that supports the unborn.
Check out our Canvas of all the best coverage from the Sunday Political shows here and find out how to make your own Canvas here.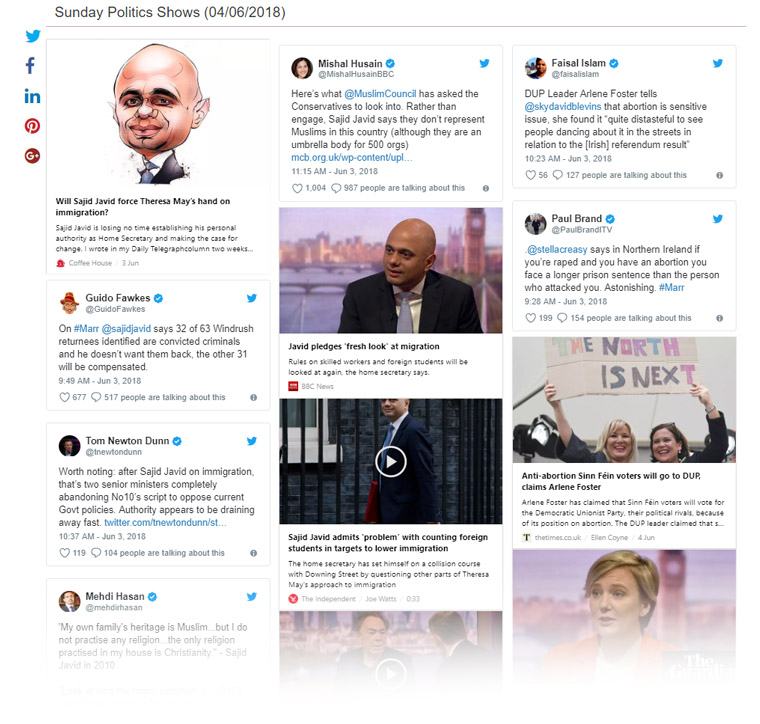 https://www.vuelio.com/uk/wp-content/uploads/2017/11/Politics-on-Sunday.png
430
760
Daniel Loman
https://www.vuelio.com/uk/wp-content/uploads/2019/09/vuelio-logo.png
Daniel Loman
2018-06-04 09:55:54
2018-06-04 09:55:54
Politics on Sunday - Sajid Javid, security, immigration and Northern Ireland