Political Headlines – Sajid Javid dominates the news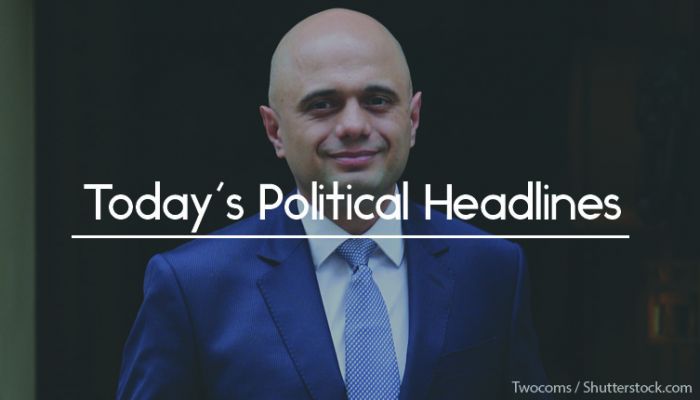 Today's Political Headlines include Sajid Javid's counter-terror plans, Sajid Javid's challenge of Government policy and Sajid Javid's part in the visa cap being lifted on doctors. 
Javid to announce new counter-terror plans
The BBC reports that Home Secretary Sajid Javid is to announce an update to the Government's counter-terror strategy in a speech today. He will set out plans for MI5 to declassify and share information on citizens suspected of having terrorist sympathies across the Government, local authorities and the police. The Guardian adds that figures from the Sentencing Council show that the police and security services are facing a surge in convicted terrorists released from prison.
Two ministers challenge Government policy
The Times claims that Theresa May's authority has been 'dealt a blow' after two ministers publicly challenged Government policy. Home Secretary Sajid Javid promised to review immigration policy, while Tobias Ellwood, the Minister for Veterans, called for a statute of limitations on offences committed by British troops in Northern Ireland during the Troubles.
May planning to lift visa cap on doctors
The Daily Telegraph reports that Theresa May will lift the visa cap on doctors from outside the EU 'within weeks', in order to meet the demands of the NHS. According to the paper, discussions have reached a 'fairly developed stage' following interventions from Health and Social Care Secretary Jeremy Hunt and Home Secretary Sajid Javid.
'No strong business case' for diverging from EU regulations, thinktank says
The Guardian says that the thinktank Open Europe, which it claims is one of the 'closest to Downing Street' has claimed in a report that there is 'no strong business case' for immediately diverging from EU regulations and that an 'enhanced mutual recognition agreement' should be agreed between the UK and the EU. The paper also reports that the Mayor of London, Sadiq Khan, has called on MPs of all parties to support amendments to the EU (Withdrawal) Bill put forward by the House of Lords.
May facing rebellion over Heathrow vote
The Daily Telegraph claims that the Prime Minister is facing a rebellion from Boris Johnson and other senior Conservative MPs over Heathrow expansion. Theresa May is reportedly considering imposing a three-line whip on the issue as she is worried that the Government may lose the vote and that allowing a free vote would set a dangerous precedent.
MPs call for companies to disclose climate risks
The Financial Times reports that the Commons Environmental Audit Committee has called on the Government to introduce new rules requiring pension funds and UK-listed companies to disclose climate-related risks. Mary Creagh, the committee's chair, said that she also wanted pension trustees to 'have a duty to consider long-term sustainability, not just short-term returns'.
Cross-party group seeks to up pressure over Northern Ireland abortion law
The Guardian reports that a cross-party group of MPs is to increase pressure on the Prime Minister to decriminalise abortion in Northern Ireland by demanding an emergency debate. MPs include Labour's Stella Creasy and Lib Dem Jo Swinson hope to force the Government to come to the Commons and defend its position.
EU gives UK just weeks to agree dozens of trade deals
According to The Times, the UK will have just a matter of weeks to negotiate trade deals with over 40 countries including Japan and South Korea, as the EU has refused to assist with extending existing trade agreements until the Brexit treaty has legally been signed-off.
Vuelio Political Services are available for custom political intelligence. Find out more.
https://www.vuelio.com/uk/wp-content/uploads/2018/06/Sajid-Javid-2.jpg
430
760
Thomas Stevenson
https://www.vuelio.com/uk/wp-content/uploads/2019/09/vuelio-logo.png
Thomas Stevenson
2018-06-04 08:34:36
2018-06-04 08:34:36
Political Headlines - Sajid Javid dominates the news