Political Headlines – Gove's Guilt, Huawei's Help and Brexit latest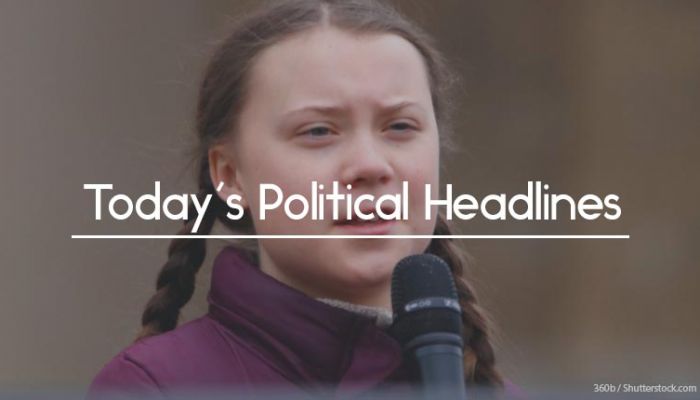 Today's political headlines includes Gove's guilt, Huawei's help, Brexit latest and Trump's visit.
Gove admits 'guilt' after teenager climate change campaigner's speech
The Times reports on yesterday's speech to Parliament by the 16-year-old Swedish climate change campaigner Greta Thunberg. Environment, Food and Rural Affairs Secretary Michael Gove said she made him feel 'guilt' because 'we have not done nearly enough to deal with the problem', but Thunberg accused the Government of 'creative accounting' and criticised its support for fracking, North Sea oil and gas, airport expansion and climate change.
Huawei to help build new 5G network despite security concerns
The Daily Telegraph says Theresa May has agreed that Huawei can be involved in the UK's new 5G network following a meeting of the National Security Council, at which ministers including Sajid Javid, Jeremy Hunt, Gavin Williamson, Liam Fox and Penny Mordaunt raised concerns about the firm. The paper says the decision 'is likely to anger' the USA, which banned Huawei from Government networks and has pressed the UK to follow suit.
Labour says Government is failing to offer changes in Brexit talks
The Guardian reports that Labour has accused Theresa May of not offering any substantive changes to the Brexit deal in cross-party talks, and refusing to accept alterations to the political declaration. Instead, ministers suggested redrafting the withdrawal act implementation bill and modifying other planned bills. According to The Daily Telegraph, Cabinet ministers have told May to end the talks 'immediately' and focus on persuading the DUP to back the deal instead. Meanwhile, a meeting of the executive of the 1922 Committee of backbench Conservative MPs didn't reach a conclusion on changing leadership challenge rules yesterday, but will meet again today.
Clash over Trump visit
The Times says the Speakers of the two Houses of Parliament disagree over whether Donald Trump should address parliamentarians during his visit in June. Lords Speaker Lord Fowler said that there was a 'strong case' as it would be the anniversary of the D-day landings, but Commons Speaker John Bercow has suggested the honour should be earned. Shadow Foreign Secretary Emily Thornberry said that hosting the visit would be a waste of taxpayers' money.
Javid under pressure to act over language test scandal
The Guardian says Home Secretary Sajid Javid is under pressure to act over an immigration scandal, which MP Mike Gapes has warned is 'a bigger scandal than Windrush in terms of the number of individuals removed form the country'. It involves around 34,000 foreign students whose visas have been cancelled or curtailed and over 1000 who have been forcibly removed after being accused of cheating in English language tests with no right of appeal.
Rachel Johnson to stand as Change UK candidate
The Daily Telegraph reports that Change UK have selected Rachel Johnson, the sister of the Conservative MPs Boris and Jo Johnson, as one of its candidates for the European elections. She said she has 'entered politics to spend more time with my family'. Other candidates include former BBC presenter Gavin Esler and former Conservative and Labour MPs. One candidate, Ali Sadjady, has had to step down after inappropriate tweets were discovered.
Farage unveils more Brexit Party candidates as Widdecombe defects
The Sun says Nigel Farage said yesterday that his Brexit Party will target voters in Labour heartlands during the European elections and unveiled more candidates, including a former Royal Marine, a millionaire, a former Communist, a former charity boss and a former nurse. The Daily Express adds that ex-Conservative MP Ann Widdecombe will stand for the party.
Universal Credit to hit 'the persistently poor the hardest'
The Daily Mirror says that Institute for Fiscal Studies research on Universal Credit shows it will leave at least 1.9m people worse off by at least £1000 a year, hitting 'the persistently poor the hardest'. The Department for Work and Pensions said the study 'wrongly assumes that everyone was claiming their full benefit entitlement under the old system'.
Keep up to date with climate change activism and every political issue that matters to you – find out more about Vuelio Political Services.  
https://www.vuelio.com/uk/wp-content/uploads/2019/04/Greta-Thunberg-.jpg
430
760
Thomas Stevenson
https://www.vuelio.com/uk/wp-content/uploads/2019/09/vuelio-logo.png
Thomas Stevenson
2019-04-24 09:05:35
2019-04-24 09:05:35
Political Headlines - Gove's Guilt, Huawei's Help and Brexit latest