Political Headlines – Javid's stop-and-search, antisemitism, Brexit and students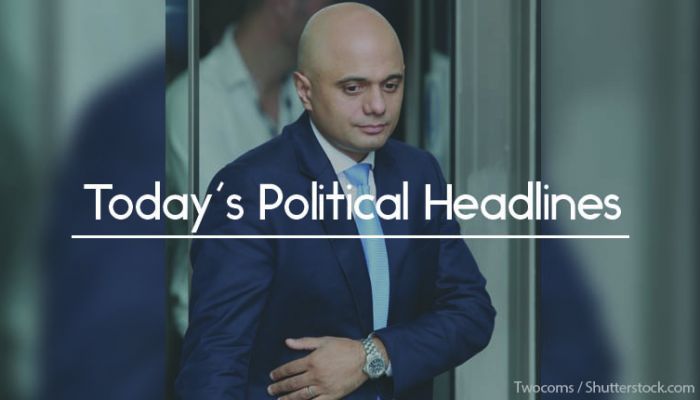 Today's Political Headlines include Javid's stop-and-search plans, the ongoing antisemitism issues in the Labour party, the Brexit latest and a lack of foreign students. 
Javid plans greater use of stop-and-search powers
The Times says that Sajid Javid is planning to extend the use of stop-and-search powers to cover anyone thought to be carrying acid without good reason, as well as those carrying laser pointers and drones. This would ease restrictions on the use of the powers which were imposed by Theresa May when she was Home Secretary.
Willsman elected to Labours NEC as it prepares to adopt antisemitism definition
The Daily Telegraph reports that Peter Willsman has been elected to Labour's National Executive Committee (NEC) by party members, despite having claimed that 'Trump fanatics' were 'making up' antisemitism allegations. He has said that he will use the post to 'defend our leader'. Amanda Bowman of the Board of Deputies of British Jews described his election as 'deeply concerning'. The Guardian adds that the NEC is expected to adopt the IHRA definition of antisemitism in full, alongside a clarification on free speech when talking about Israel. The Sun has obtained footage of Corbyn praising a meal he had with Hamas.
Voters in marginal constituencies reject Chequers plans, but 2.6m more Britons now back remaining in the EU
The Daily Telegraph reveals a new poll for pro-Brexit group Global Britain by IQR, which finds that most voters in marginal constituencies believe that the Chequers Brexit proposals are 'bad for Britain'. Meanwhile, The Independent carries a study by Focaldata and YouGov for pro-EU campaigners Best for Britain which shows that 2.6m voters have switched from backing Brexit to wanting to stay in the EU, enough to change the referendum result.
Universities call for foreign students' right to work to be reinstated
The Financial Times reports that Universities UK has called for the Government to reintroduce the right for foreign students to work in the UK after graduation on a temporary basis in order to help attract international talent. The policy was axed in 2012, but the group believes that it would help to relieve the country's skills gap.
MPs to vote on making misogyny a hate crime
The Sun reports that MPs are to vote on an amendment tabled by Labour MP Stella Creasy which would make misogyny a hate crime. The amendment has been tabled to the Voyeurism Bill and would make misogyny an aggravating factor in upskirting offences, and she hopes to use it as the first step to making misogyny equal to other offences such as those based on race.
New planning policy to be challenged in courts
The Guardian says that the Government is to be challenged in the courts over its new National Planning Policy Framework. Friends of the Earth believes that the policy was illegally adopted because its environmental impact was not assessed, despite it making it 'virtually impossible' for councils to reject fracking proposals.
Budget may be brought forward to next month
The Times claims that the budget could be brought forward to late October in order to avoid a clash with the closing stages of the Brexit negotiations. Another possibility is that it could instead be postponed, perhaps to December. Philip Hammond faces a dilemma as the outcome of negotiations will change the assumptions contained in the budget, but enough notice should be given in order that changes can be implemented in the next financial year.
Sturgeon to set out details of new legislation
The BBC reports that Nicola Sturgeon is to set out her plans for the new year, announcing a dozen new pieces of legislation. The Scottish First Minister's new proposals are expected to cover areas including mental health, the economy, low-carbon growth and social security.
It's hard to keep up with every political story that matters to you. Make it easy with Vuelio Political Services.  
https://www.vuelio.com/uk/wp-content/uploads/2018/09/Sajid-Javid-3.jpg
430
760
Thomas Stevenson
https://www.vuelio.com/uk/wp-content/uploads/2019/09/vuelio-logo.png
Thomas Stevenson
2018-09-04 09:32:15
2018-09-04 09:32:15
Political Headlines - Javid's stop-and-search, antisemitism, Brexit and students