Political Headlines – Tory rebels, Labour antisemitism, sex offenders and trade plans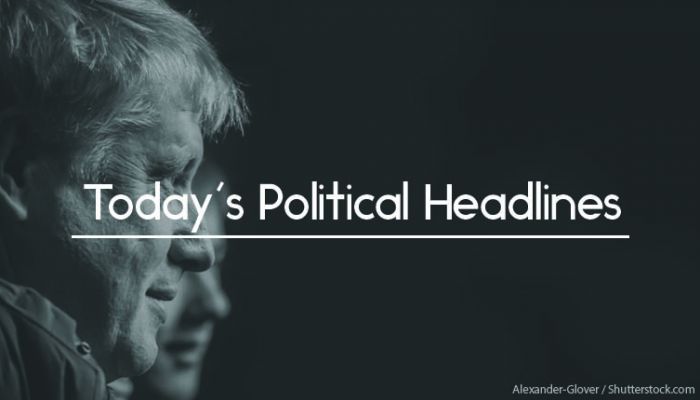 Today's Political Headlines include the Tory rebels joining Stand Up 4 Brexit, Labour figures intervening in the antisemitism dispute, Javid tackling online sex offenders and Barnier's opposition to British trade plans. 
Tory MPs criticise Government's Brexit plans
The Times says that 20 Conservative MPs, including Priti Patel and Iain Duncan Smith, have joined the Stand Up 4 Brexit group which opposes Theresa May's Brexit proposals, while former Brexit Secretary David Davis has also promised to vote against the plans and Remain supporter Nick Boles has voiced opposition to the plans, suggesting a two-stage Brexit with closer initial ties. Writing in The Daily Telegraph, Boris Johnson says that the proposals are a 'victory' for the EU and a 'fix' that will leave 'the UK lying flat on the canvas'.
Hodge, Brown and Thornberry intervene in antisemitism dispute
The Guardian reports that Margaret Hodge used a speech at the Jewish Labour Movement conference to claim that the party's antisemitism row would only end if Jeremy Corbyn stepped down, saying that she planned to 'stand and fight' in the party. Gordon Brown told the conference that the party needed to 'unanimously, unequivocally and immediately' adopt the IHRA antisemitism definition. Speaking to the Financial Times, Shadow Foreign Secretary Emily Thornberry has also backed the use of the definition, claiming that it did not prevent criticism of Israel.
Javid announces new policy to tackle online sex offenders
The Daily Mail says that Home Secretary Sajid Javid is to use a speech today to reveal what it calls 'the shocking extent of the threat to children from online sex offenders'. He will says that at least 80,000 paedophiles are active online and announce a change in approach to the issue, calling on tech firms to do more and revealing extra funding for investigators.
Barnier 'strongly opposed' to British trade plans
The Guardian reports that the EU's chief Brexit negotiator Michel Barnier has claimed the he is 'strongly opposed' to Theresa May's Chequers proposals on trade, warning car manufacturers that they would need to use fewer British components. He warned that British plans were 'not practical' and 'an invitation to fraud'.
Just 100 follow Banks' call to join Tories
According to The Sun, just 100 UKIP supporters have followed Leave.EU founder Arron Banks' call for them to join the Conservatives so they can vote in the next leadership election. The party tracked referrals from the link in Banks' email and vetted those who had followed it.
Falklands call on Gove to make sure that 'no penguin is left behind' after Brexit
The Daily Telegraph carries a warning from the Falklands trade minister Teslyn Barkman that the islands will lose millions of euros in funding for penguin conservation projects after Brexit. She has called on Michael Gove to make sure that 'no penguin is left behind' and to offer more clarity on the UK's replacement funding programme.
New figures show Brexit department's high staff turnover
The Independent reports on data obtained by the Liberal Democrats that shows that 357 staff have left the Department for Exiting the European Union in the last two years, despite it only employing 665 people, giving it a staff turnover of over 50%. Lib Dem MP Tom Brake warned that the high turnover made a no-deal Brexit 'ever more likely'.
HS2 legislation to be delayed by a year
The Times claims that the Government is to delay legislation for HS2's link to Manchester and Leeds by a year. It claims that this is necessary in order to integrate the project with other upgrades in the region and will not delay it, but the leader of Leeds City Council, Judith Blake, has expressed concern.
Are you up to date with Brexit? If you're worried you're missing something, get Vuelio Political Services.  
https://www.vuelio.com/uk/wp-content/uploads/2018/09/Boris-Johnson-looking.jpg
430
760
Thomas Stevenson
https://www.vuelio.com/uk/wp-content/uploads/2019/09/vuelio-logo.png
Thomas Stevenson
2018-09-03 09:25:25
2018-09-03 09:30:32
Political Headlines - Tory rebels, Labour antisemitism, sex offenders and trade plans