Political Headlines – Johnson's trade deal priorities and the journalist demanding an apology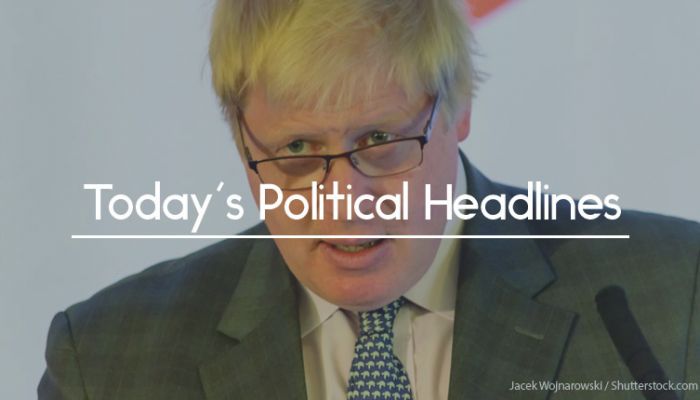 Today's political headlines includes the journalist demands an apology from Boris, Johnson's USA trade deal priority, Gauke's plans to remove requirement for prisoners to declare convictions and Gove's consultation on banning trophy hunters. 
Journalist whose address Johnson gave to fraudster for attack demands apology
The Guardian says that Stuart Collier, the journalist whose address Boris Johnson was recorded agreeing to give to the fraudster Darius Guppy so that he could be assaulted in revenge for his investigation of Guppy's activities, has demanded an apology. He said that it was 'disgraceful' that Johnson was on course to become Prime Minister, adding that while Johnson has dismissed the incident as a joke, it had 'worried' him.
Johnson makes trade deal with USA first priority
The Times claims that Boris Johnson would make resetting the UK's relationship with the USA one of his first priorities by travelling to the country to help negotiate a new trade deal. He wants to reach a 'limited agreement' prior to the 31 October Brexit deadline, with an ally claiming that 'if we get a trade deal with America we will be very quickly in the market for other deals. It encourages others to realise that we mean business'.
Gauke plans to remove requirement for prisoners to declare convictions
The Daily Telegraph reports that Justice Secretary David Gauke has proposed the abolition of the rule forcing criminals gaoled for over four years to disclose their sentence for the rest of their lives which, writing in the paper, he says is 'indispensable' in rehabilitating offenders. However, victims' groups have criticised the move, with Kevin Hogg of the National Victims' Association claiming that the plan was an 'insult to society'.
Gove to launch consultation on banning trophy hunters from importing souvenirs
The Daily Mirror has launched a campaign against trophy hunting, calling on the Government to introduce a ban on importing animals shot for pleasure and an end to 'canned hunting' in which wild animals are kept in a small reserve to be killed. Environment, Food and Rural Affairs Secretary Michael Gove tells the Daily Mail that he is to launch a call for evidence on banning hunters from importing souvenirs and on canned hunting.
Schools to be given guidance on teaching about 'fake news'
The Sun says that Education Secretary Damian Hinds and Health and Social Care Secretary Matt Hancock will use a summit on social media and online harms today to announce new guidance for teachers to help educate their pupils on how to spot fake news, as well as tackling social media companies over the spread of misleading information about vaccines.
Tories set up hotline after members fail to receive leadership ballots
The Daily Telegraph reports that the Conservatives have set up a hotline for members, following concerns that some haven't received their leadership election ballots. According to the Campaign for Conservative Party Democracy, there have been problems with debit cards expiring and standing orders not having been increased, while reports at the weekend suggested a number of members had not been included on the party's new central database.
Rudd removed from anti-no-deal Tory group
According to The Sun, Amber Rudd has been removed from Philip Hammond's group of fifty Conservative MPs who want to block a no-deal Brexit. She told The Andrew Marr Show that she no longer preferred a second referendum to a no-deal Brexit, with one source telling the paper 'How much can you trust her now she's trying to play to both sides?'
Government to consult on extending sick pay to lowest-paid workers
The Daily Mirror reports the Government will today open a consultation on extending sick pay to 2m low-paid workers. Statutory sick pay is currently only available to those earning over £118 a week. The consultation will also cover a 'sick pay rebate' for small firms who help people back into work and strengthen legal guidance on helping people back to work.
The latest political news means nothing without intelligence, you need Vuelio Political Services.  
https://www.vuelio.com/uk/wp-content/uploads/2018/04/Boris-Johnson.jpg
430
760
Thomas Stevenson
https://www.vuelio.com/uk/wp-content/uploads/2023/09/vuelio-logo-200px.png
Thomas Stevenson
2019-07-15 09:30:21
2019-07-15 09:30:21
Political Headlines - Johnson's trade deal priorities and the journalist demanding an apology