Political Headlines – Tory candidates criticise Trump tweets and Johnson criticised for Islam comments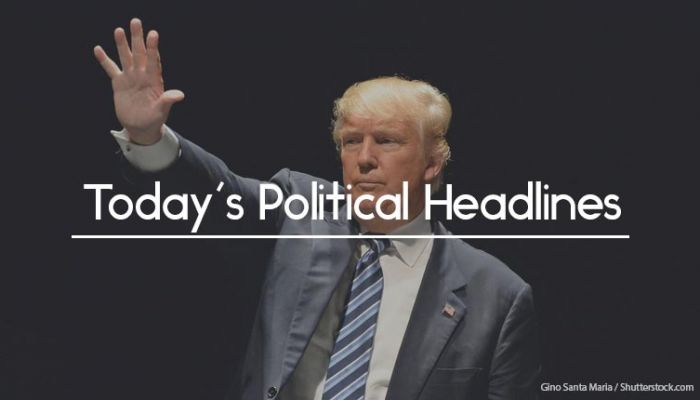 Today's political headlines includes Tory Candidates criticising Trump tweets but won't say they're racist, Johnson criticised for Islam comments, Rudd calls for more women in the Cabinet and Corbyn under pressure over antisemitism. 
Tory candidates criticise Trump tweets but won't say they're racist
The Times reports that Boris Johnson said that Donald Trump's tweets about American congresswomen from minority backgrounds were 'totally unacceptable', while Jeremy Hunt said he would be 'utterly appalled' if such language was used against his half-Chinese children. However, neither of them would say that the tweets were racist. The paper adds that Johnson has refused to cut net migration, claiming that people had voted to 'control' it, not cut it, while Hunt claimed that the 'spirit' of the referendum would be 'betrayed' if it wasn't cut.
Johnson criticised for Islam comments
The Guardian reports that Boris Johnson has been criticised over a claim in 2007 essay that the Muslim world was 'literally centuries behind the west' because of Islam, leading to 'Muslim grievance' being a factor in almost all conflicts. The Muslim Council of Britain said 'many of us would be interested to find out whether Mr Johnson still believes that Islam inherently inhibits the path to progress'.
Rudd calls for more women in the Cabinet
Writing in The Daily Telegraph, Work and Pensions Secretary Amber Rudd says the new Prime Minister should appoint more women to the Cabinet, describing this as 'one of the great feminist challenges of our time'. She argues that 'if you don't have women in politics, then women's working lives are not taken seriously enough'.
Corbyn under pressure over antisemitism
The Guardian says that Jeremy Corbyn is under more pressure over antisemitism in Labour after over 200 current and past staff said he should resign if he couldn't tackle the problem which, they claim, he has 'moral responsibility' for. A group of four peers have also written to Corbyn, offering to review the claims made on Panorama by former staff and to advise on setting up an independent complaints process.
Barclay tells Barnier Brexit deal is dead
The Times reports that Brexit Secretary Stephen Barclay met with the EU's chief Brexit negotiator Michel Barnier last week, telling him five times that the withdrawal agreement was 'dead', and leaving him 'astonished and dismayed'. It says that the EU is now preparing for 'brutal' talks with the next Prime Minister, with an EU diplomat suggesting that 'if this is what is coming then we will be heading for no deal very quickly'.
Domestic Abuse Bill to be introduced
The Daily Telegraph reports that the Domestic Abuse Bill will today be introduced into Parliament. One of the measures it will introduce is lie detector tests for domestic abusers to see if they are breaking their licences, as part of a three-year pilot. Other aspects include 'exclusion zones' around abused partners and the first legal definition of domestic abuse.
Gove to back comprehensive deposit return scheme
According to the Daily Mail, Environment, Food and Rural Affairs Secretary Michael Gove will today approve a comprehensive deposit return scheme for plastic bottles and cans, in what it claims is a 'major rebuff to large retailers'. Gove will say that a comprehensive scheme will give a 'clearer financial and social signal to recycle' than a small-scale one.
May criticised for failure to condemn police threat over leaked cables
The Daily Telegraph says that Theresa May has been criticised after her official spokesman refused to condemn the Metropolitan Police for threatening to prosecute papers who publish more leaked diplomatic cables, saying only that 'a free press is one of the foundations on which our democracy rests'.
Get meaningful political intelligence from Vuelio Political Services.  
https://www.vuelio.com/uk/wp-content/uploads/2019/07/Trump-2019.jpg
430
760
Thomas Stevenson
https://www.vuelio.com/uk/wp-content/uploads/2023/09/vuelio-logo-200px.png
Thomas Stevenson
2019-07-16 09:51:36
2019-07-16 09:51:36
Political Headlines - Tory candidates criticise Trump tweets and Johnson criticised for Islam comments