Political Headlines – Johnson latest and the cost of dementia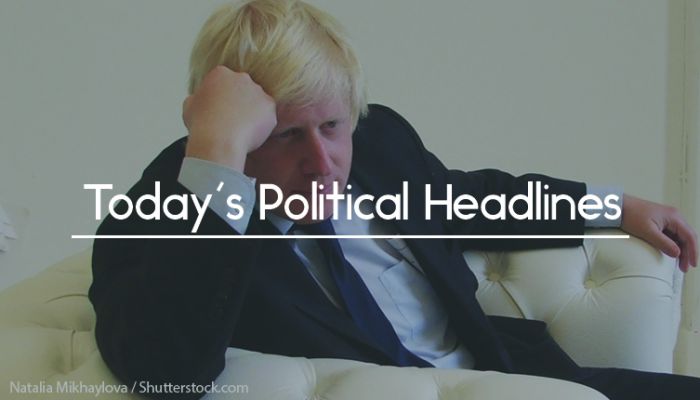 Today's political headlines includes Johnson plans early general election and it's reported he cost the taxpayer £1bn when London Mayor and the Mail calls on the Government to act on the cost of dementia. 
Johnson plans early general election
The Times claims that senior allies of Boris Johnson have claimed that he wants to hold an early general election 'while Jeremy Corbyn is still around'. His team is concerned that the small Conservative majority will not be enough to pass legislation and are preparing either for a general election after a vote of no confidence or a snap election after delivering Brexit.
Johnson leaves taxpayers with £1bn bill after ignoring expert advice as Mayor
According to The Guardian, taxpayers face a bill of almost £1bn, which is still growing, as a result of Boris Johnson's time as Mayor of London. It accuses him of ignoring expert advice over a series of projects, including his new Routemaster buses, the purchase of secondhand water cannon and plans for an airport in the Thames estuary. Former Conservative mayoral candidate Steve Norris said Johnson was 'great on rhetoric but lousy on delivery'.
Mail calls on Government to act on the cost of dementia
The Daily Mail is calling on the Government to take action 'to end the disgraceful neglect of families living with the burden of dementia', following the revelation that families have spent £15bn in the last two years helping relatives with that illness. It is calling for a cross-party group to tackle the issue, an NHS 'dementia fund' and a Cabinet minister with sole responsibility for developing a plan.
101-year-old writes to Prime Minister over free TV licence cut
The Daily Mirror leads with a letter to the Prime Minister written by a 101-year-old pensioner, Elsie Hancock, opposing the decision to reduce pensioners' entitlement to free TV licences. She describes TV as a 'lifeline' for a 'lot' of elderly people who are 'already struggling financially', and asks 'what'll they take next, our bus passes'.
Government to review waste charges over fly-tipping fees
The Daily Telegraph reports that the Government has launched a review of the fees charged by local authorities to residents disposing of waste at rubbish tips. Keep Britain Tidy has warned that fees could lead to an increase in fly-tipping, while the Department for the Environment, Food and Rural Affairs has described them as a 'backdoor' tax and is considering banning them.
Gove promises to back legal limits on particulates
The Times says that Secretary of State for the Environment, Food and Rural Affairs Michael Gove has pledged to support a 'legally binding commitment on particulate matter', so that nowhere in the country has levels exceeding those set by the World Health Organisation. A bill containing this pledge is being prepared, but Gove has admitted that the final decision on this will be down to the new Prime Minister.
Hancock to ban sale of energy drinks to children
The Sun says that Health and Social Care Secretary Matt Hancock has written to Cabinet colleagues, telling them he has decided to ban selling energy drinks to children under 16. According to the paper this risks bringing him into conflict with Boris Johnson, whose leadership campaign he supports, as Johnson has promised to review all sin taxes and regulations. His letter warns that the Treasury may also oppose the plan.
Johnson considers plan to suspend Parliament prior to Brexit deadline
Sky News reports that Boris Johnson is considering scheduling a Queen's Speech in early November, which would mean proroguing Parliament for up to two weeks in advance, effectively preventing MPs from being able to block a no-deal Brexit in the immediate run-up to the 31 October Brexit deadline. His campaign claims a decision has yet to be made.
Stay up to date with Vuelio Political Services.  
https://www.vuelio.com/uk/wp-content/uploads/2018/07/Boris-Johnson-sitting.jpg
430
760
Thomas Stevenson
https://www.vuelio.com/uk/wp-content/uploads/2023/09/vuelio-logo-200px.png
Thomas Stevenson
2019-07-17 09:20:46
2019-07-17 09:20:46
Political Headlines - Johnson latest and the cost of dementia