Political Headlines – Knife Crime and Brexit vote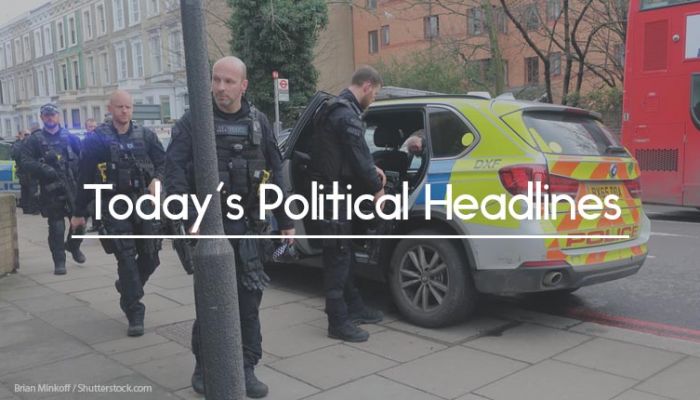 Today's political headlines include May not listening on knife crime, Ministers believe Brexit deal will lose by 100 votes, EHRC may launch inquiry into Labour's handling of antisemitism and Mercer calls on May to allow younger generation to lead Conservatives. 
Theresa May is not listening on knife crime says former head of the Metropolitan Police
The BBC report on remarks made by former head of the Metropolitan Police, Lord Stevens where he accuses the Prime Minister of not listening to police concerns about knife crime. This comes after Jeremy Corbyn accused May of not doing enough to tackle the causes of knife crime. Lord Stevens criticised May's handling of crime and policing in both her position of Prime Minister and Home Secretary, Stevens said the Home Office have not been listening for the last six years. He did throw his support behind Sajid Javid as the person to see the crisis through and wants him to chair the summit on knife crime being held at Downing Street.
Ministers believe Brexit deal will be voted against by 100 votes
The Telegraph reports that the Cabinet is expecting to lose next weeks Brexit vote by up to 100 votes after the latest talks did not produce a deal. It is reported that Number 10 is making plans to hold a third vote on the deal as they are expecting to lose the second vote, we may even see a speech from the Prime Minister to gather support from MPs on Friday. MPs have been warned that the Easter recess could be cancelled if Brexit is delayed. A minister told the paper that the next move would depend on the scale of the defeat.
EHRC may launch inquiry into Labour's handling of antisemitism
The Guardian has an exclusive that reveals that the Equality and Human Rights Commission is close to a decision on whether it will hold an inquiry into the Labour party's handling of antisemitism. The inquiry would look at whether their handling of cases was compliant with equalities law. This is the latest in a series of stories into Labours handling of antisemitism, recently a number of emails were leaked that has cast doubt on the handling of cases by senior figures in the party. The Campaign Against Antisemitism compiled a dossier and asked the EHRC to open the investigation that is being considered with a second complaint filed by the Jewish Labour movement.
Mercer calls on May to allow younger generation to lead the Conservatives
The Sun has an exclusive with Conservative MP Johnny Mercer where he has called on Theresa May and the Government to step aside for the new generation to take charge. Mercer says that May and her Government are failing 'today's digital generation of impassioned voters', he also accused senior members of his own party of being career politicians. Mercer said there are a generation of politically homeless people who need to be reached and if they are, a movement will be built.
Corbyn working with Conservative backbenchers for soft Brexit
The Mirror has an exclusive that Jeremy Corbyn has been holding talks with backbenchers across Parliament who would be prepared to back a Norway-plus Brexit. The Labour leader is said to have been more confident that a sensible deal can be reached as he hopes to appeal to both leave and remain voters with this compromise. The move also carries the intention of moving beyond Brexit and shifting attention to domestic policy.
Labour staff to strike in pay row
The Huffington Post reports on a pay row between the Labour Party and its staff, the row comes after staff rejected a below-inflation pay offer made to them. The GMB union's Labour branch rejected an offer of a £600 increase in salary and workers represented by Unite are expected to do the same. The party had warnings earlier in the year that unless it scraps projects or finds savings it will be heading for a budget deficit this year.
From Brexit to knife crime – keep up to date with the political intelligence that matters to you with Vuelio Political Services.
https://www.vuelio.com/uk/wp-content/uploads/2019/03/Knife-crime-2.jpg
430
760
Daniel Loman
https://www.vuelio.com/uk/wp-content/uploads/2019/09/vuelio-logo.png
Daniel Loman
2019-03-07 10:26:17
2019-03-07 10:26:17
Political Headlines - Knife Crime and Brexit vote