Political Headlines – May appeals to EU to help her deal pass and Zaghari-Ratcliffe is granted diplomatic protection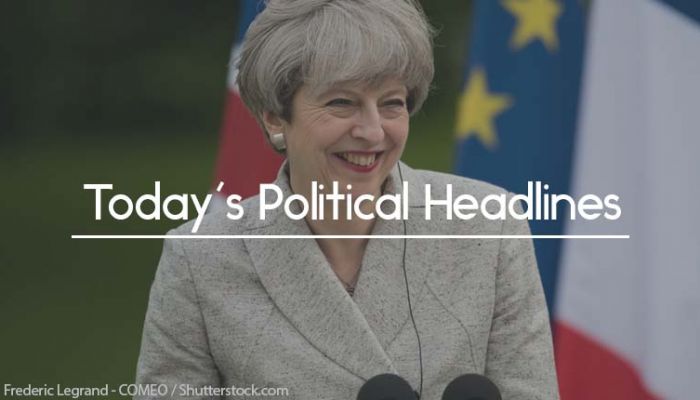 Today's political headlines include May appealing to EU to help her deal pass, Zaghari-Ratcliffe granted diplomatic protection, Bradley accepts there are 'no excuses' for her comments and Conservatives scared they could lose 1,000 councillors in local elections. 
May appeals to EU to help her deal pass
The BBC reports that the Prime Minister will ask the EU to agree to legally binding changes to the backstop in order for her deal to pass through the House of Commons. She will tell EU negotiators that they will have a deciding role on whether the deal can pass next Wednesday. The EU has maintained the view that it is for the UK to come up with solutions to break the current deadlock.
Nazanin Zaghari-Ratcliffe granted diplomatic protection
The Guardian reports on Nazanin Zaghari-Ratcliffe being granted diplomatic protection thus raising her case to the level of dispute between the UK and Iran, if she suffers any injury it will be seen as an injury to the UK. This comes after Foreign Secretary, Jeremy Hunt, said her human rights were not being met after the denial of better medical treatment. Zaghari-Ratcliffe is currently serving a five-year prison sentence in Iran on charges of spying. Hunt said the decision was not one he took lightly and it is down to the lack of progress in the talks.
Bradley accepts there are 'no excuses' for her comments
Sky News reports on Northern Ireland Secretary, Karen Bradley, accepting there are 'no excuses' for the comments she made about killings by the police and military during the Troubles not being crimes. Bradley has been under pressure to resign for her comments and has had to clarify she is not referring to any case. Prosecutors will next week announce whether soldiers will face trial for the Bloody Sunday killings amplifying the impact of the remarks. Bradley apologised for the remarks and any offence he caused.
Conservatives scared they could lose 1,000 councillors in local elections
The Sun has an exclusive that reveals that senior figures in the Conservative Party are worried they could lose 1,000 councillors in the upcoming local elections. If this scenario does play out it is expected that critics of the Prime Minister will begin demanding she step aside. However those close to May in the Cabinet are asking her to reshuffle her top team after the elections and bring in some fresh faces.
IDS criticises Khan for handling of violent crime in London
The Express reports on remarks made by Iain Duncan Smith on the Mayor of London's handling of violent crime in London, IDS said that Khan is playing political games and not taking responsibility for what is going on. Khan has defended himself from any criticism by saying that the Metropolitan Police have lost vast amounts of funding in the last few years and this is having a direct impact. In his remarks IDS spoke of the effectiveness of stop and search in stopping knife crime.
Bercow blocks release of bullying inquiry emails
The Huffington Post reports on John Bercow using a veto to block the release of his correspondence with officials concerning bullying in Parliament. The post has been trying to get hold of the correspondence as it is rumoured that Bercow and senior staff are seen as part of the problem in them. Bercow has been criticised for this move saying that it is preventing public discussion of the issues and is harming the confidence people will have in Parliament.
Conservative Leadership candidates posturing themselves
The Financial Times looks at the possible candidates to replace Theresa May as leader of the Conservative Party. They indicate that those who fancy the position for themselves are beginning to put themselves in the best possible position. The FT picks out Jeremy Hunt, Sajid Javid, Boris Johnson, Liz Truss, Dominic Raab, James Cleverly, Penny Mordaunt and Matt Hancock as those making moves. The report looks at the different direction each possible candidate would look to take the party in and who they would appeal to.
Next week there's a meaningful vote and the Spring Statement – find out how you'll be affected with Vuelio Political Services.
https://www.vuelio.com/uk/wp-content/uploads/2018/11/Theresa-May-smile.jpg
430
760
Daniel Loman
https://www.vuelio.com/uk/wp-content/uploads/2019/09/vuelio-logo.png
Daniel Loman
2019-03-08 10:15:20
2019-03-08 10:15:20
Political Headlines - May appeals to EU to help her deal pass and Zaghari-Ratcliffe is granted diplomatic protection