Political Headlines – Labour's antisemitism concerns and May under pressure not to appoint a new ambassador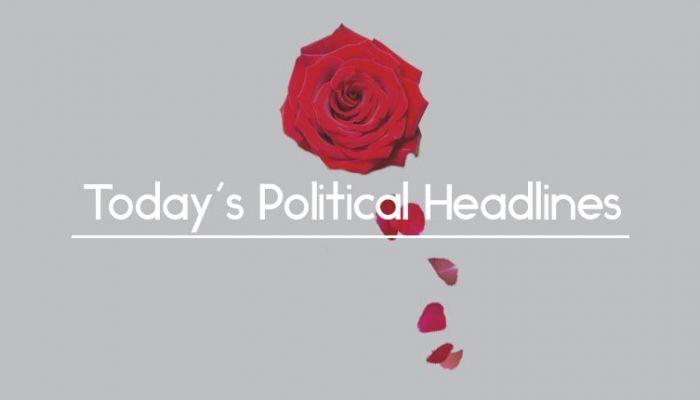 Today's political headlines includes Labour's concern over new antisemitisn documentary, May under pressure, Rudd announces review of benefits for terminally-ill patients and Brexit party switches will return to Tories if Brexit is delivered. 
Labour figures express concern about allegations in new antisemitism documentary
The BBC reports that senior Labour Party figures have expressed concern about the claims made in its documentary on antisemitism in the Labour Party yesterday, with deputy leader Tom Watson saying he was 'shocked' and 'appalled', although the party itself claimed that the programme was inaccurate. Former party officials made a series of claims about the attitude of the leader's office towards antisemitism complaints, including interference by general secretary Jennie Formby and laughter from Jeremy Corbyn's aide, Seumas Milne.
May under pressure not to appoint new ambassador
The Times says that allies of Boris Johnson have warned Theresa May not to appoint the new ambassador to the USA following the resignation of Sir Kim Darroch, saying that the decision should be left to the new Prime Minister. Friends of Darroch told the paper that his resignation was partially prompted by Johnson's refusal to confirm that he would keep him in place. The Sun has been told by Johnson that he 'can't believe' that he is being blamed for the resignation, and that he is 'a great supporter of Kim's'.
Rudd announces review of benefits for terminally-ill patients
The Times says Amber Rudd has announced an 'honest and in-depth' review of the system for fast-tracking benefits to terminally ill patients, following criticism from charities and MPs of the current limit which restricts it to those with six months or less to live. Recalling the death of her ex-husband, AA Gill, from cancer in 2016, Rudd has promised not to leave patients facing 'unnecessary hardship'.
Brexit party switchers will return to Tories if Brexit is delivered by end of October
According to The Daily Telegraph, a poll of Conservative members shows that most switchers to the Brexit Party would return if Boris Johnson delivered Brexit by 31 October. It also found that just 56% of members will vote for the party if it isn't delivered by the deadline. The Sun says that a senior Tory has called Sir John Major 'bonkers' after he threatened to sue Johnson if he prorogued Parliament.
Von der Layen indicates she won't reopen Brexit talks
The Guardian reports that Ursula von der Layen, the European Commission's presidential nominee, has indicated that she won't reopen Brexit talks, telling a Liberal Democrat MEP that 'it is your responsibility and your noble task to sort this out'. She added that 'the backstop in the Brexit deal is precious, important and has to be defended'.
Mordaunt announces new laws to protect sexual harassment victims
The Daily Telegraph says that Women and Equalities Minister Penny Mordaunt has announced new laws to protect sexual harassment victims, with interns and volunteers to be given the same protections as staff, a 'proactive duty' on employers to prevent sexual harassment and a potential extension to the time limit for claims to be made.
Report funds culture of bullying and harassment in Lords
The Guardian carries details of a report into bullying in the House of Lords released yesterday. It found that there was a culture of harassment and bullying, with one in five staff having experienced these. Staff did not report incidents for fear of reprisals. The report recommends installing CCTV in 'hotspots', training for peers, and a new staff member to oversee allegations. A similar report on the House of Commons will be published today.
Johnson intervened to try to save girlfriend's job
In an exclusive, the Daily Mirror claims that Boris Johnson personally intervened in an attempt to save the job of Carrie Symonds, his girlfriend, after Conservative officials decided that she wasn't performing well enough. However, a source told the paper that party staff thought his intervention was 'a bit half-hearted'.
Party politics and policy issues – keep on top of the landscape with Vuelio Political Services.  
https://www.vuelio.com/uk/wp-content/uploads/2019/02/Labour-rose.jpg
430
760
Thomas Stevenson
https://www.vuelio.com/uk/wp-content/uploads/2019/09/vuelio-logo.png
Thomas Stevenson
2019-07-11 09:13:08
2019-07-11 09:13:08
Political Headlines - Labour's antisemitism concerns and May under pressure not to appoint a new ambassador