Political Headlines – Johnson puts Darroch's future in doubt and MPs voting on same-sex and abortion laws for Northern Ireland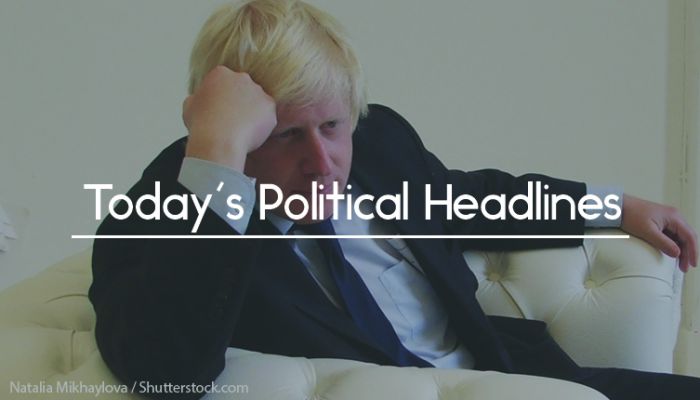 Today's political headlines includes Johnson putting Darroch's future in doubt, MPs voting to extend same-sex marriage and abortion to Northern Ireland, Corbyn says Labour would back remain and Symonds reportedly asked to leave her Tory role over poor performance. 
Johnson puts ambassador's future in doubt
The Times says that Boris Johnson failed to say whether he would retain Sir Kim Darroch as ambassador to the USA if he was Prime Minister during last night's ITV leadership debate. Jeremy Hunt has said that Donald Trump was 'disrespectful and wrong', following Trump's description of Darroch as 'wacky' and a 'pompous fool', and that he would keep the ambassador in place until the end of the year, when he is due to retire.
MPs vote to extend same-sex marriage and abortion to Northern Ireland
The Guardian reports that MPs voted to extend same-sex marriage and abortion to Northern Ireland as a result of amendments tabled by backbench Labour MPs, on which the Government gave MPs a free vote. The changes will come into effect unless the devolved administration is restored within the next three months. An amendment tabled by Dominic Grieve, requiring fortnightly reports to the Commons on restoring the assembly also passed. This is part of an attempt to prevent Parliament from being prorogued.
Corbyn says Labour would back remain in referendum on Tory Brexit
The Guardian says Jeremy Corbyn has announced Labour's 'settled' Brexit policy, making it clear in an e-mail to members that the party would support remaining in the EU in any referendum on a Brexit deal agreed by a Conservative Prime Minister or on a no-deal Brexit. However, he did not clarify what Labour's stance on Brexit would be in a general election.
Symonds reportedly asked to leave Tory role over poor performance
The Daily Mail claims that Carrie Symonds, Boris Johnson's girlfriend, was asked to leave her role as Director of Communications for the Conservatives owing to poor performance. According to a source she was accused of misusing her expenses and of failing to turn up to work, as well as leaking damaging stories to the media.
Ex-Change UK MPs form new group
The Times reveals that some of the MPs who quit Change UK are forming another grouping, The Independents, which will be a 'workers' collective', not a political party, based around six core values but with free votes on some issues. Those involved are Luciana Berger, Heidi Allen, Gavin Shuker and Angela Smith, together with John Woodcock, who left Labour over sexual harassment allegations. They are in talks with other independent MPs.
Lidington warns no-deal Brexit could lead to break-up of UK
The Financial Times says David Lidington warned a meeting of the Cabinet that there was a 'real risk' of the UK breaking up as a result of a no-deal Brexit. He said the Scottish independence movement was a 'significant and urgent political challenge', there could be no complacency about Wales and there was a risk of a border poll in Northern Ireland.
MPs' staff warned bullying and harassment report will be distressing
The Sun says that the House of Commons has warned MP's researchers that a report into bullying and harassment in Parliament, due to be published tomorrow, will contain 'distressing and uncomfortable' revelations. Counselling workshops have been arranged to help staff cope with the findings of the report.
Three peers quit Labour over antisemitism
The Daily Telegraph reports that three peers quit the Labour Party yesterday, citing its handling of antisemitism. Lord Triesman, once the party's general secretary, said that it was 'very plainly antisemitic', and he was joined in resigning the whip by Lord Darzi and Lord Turnberg, with a party official admitting at least one more peer is expected to leave.
Stop reading headlines, start setting them – find out how Vuelio Political Services can help.  
https://www.vuelio.com/uk/wp-content/uploads/2018/07/Boris-Johnson-sitting.jpg
430
760
Thomas Stevenson
https://www.vuelio.com/uk/wp-content/uploads/2019/09/vuelio-logo.png
Thomas Stevenson
2019-07-10 09:23:48
2019-07-10 09:23:48
Political Headlines - Johnson puts Darroch's future in doubt and MPs voting on same-sex and abortion laws for Northern Ireland