Political Headlines – Trump continues to attack on the British ambassador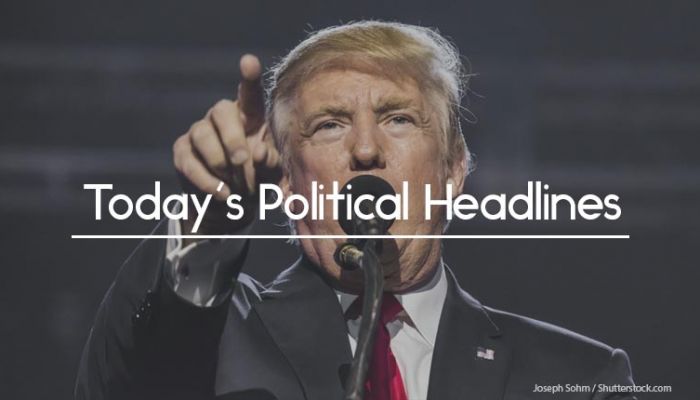 Today's political headlines includes Trump's continuing attack on the British ambassador, Johnson's vow to fix the NHS pension cap and Hammond to agree May's legacy funding if she allows free vote on blocking no-deal. 
Trump attacks British ambassador
The Guardian reports that Donald Trump has used Twitter to attack the British ambassador, saying that 'he is not liked or well thought of within the U.S.' and that he would 'no longer deal with him'. He added that it was 'good news' that the UK would 'soon have a real Prime Minister'. Theresa May's spokesperson has said she had 'full faith' in Sir Kim Darroch, the ambassador, while The Sun has been told by Foreign Secretary Jeremy Hunt that officials are investigating whether the leaked memos were hacked by a hostile state, such as Russia.
Johnson vows to fix NHS pension cap
The Daily Telegraph says that Boris Johnson used a hustings it organised last night to promise to 'fix' the pension cap which has led some doctors to refuse to work, claiming that the policy was 'obviously wrong'. A poll by ComRes, commissioned by the paper, shows that Johnson as leader would deliver a 40-seat Conservative majority, while a Jeremy Hunt leadership would result in Labour becoming the largest party.
Hammond to agree May's legacy funding if she allows free vote on blocking no-deal
The Times claims that Philip Hammond has told Theresa May that he would agree to fund £5bn of her demand for £27bn of education spending as part of her legacy if she agrees to allow MPs a free vote on a cross-party attempt to rule out a no-deal Brexit in October. Hammond has already signalled that as a backbencher he 'will continue to argue against a no-deal exit'.
New report reveals £15bn 'dementia tax'
The Daily Mail carries details of a new report by the Alzheimer's Society which reveals that families have spent almost £15bn on caring for relatives with dementia in the two years since a green paper on social care was first promised. The society claims the current system amounted to a 'tax on dementia' and is calling for a £2.4bn interim dementia support fund.
Unions agree new Labour Brexit stance
According to The Guardian, Labour is to announce that it would campaign to remain in the EU in a referendum on a deal agreed by a Conservative Prime Minister. The stance follows an agreement by unions of a joint position, which also agreed that if Labour was in government, it would agree its own Brexit deal and hold a referendum, in which it would not necessarily campaign to remain in the EU.
Labour's gagging orders aren't valid, legal advice says
The Times says that ahead of tomorrow's screening of a BBC documentary about antisemitism in the party former Labour staff have received legal advice telling them that the non-disclosure agreements they had with the party are not valid as they do not meet standards introduced to protect whistleblowers
Hunt and Mordaunt back 'Veteran's Pledge'
The Sun reveals that Jeremy Hunt and Defence Secretary Penny Mordaunt have each backed the paper's 'Veteran's Pledge'. They have agreed to end 'vexatious historical investigations in Northern Ireland', set up an independent department to co-ordinate support for veterans and put the Armed Forces Covenant into law.
Taxes on tobacco and milkshakes delayed
The Financial Times reports that proposals for new taxes on tobacco and sugary milkshakes has been delayed. The Prevention Green Paper was due to be published on Monday and would have proposed a levy on the tobacco industry to fund smoking-reduction measures, higher taxes on sugary milk drinks and a ban on children buying some energy drinks. It has now been delayed to Thursday, but some officials have suggested it might be delayed indefinitely.
Keep up with the political news that matters to you with Vuelio Political Services.  
https://www.vuelio.com/uk/wp-content/uploads/2019/07/Trump-.jpg
430
760
Thomas Stevenson
https://www.vuelio.com/uk/wp-content/uploads/2019/09/vuelio-logo.png
Thomas Stevenson
2019-07-09 09:26:07
2019-07-09 09:26:07
Political Headlines - Trump continues to attack on the British ambassador