Political Headlines – Trump attacks British ambassador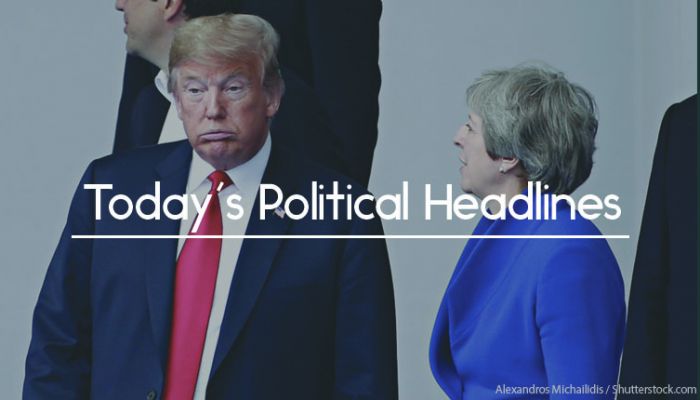 Today's political headlines includes Trump attacking the British ambassador over leaks and dozens of Tory MPs will try to stop no-deal. 
Trump attacks British ambassador over comments in leaked cables
The Daily Telegraph reports that Donald Trump has attacked the British Ambassador to the USA, Sir Kim Darroch, after diplomatic cables in which he called the President's administration 'inept' and 'incompetent' were leaked. Trump said 'we are not big fans of that man, and he has not served the UK well', while the Foreign Office announced that it was investigating the leak. The paper adds that the source of the leak is believed to be a senior official or minister frustrated at the civil service's efforts on Brexit.
Dozens of Tory MPs will try to stop no-deal Brexit
According to The Times, if Boris Johnson becomes Prime Minister, dozens of Conservative MPs will attempt to block a no-deal Brexit. Sam Gyimah said that there were '30-plus' MPs looking at ways to stop no-deal through legislation or to stop Parliament from being prorogued. Some MPs, led by Dominic Grieve, will use today's debate on power-sharing in Northern Ireland to put forward an amendment to legislation, requiring a statement to be made to the Commons in October, thus ensuring that it will be sitting.
Operations cancelled in row over pension changes
The Guardian reports that consultants have started working to rule in a row over NHS pensions, leading to operations being cancelled and cancer scans not being checked for weeks. The dispute centres on pension tax bills which could leave doctors worse off if they work longer than their normal hours, with NHS pensions expert Dr Tony Goldstone warning that 'the pensions catastrophe is an existential threat to our NHS'.
Labour Party 'on the brink of civil war' ahead of antisemitism documentary
The Daily Mail claims that the Labour Party is 'on the brink of civil war' ahead of a BBC documentary on antisemitism in the party being screened on Wednesday. It says that the party is taking legal action to try and gag whistle-blowing staff, while John McDonnell is continuing to try and pressure Jeremy Corbyn to back a second referendum and has denied that he has also been trying to get Corbyn to sack his closest aides.
Stewart says he'll help organise alternative parliament to stop no-deal Brexit
The Guardian says Rory Stewart has claimed that he will help to organise an 'alternative parliament' if the new Prime Minister attempts to prorogue Parliament in order to facilitate a no-deal Brexit. He suggested that it could be overseen by a former Speaker, such as Betty Boothroyd. He attacked Boris Johnson's leadership skills, saying he 'likes to be popular'.
New report warns to risk to sexual abuse survivors of bail reforms
The Times carries details of a new report by the All-Party Parliamentary Group on Adult Survivors of Child Sexual Abuse, which warns that changes to bail rules mean that growing numbers of alleged child sexual abusers are able to contact their victims before a trial, adding that this 'had serious ramifications for the safety of survivors'.
Johnson to boost apprenticeships funding
Writing in The Daily Telegraph, Boris Johnson promises more funding for further education colleges and apprenticeships. He claims that apprentices are 'indispensable to the future of this country', adding 'there are far too many young people who leave university with huge debts, and no clear sense of how their academic qualification has helped their career.'
Hunt will stand up for persecuted Christians
The Guardian reports that a report by the Bishop of Truro, Philip Mounstephen, commissioned by Foreign Secretary Jeremy Hunt, has called on the Government to impose sanctions on countries which persecute Christians. Hunt has committed to implement all the reports' recommendations if he becomes Prime Minister, adding that the 'sense of misguided political correctness that has stopped us standing up for Christians overseas must end'.
Trump's comments might have wide reaching impact on the UK, find out what it means for you Vuelio Political Services.  
https://www.vuelio.com/uk/wp-content/uploads/2018/11/Trump-May.jpg
430
760
Thomas Stevenson
https://www.vuelio.com/uk/wp-content/uploads/2023/09/vuelio-logo-200px.png
Thomas Stevenson
2019-07-08 09:29:31
2019-07-08 09:56:55
Political Headlines - Trump attacks British ambassador