Political Headlines – Police warning and the great place on Earth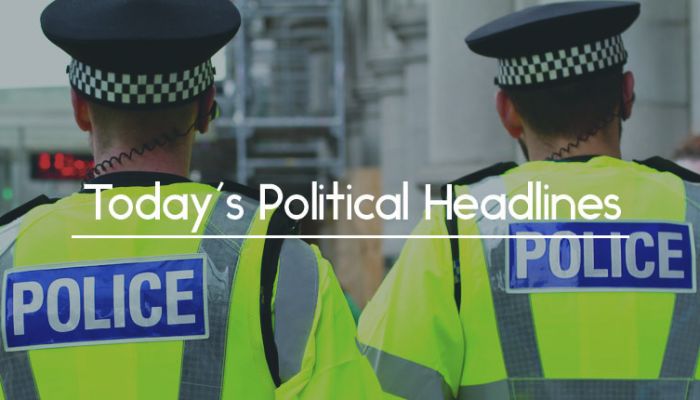 Today's political headlines includes former police chiefs warning about cuts, Johnson vows to make UK the greatest place on Earth, Green Part and Plaid Cymru back Lib Dems and Hunt announces plan to build 1.5m new homes for the young. 
Former police chiefs issue warning about cuts
Writing to The Times, five former Metropolitan Police Commissioners claim that Theresa May has brought about the 'emasculation of British policing', warning that resources were at 'dangerously low levels' and that victims had 'perilously low expectations'. Yesterday Sir Thomas Winsor, the Chief Inspector of Constabulary, said that some forces were 'straining under significant pressure' owing to complex and growing demands, and poor resources.
Johnson vows to make UK 'the greatest place on Earth'
Interviewed by The Daily Telegraph, Boris Johnson has said that he wants to make Britain 'the greatest place on Earth', calling on people to embrace the 'fantastic' opportunities he claims are posed by Brexit. He also pledges to cut stamp duty to tackle the 'locked up' housing market, said the UK's 'most important' trade deal would be with the EU, and said he would not agree a trade deal with the USA at the cost of accepting 'substandard' food.
Green Party and Plaid Cymru back Liberal Democrats in by-election
The Times reports that pro-remain parties are to back a single candidate in next month's Brecon and Radnorshire by-election, with Plaid Cymru and the Green Party agreeing to back the leader of the Welsh Liberal Democrats, Jane Dodds. Dodds said that the agreement was a 'historic and courageous decision', while Plaid Cymru leader Adam Price said that stopping Brexit was in the 'best interests of Wales' and the principle could be applied elsewhere.
Hunt announces plan to build 1.5m new homes for the young
Writing in The Sun, Jeremy Hunt announces his plan to build 1.5m homes for the young, 'giving a whole generation a leg up on to the housing ladder' in order to beat Jeremy Corbyn. He would change the law with a new policy called 'Right to Own' under which councils and Homes England could buy land and commission building on it.
Johnson campaign funded by developers whose scheme he approved
In an exclusive, the Daily Mirror reports Boris Johnson's leadership campaign is being funded in part by the Reubens, a family of property developers whose redevelopment of Millbank Tower he approved, amid controversy, when he was Mayor of London despite it not having any affordable homes. Len Duvall, Labour's London Assembly group leader, said this 'begs the question of whether this is a sign of what's to come if he enters Downing Street'
Hunt proposes tax breaks for those who care for relatives at home
The Daily Telegraph says that Jeremy Hunt has proposed giving families who look after elderly relatives at home tax breaks, as part of a plan to fix social care. He has promised to publish a social care green paper within 100 days of becoming Prime Minister, including a 10-year funding plan, long-term saving schemes and a cap on care costs.
Gauke warns that Parliament will block no-deal Brexit
The Sun says that Justice Secretary David Gauke has warned Boris Johnson that a no-deal Brexit will be blocked as Parliament 'will find a way' to do so, given there was a clear majority behind such a move. He said that MPs' recess for party conferences should be cancelled to give more time to find a deal and cautioned that Johnson would lose the next election if there was no deal with the EU.
Tories sell dinner with new Prime Minister for £300,000
The Daily Mail reports that the Conservatives used their summer party to auction dinner with the new Prime Minister for £300,000. Other lots sold at the party fundraiser included a signed photo of David Cameron and Boris Johnson, a flight in a private jet to anywhere in Europe, tickets to the Abu Dhabi Grand Prix, a private champagne party for 100 people in central London, a hunting trip to Scotland, and chances to meet other ministers.
Domestic policy is firmly back on the agenda, keep up with Vuelio Political Services.  
https://www.vuelio.com/uk/wp-content/uploads/2018/04/Police.jpg
430
760
Thomas Stevenson
https://www.vuelio.com/uk/wp-content/uploads/2023/09/vuelio-logo-200px.png
Thomas Stevenson
2019-07-05 10:16:46
2019-07-05 10:16:46
Political Headlines - Police warning and the great place on Earth