Political Headlines – Lib Dems top poll as Swinson launches leadership campaign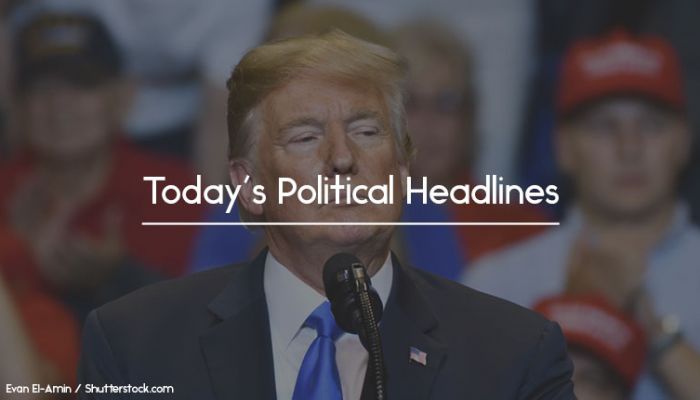 Today's political headlines includes the Lib Dems are top of the polls as Swinson launches leadership campaign, Trump indicates support for Johnson and a record number of patients are forced to change surgery as GPs close.
Lib Dems top poll as Swinson launches leadership campaign
A new poll by YouGov for The Times shows that the Liberal Democrats have taken the lead, with 24% of the vote, followed by the Brexit Party on 22%. The Conservatives and Labour are each on 19%. The unprecedented finding appears to reflect the electorate dividing between those who want a no-deal Brexit and those who'd rather remain in the EU. The Guardian says that Lib Dem deputy leader Jo Swinson has confirmed that she is standing for the leadership, saying that the 'country is crying out for a liberal movement that will challenge the forces of nationalism and populism'.
Trump indicates support for Johnson
According to The Daily Telegraph, Donald Trump has indicated that Boris Johnson is his preferred leader of the Conservative Party. While he hasn't formally endorsed him, yesterday he said that Johnson was a 'friend' and that he had 'a lot of respect' for him. The two men are expected to hold private talks when Trump visits the UK next week, which would be a breach of convention, while Nigel Farage could also be invited.
Record number of patients forced to change surgery as GPs close
The Daily Mirror reports that last year 519,000 patients had to change GP because their clinic closed, which is a record high. According to the Patients Association, this is because of 'long-term failures in workforce planning and shortage of funding for the NHS in the face of rising patient need'. The number of surgeries closing has increased sevenfold since 2013.
Harper joins Tory race
The Daily Telegraph reports that Mark Harper, the former Chief Whip, has announced his candidacy for the Conservative leadership. He is the twelfth MP to do so, and admits that he is an 'underdog'. However, he claims that he has an advantage over ministers who 'shared the responsibility' for failing to deliver Brexit with Theresa May, telling the paper 'we've seen basically the same faces saying the same things that they've been saying for the last three years'.
Labour peer claimed £50,000 in expenses but didn't speak
An investigation by The Guardian reveals that Labour peer David Brockman claimed almost £50,000 in expenses from the House of Lords despite not speaking or asking questions. Other findings include that 88 peers didn't speak, hold posts or take part in committees, and that 46 didn't vote, sit on committees or hold posts.
Trump to confront May over Huawei
The Times says that Donald Trump will confront Theresa May about the security risk posed by Huawei when he visits next week. His national security advisor, John Bolton, said that the USA would only be happy with 'zero' risk in its federal telecoms network, suggesting that it was trying to convince its intelligence partners to follow its lead.
Most Tory leadership contenders say they're feminists
The Guardian says that eight of the Tory leadership contenders, including frontrunner Boris Johnson, have said that they are feminists. This follows Dominic Raab saying that he 'probably' wasn't one, choosing to defend a claim he made in 2011 that feminists were 'obnoxious bigots'.
Candidates endorse report calling for increased public spending
The Daily Mail reports that five Conservative leadership candidates, including Michael Gove and Jeremy Hunt, have backed a report from the think tank Onward calling on the Government to 'turn on all the taps' and boost spending on schools, hire more police officers and cut corporation tax. However, Chancellor Philip Hammond has warned that radical tax cuts could be unaffordable.
Stay up to date with the latest political news with instant alerts from Vuelio Political Services.  
https://www.vuelio.com/uk/wp-content/uploads/2019/05/political-headlines-31.05.jpg
430
760
Thomas Stevenson
https://www.vuelio.com/uk/wp-content/uploads/2019/09/vuelio-logo.png
Thomas Stevenson
2019-05-31 10:06:10
2019-05-31 10:06:10
Political Headlines - Lib Dems top poll as Swinson launches leadership campaign