Political Headlines – May heads to Brussels, Dad's Army, growing support for May and the DUP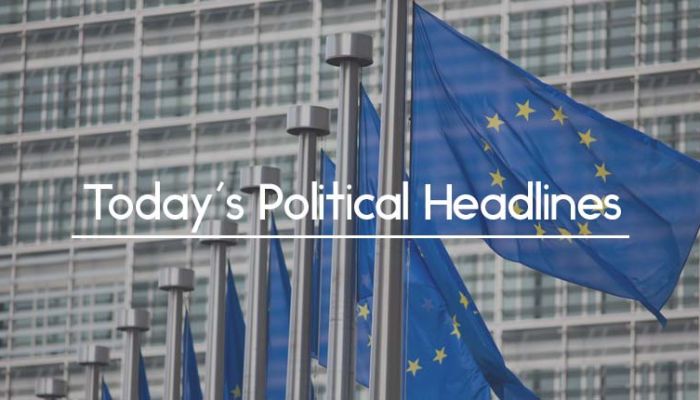 Today's political headlines include May heading to Brussels in an attempt to finalist Brexit, Jacob Rees-Mogg comparing himself to Captain Mainwaring, Growing support for Theresa May and the DUP intending to vote against the Brexit deal. 
May heads to Brussels as EU states raise objections to future relationship agreement
The BBC reports that Theresa May is heading to Brussels today amid attempts to finalise the Brexit deal before European leaders meet on Sunday. A deadline to settle the agreement on the future relationship was missed last night, with EU members raising objections to proposals covering UK access to the single market, fishing rights in British waters, and Gibraltar.
Eurosceptic coup attempt likened to 'Dad's Army'
As the Daily Mail reports, Jacob Rees-Mogg has admitted that his attempt to oust Theresa May has become a bit like 'Dad's Army', comparing himself to Captain Mainwaring. He warned that the Tories would be stuck with May as leader at the next election unless they acted now. The Daily Telegraph adds that the 'old guard' of Eurosceptics have claimed that Rees-Mogg has exhibited 'naivety' and suggested that the focus should be on defeating May's deal in the meaningful vote.
Growing support for May among voters
A poll conducted for The Times shows that voter support for Theresa May has increased over the last week. A week ago, YouGov found that 33% of voters wanted the Prime Minister to remain and 47% wanted her to leave, but those figures are now 46% and 34% respectively. Detailed analysis shows that May's support has increased most among Conservative voters.
'Of course' we'll vote against Brexit deal, DUP claims
The Financial Times says that the DUP has announced that it will 'of course' vote against Theresa May's Brexit deal despite hopes by ministers that it would abstain. Last night, the Government accepted Labour and SNP amendments to the Finance Bill after the DUP indicated that it was planning to abstain on the votes.
Tory remainers have 'role to play' in building soft Brexit coalition, Sturgeon says
According to The Guardian, Scottish First Minister Nicola Sturgeon has claimed that remain-supporting Conservative MPs have a 'role to play' in creating a soft Brexit coalition in the Commons. Apparently, SNP, Labour and Liberal Democrat MPs have been talking with Tory remainers in an attempt to agree an alternative to Theresa May's Brexit deal, such as Nick Boles' proposed Norway-style plan.
UK leads successful attempt to block Russian from becoming Interpol President
The Times reports that Kim Jong-yang from South Korea has been elected as the new President of Interpol, defeating the Russian Alexander Prokopchuk, allegedly a former KGB agent. The paper says that the UK and the USA had been leading a last-minute attempt to prevent the Russian candidate from winning. Lib Dem Leader Sir Vince Cable had warned that if Prokopchuk won, Interpol would become a 'branch of the Russian mafia'.
Mordaunt to announce new focus on low-paid women
The Times reveals that Penny Mordaunt, the Minister for Women and Equalities will use a speech today to announce that the Government will shift its focus away from issues affecting middle class women, including the gender pay gap, towards those affecting women in low-paid jobs, with limited qualifications or who care for relatives.
Labour promises to end compulsory GCSE resits
The Guardian reports that Labour's Shadow Education Secretary Angela Rayner has announced details of her party's plan to reform further education, pledging to end the 'remorseless cycle' of compulsory GCSE maths and English resits and promising to 'put learners first'.
Brexit is complicated, make it simple with Vuelio Political Services.
https://www.vuelio.com/uk/wp-content/uploads/2018/11/Brussels.jpg
430
760
Thomas Stevenson
https://www.vuelio.com/uk/wp-content/uploads/2015/10/vuelio-logo-transparent.png
Thomas Stevenson
2018-11-21 10:34:06
2018-11-21 10:34:06
Political Headlines - May heads to Brussels, Dad's Army, growing support for May and the DUP