Political Headlines – Brexit talks, Merkel's boycott, Matthew Hedges and Cabinet's criticisms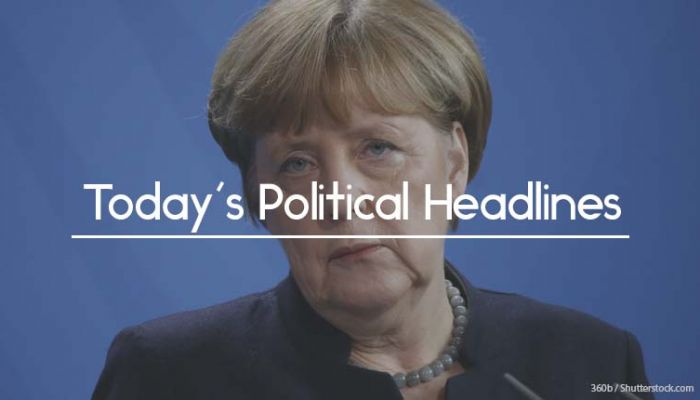 Today's political headlines include May's return to Brussels as Merkel threatens to boycott the summit, criticism of the Foreign Office's handling of Matthew hedges' case, more criticism but this time of the Brexit deal, and the People's Vote.  
May to return to Brussels for talks as Merkel threatens to boycott summit
The BBC reports that Theresa May is to return to Brussels for talks at the weekend after talks finished yesterday without the final text of the political declaration on the future relationship between the UK and the EU being settled. Outstanding issues include Spanish concerns about Gibraltar and access to UK waters for EU fishermen. The Timesadds that the German Chancellor, Angela Merkel, has threatened to boycott Sunday's summit unless all the negotiations have been completed in advance.
Foreign Office criticised after UAE gives British student life sentence
The Times reports that Daniela Tejada, the wife of the British student Matthew Hedges who has been imprisoned by the UAE for spying, has criticised the conduct of the Foreign office, describing it as 'appalling'. Foreign Secretary Jeremy Hunt is thought to have been assured that Hedges would be treated leniently, but instead he received a life sentence yesterday. Hunt has warned that 'serious diplomatic consequences' will follow.
Cabinet's Brexit deal criticisms revealed
The Daily Telegraph has obtained details of the criticisms of Theresa May's Brexit deal made by Cabinet ministers at their meeting last week. Foreign Secretary Jeremy Hunt warned that it was a 'Turkey trap', using the country as an example of how temporary arrangements become permanent, while Home Secretary Sajid Javid warned that the deal would prevent the UK from striking new trade agreements.
Pro-EU MPs disagree over People's Vote timing
The Financial Times claims that pro-EU MPs are in disagreement about the best time to table a Commons vote on holding a People's Vote. Some want to force a vote in early December, before a vote on Theresa May's deal, while other believe that it would be better to wait for the deal to be voted down or a vote of no confidence to be passed in the Government, as acting earlier would make it look like they were trying to block Brexit.
Women descend on Westminster to mark 100 years of being able to stand for Parliament
The Guardian reports that 317 women visited 238 MPs at Parliament yesterday as part of #AskHerToStandDay, celebrating 100 years since women first good the right to stand for Parliament. The event was claimed to be the first time women had outnumbered men at Westminster. The founder of 50:50 Parliament, Frances Scott, said that the aim was to get gender parity in Parliament in ten years.
Motorists who pass cycling proficiency to get cheaper insurance
The Daily Telegraph claims that motorists who pass cycling proficiency tests offered cheaper insurance as part of new Government plans to improve cyclist and pedestrian safety. Other measures include giving councils powers to use surveillance cameras to catch people parked in cycle lanes and getting people to send dashcam footage of road rage to a new police unit.
Former ministers urge Government to freeze rail fares
According to The Sun, three former Conservative ministers – Michael Fallon, Grant Shapps and Tim Loughton – are urging the Government to ditch plans for a 3.2% increase in rail fares in the new year and instead to freeze prices. Fallon said that the increase was 'outrageous' given the problems experienced by commuters over the last year.
Families affected by benefit cap should consider taking lodger, MP says
The Guardian says that work and pensions minister Justin Tomlinson has been attacked by charities and Labour for suggesting that families in poverty because of the benefit cap should consider taking in a lodger. He admitted that no analysis was being done on the effectiveness of the cap and suggested that families could also move or try to renegotiate their rent.
What's going to happen next with Brexit? Find out with Vuelio Political Services.
https://www.vuelio.com/uk/wp-content/uploads/2018/11/Merkel.jpg
430
760
Thomas Stevenson
https://www.vuelio.com/uk/wp-content/uploads/2015/10/vuelio-logo-transparent.png
Thomas Stevenson
2018-11-22 10:23:39
2018-11-22 10:23:39
Political Headlines - Brexit talks, Merkel's boycott, Matthew Hedges and Cabinet's criticisms