Political Headlines – May's fight, advertising online, Mike Ashley and the CBI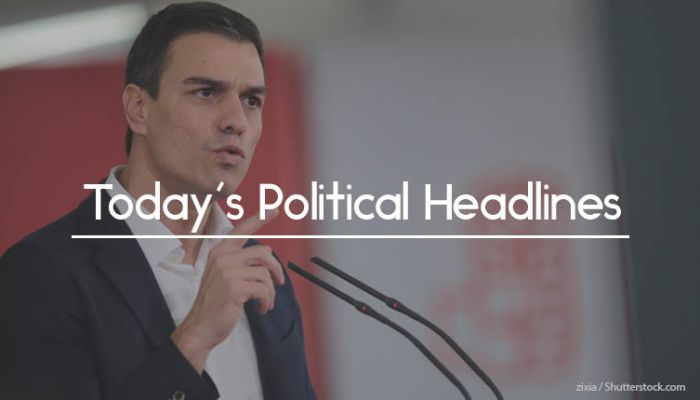 Today's political headlines include May's fight to save her Brexit plans, the committee telling advertisers to boycott tech giants, Mike Ashley's demands to give evidence on saving the high street and the CBI's doubts over Brexit deal.  
May fights to save her Brexit plans
The Guardian claims that Theresa May is fighting to save her Brexit deal on two fronts, following the publication of the text of the political declaration yesterday. Tory backbenchers repeatedly called on her to renegotiate the deal during a debate yesterday, while the EU has warned that no further concessions can be made. The Spanish Prime Minister Pedro Sánchez [pictured] has even claimed that he will 'veto Brexit' over Spain's concerns about Gibraltar.
Advertisers should boycott tech giants, committee says
The Times reports that Parliament's Intelligence and Security Committee has called for advertisers to boycott tech companies like Facebook and Google unless they demonstrate a serious commitment to tackle terrorist material online, warning that this had been a key contributor to incidents including the Manchester bombing. Dominic Grieve, the committee's chair, said that firms should follow the example of advertisers such as Unilever.
Mike Ashley demands to give MPs evidence on saving the high street
According to The Guardian, Sports Direct founder Mike Ashley has demanded to give evidence to the Commons Housing, Communities and Local Government Committee on how to save the high street. The committee originally asked for a representative from House of Fraser to speak as part of a panel of four, but Ashley felt that this 'wouldn't achieve anything'.
Internal email reveals CBI's doubts about Brexit deal
An email accidentally sent to ITV News has revealed a difference in opinion within the CBI over Theresa May's Brexit deal. While the organisation's Director-General Carolyn Fairbairn has publicly welcomed the deal, while admitting that it is 'not perfect', an internal email from the business groups' head of EU negotiations described it as 'not a good deal'.
New teams to tackle drugs in prisons
The Sun reports that Justice Secretary David Gauke has announced the creation of new 'SWAT teams' in 100 prisons to tackle gangs behind drug-fuelled violence in jails. The teams of specially-trained prison officers will detect drugs, mobile phones and other illicit items, and have already been deployed at eight high-security prisons.
New report criticises smart meter rollout
The Daily Mail carries details of a report by the National Audit Office that warns that plans to install smart meters in every home by 2020 will not succeed, will cost at least £500m more than estimated and the devices may not deliver the cuts to energy bills which were originally promised.
Home Office admits to failings over settlement visas
The Financial Times says that the Home Office has admitted that it wrongly applied rules, leading it to refuse settlement visas to professionals over tax discrepancies. Immigration minister Caroline Nokes said that the findings of the department's inquiry would be 'used to inform our future decision-making'.
Farage calls for UKIP leader to be sacked
The Daily Telegraph reports that Nigel Farage has called for Gerard Batten to be sacked as UKIP leader after he appointed the EDL founder Tommy Robinson as an adviser, warning that if UKIP continued heading on its current trajectory, it would be 'finished'. Robinson is banned from joining UKIP under a rule barring those with EDL links from becoming members.
Fighting to understand the political landscape? You need Vuelio Political Services.
https://www.vuelio.com/uk/wp-content/uploads/2018/11/Pedro-Sanchez.jpg
430
760
Thomas Stevenson
https://www.vuelio.com/uk/wp-content/uploads/2015/10/vuelio-logo-transparent.png
Thomas Stevenson
2018-11-23 10:39:51
2018-11-23 10:39:51
Political Headlines - May's fight, advertising online, Mike Ashley and the CBI