Political Headlines – May offers Corbyn compromise talks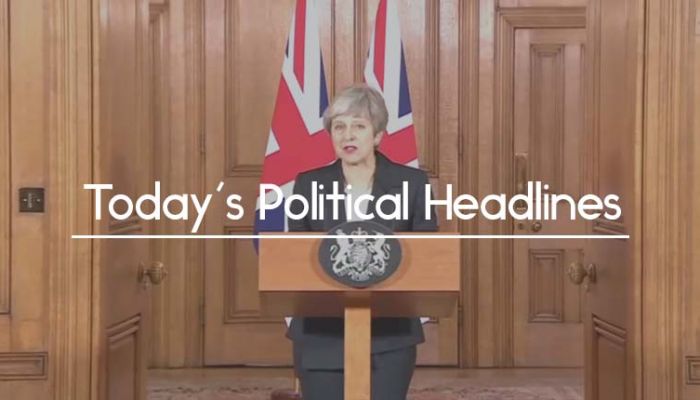 Today's political headlines includes May's offer to Corbyn to compromise on Brexit, EU leaders would reject request for short delay, manufacturing growth sectors vulnerable to Brexit and Lamb warns he may quit Lib Dems. 
May offers Corbyn Brexit compromise talks
The Guardian reports that Theresa May used a statement after yesterday's seven-hour long Cabinet meeting to offer to enter talks with Jeremy Corbyn to find a Brexit compromise, which he has accepted. She said she would request a further extension from the EU, but hoped for a deal with Labour or a decision by Parliament before next Wednesday so European Parliament elections could be avoided. Sources say that the meeting was 'at times fractious and bad tempered', with 14 ministers opposed to a long extension, although some claimed that only four favoured a no-deal Brexit. However, The Daily Telegraph claims that 14 ministers were in favour of no-deal, with 10 preferring an extension. Jacob Rees-Mogg said that the decision is 'an attempt to overturn the referendum that wanted a clear Brexit'.
EU leaders would reject request for short delay
According to The Times, EU leaders will reject a request for a short delay to Brexit, with French President Emmanuel Macron saying that the only choice was between a long extension or no-deal. However, European Council President Donald Tusk said that leaders should 'be patient' and see what happens in the UK.
Manufacturing growth sectors vulnerable to Brexit
The Financial Times says that UK manufacturing growth over the past decade has been driven by just four sectors – food, motor vehicles, other transport equipment and repair of machinery – and that these rely most on a close relationship with the EU. PwC warned that Brexit would be 'costly' to these industries, which new Office for National Statistics figures show were responsible for 86% of manufacturing growth between 2008 and 2018.
Lamb warns he may quit 'intransigent' Lib Dems
The Sun reports that former Liberal Democrat leadership contender Norman Lamb has warned that he may quit the party as it was being 'intransigent' over Brexit. He was the only one of the party's MPs to vote in favour of a customs union during Monday's indicative votes and said he was worried his party had become 'the mirror image of the ERG.'
MPs call for prison sentences of under a year to be abolished
The Daily Telegraph says that a new report by the Commons Justice Committee endorses Justice Secretary David Gauke's plan to axe prison sentences shorter than six months, but suggests that he should go further and abolish all sentences of less than a year. It says this would improve prison safety and allow more to be spent on rehabilitation.
NAO criticises nuclear submarine storage
The Guardian reports that the National Audit Office has criticised the Ministry of Defence over the cost of nuclear submarine storage. It says that failings in the 'dismal' programme have cost the UK £500m, with none of the 20 vessels decommissioned since 1980 having been disposed of, risking the UK's reputation as a 'responsible nuclear power'.
Police investigate pro-Brexit railway sabotage attempts
The Mirror reports that the British Transport Police are investigating two pro-Brexit attempts to 'sabotage' the rail network by placing devices on the tracks which would disrupt signalling systems. Safeguards introduced as a result of EU regulations meant that the devices did not function successfully.
Councils left 'in the dark' about Brexit
The BBC carries details of a new report by the Commons Housing, Communities and Local Government Committee, which says that the Government has left councils 'in the dark' about Brexit and needs to provide more support urgently. It also calls for the UK Shared Prosperity Fund to be fast-tracked to replace EU funding.
Brexit is nine days away, apparently, find out what will happen next with Vuelio Political Services. 
https://www.vuelio.com/uk/wp-content/uploads/2019/03/Theresa-May-blaming-MPs.jpg
430
760
Thomas Stevenson
https://www.vuelio.com/uk/wp-content/uploads/2019/09/vuelio-logo.png
Thomas Stevenson
2019-04-03 09:13:24
2019-04-03 09:13:24
Political Headlines - May offers Corbyn compromise talks