Political Headlines – MPs reject all Brexit options once again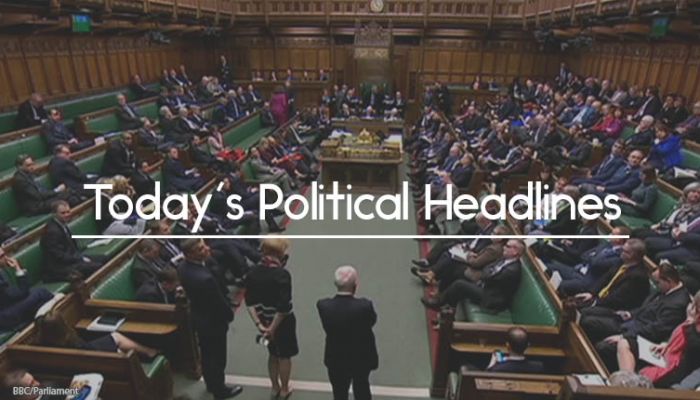 Today's political headlines includes MPs rejecting all Brexit options again, Sedwill warns of no-deal risks, Brexiteers to urge May to give EU ultimatum and Boles quits Tories. 
MPs reject all Brexit options again
As The Times reports, a majority of MPs again failed to back any of the alternative Brexit proposals put forward in yesterday's indicative votes. A customs union was rejected by 3 votes, a second referendum by 12, and the 'Common Market 2.0' plan by 21. The Cabinet will hold a five-hour meeting today, with speculation that Theresa May could threaten Brexiteers with a general election and Chancellor Philip Hammond will warn that if the Government doesn't put forward a compromise proposal, it should hold a referendum as neither the Conservatives or the UK can 'afford an election'.
Sedwill warns of no-deal risks
The Daily Mail has obtained a letter warning about the risks of a no-deal Brexit from Cabinet Secretary Sir Mark Sedwill to Cabinet ministers. He writes that this would force up food prices by up to 10q, disrupt national security making the UK 'less safe', lead to the reimposition of direct rule in Northern Ireland and cause a recession, with the Government under pressure 'to bail out companies'.
Brexiteers to urge May to give EU ultimatum
According to The Sun, Brexiteer ministers will use today's Cabinet meeting to press Theresa May to issue a final ultimatum to the EU – either the backstop is improved or the UK will leave with no deal in ten days. However, according to the paper consensus is growing for a run-off vote between May's deal and a customs union with the EU.
Boles quits Tories
The Guardian reports that former minister Nick Boles quit the Conservatives yesterday, announcing his departure in the Commons after his 'Common Market 2.0' Brexit proposal failed. He said that he had chosen to leave because 'my party refuses to compromise' and would now sit as an 'independent progressive conservative'.
MPs call for 'Big Four' accounting firms to be split up
The Financial Times carries details of a new report by the Commons Business, Energy and Industrial Strategy Committee which calls for the break-up of the 'Big Four' accounting firms by the Competition and Markets Authority when it publishes its final proposals for the sector in a 'few weeks'. Committee chair Rachel Reeves said change was 'long overdue' and the dominance of a few firms had led to 'audits which investors and the public cannot rely on.'
Social media firms to be fined over knife sales
According to The Daily Telegraph, the Government's new white paper on online harms, expected next week, will announce fines for social media firms which allow the sale of knives and don't remove violent content, such as 'drill' music videos. This would be policed by a regulator with the power to fine companies up to 4% of their global turnover.
Parents who home educate children to be required to register
The Times reports that Education Secretary Damian Hinds is to require parents whose children are home educated to register with local authorities, allowing intervention to take place where the standard of the education provided is too low or only a religious education is being given. If parents refuse to register, existing 'school attendance orders' will be used to force them to send their children to school, with other penalties under consideration.
Climate change protesters disrupt Brexit debate
The Guardian says that yesterday's debate on Brexit in the Commons was disrupted by semi-naked climate change protesters who glued themselves to the glass of the public gallery. They were removed by the police and 12 people were arrested for outraging public decency.
Keep up to date with Brexit with Vuelio Political Services. 
https://www.vuelio.com/uk/wp-content/uploads/2019/04/House-of-commons.jpg
430
760
Thomas Stevenson
https://www.vuelio.com/uk/wp-content/uploads/2019/09/vuelio-logo.png
Thomas Stevenson
2019-04-02 09:26:52
2019-04-02 09:26:52
Political Headlines - MPs reject all Brexit options once again