Political Headlines – May suggests talks with Corbyn and Williamson calls for 'hard power'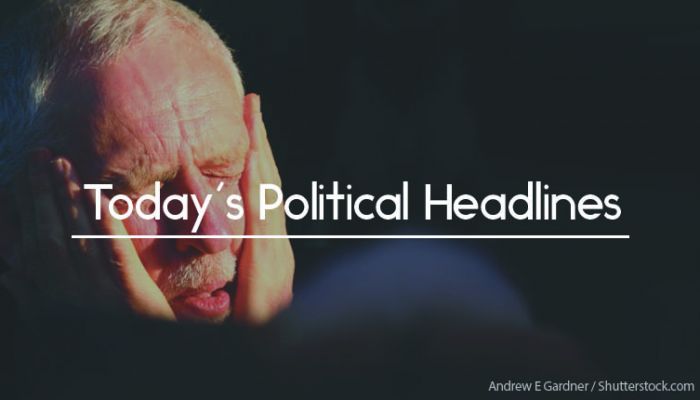 Today's political headlines include May opening the door to Corbyn, William's use of 'hard power', No-deal would mean two more years of austerity and Truss criticises Green's use of NDAs. 
May opens door to Brexit talks with Corbyn
According to The Times, Theresa May has 'opened the door' to a soft Brexit by writing to Jeremy Corbyn suggesting talks on a post-Brexit customs union with the EU, despite the risk of Cabinet ministers resigning. The letter adds that her deal already offers the benefits of a custom union', while a Number 10 source said it was 'nonsense' to suggest that Corbyn's proposal was being considered. The Guardian, however, claims that the letter has 'effectively ruled out' Labour's compromise proposal with the CBI warning that the UK is now 'in the emergency zone of Brexit'.
Williamson to call for use of 'hard power'
The BBC says that Defence Secretary Gavin Williamson will use a speech today to argue in favour of having armed forces prepared to use 'hard power to support our interests' with increased 'mass and lethality', rather than being a 'paper tiger'. He will say that the UK must confront those who 'flout international law', confirm the deployment of a new aircraft carrier to the Pacific and outline a 'very significant investment' in cyber forces.
No-deal Brexit would mean two more years of austerity
The Financial Times reports that a new report by the Institute for Fiscal Studies warns that the UK would have to undergo two more years of austerity in order to tackle the impact of a no-deal Brexit on the public finances. The Resolution Foundation has published analysis suggesting that Brexit has led to households' disposable income being £1500 lower than it would have been otherwise.
Truss criticises Green's use of NDAs
The Daily Telegraph reports that the Chief Secretary to the Treasury Liz Truss said that Sir Philip Green's use of non-disclosure agreements to tackle allegations of sexual harassment, bullying and racism was 'morally wrong' and 'flouting the law', and is pledging to 'get changes' to how they are used. Maria Miller, who chairs the Commons Women and Equalities Committee told the paper that she wanted Green to give evidence to her committee.
Tory backbenchers seek to ban eating dog and cat meat
The Sun says that an amendment to the new Agriculture Bill tabled by 15 backbench Tories led by Giles Watling would ban the consumption of dogs and cats to 'send a powerful moral message to Far East countries'. The paper adds that Labour could also support the plan.
Calls for Grayling to be sacked after ferry contract scrapped
The Times reports that Downing Street has said that it has full confidence in Transport Secretary Chris Grayling, despite calls for his dismissal from Conservative MPs including Anna Soubry. At the weekend the Government cancelled plans to give a £13.8m no-deal Brexit ferry contract to Seaborne Freight, a firm with no ferries.
Thinktank warns of cost of immigration plans
The Guardian carries details of a new report by the pro-immigration thinktank Global Future  which warns that the Government's proposed post-Brexit immigration system will cost employers £1bn in administration costs over five years, put EU students off studying in the UK, and could risk a repeat of the Windrush scandal.
Ministers revolt against HS2 costs
The Daily Mail claims that there is 'a growing Cabinet revolt' which threatens to axe HS2 after the cost of the project grew from £33bn to over £60bn. A source told the paper that while the final decision point had not been reached, concerns about management of the scheme was 'continuing to grow' and 'opposition is mounting'.
Ready for more Brexit talks? Find out what they mean for you with Vuelio Political Services.
https://www.vuelio.com/uk/wp-content/uploads/2018/08/Corbyn.jpg
430
760
Thomas Stevenson
https://www.vuelio.com/uk/wp-content/uploads/2023/09/vuelio-logo-200px.png
Thomas Stevenson
2019-02-11 10:49:40
2019-02-11 10:49:40
Political Headlines - May suggests talks with Corbyn and Williamson calls for 'hard power'