Political Headlines – Carney's warning and the Brexit vote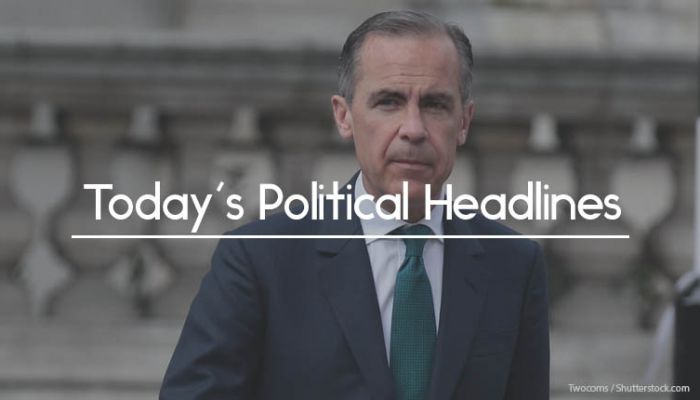 Today's political headlines include Carney's warning of economic slowdown, MPs may not vote on Brexit until March, May heads to Dublin and Instagram pledges to remove self-harm images. 
Carney warns of Brexit-related economic slowdown
The Times reports that the Governor of the Bank of England, Mark Carney, has said that this year the economy will grow at the slowest rate since the financial crisis because of the 'fog of Brexit', with a one in four chance of a recession by the summer. According to the Financial Times, 'Project After', a secret group of civil servants in close contact with the Bank of England, is drawing up a plan to kick-start the economy in the event of a no-deal Brexit, including cuts to taxes and tariffs and increased investment.
MPs may not vote on Brexit deal until March
The Guardian claims that MPs may not get a chance to vote on a new Brexit deal until March, after Theresa May and European Commission President Jean-Claude Juncker agreed during their talks yesterday to meet again by the end of February. This would, the paper says, but Parliament under pressure to accept the deal or face a no-deal Brexit and still require Article 50 to be extended to allow necessary legislation to be passed. The Sun adds that Number 10 is preparing to back a package of workers' rights in a bid to secure Labour MPs' support.
May heads to Dublin for Brexit talks
The BBC says that Theresa May is to travel to Dublin today for discussions about Brexit with the Irish Taoiseach Leo Varadkar as part of her attempt to secure legally-binding changes to the backstop. He will also be holding talks with the five main political parties in Northern Ireland earlier in the day.
Instagram pledges to remove self-harm images
The Times says that Adam Mosseri, the head of Instagram, has promised to remove all graphic self-harming images from the service following a meeting with Health and Social Care Secretary Matt Hancock yesterday. Hancock said that he would 'be asking other social companies to act'.
Planning overhaul needed to deliver housing targets, NAO warns
The Daily Telegraph carries details of a new report by the National Audit Office, which warns that the Government will only reach its target of building 300,000 houses every year if councils stop using outdated figures to calculate housing need. Separately a new report by the thinktank Civitas shows a sharp increase in young adults still living with their parents.
'Death tax' to hit 300,000 families
The Daily Mail claims that a new 'death tax' will hit up to 300,000 families after the Government classified an increase in fees for probate as a fee rather than a tax, allowing it to avoid full parliamentary scrutiny. Liberal Democrat leader Sir Vince Cable said this was 'a clear abuse of executive power'.
Evening with May fetches £75,000 at Conservative ball
The Daily Mirror reports on the Conservative Party's Black and White Ball. Among the lots auctioned to party donors were an evening with Theresa May which fetched £75,000, and a set of posters signed by her which brought in £175,000. Labour Party chair Ian Lavery said that the event was 'stomach-churning'.
New 'cheat proof' expenses system to be introduced
In an exclusive, The Sun reveals that a 'cheat proof' expenses system for MPs will be introduced, a decade after the expenses scandal. The watchdog IPSA has announced that a new digital system will go live in April, saving £1m and also allowing claims to be verified and challenged more easily.
What does Carney's warning mean to you? Find out with Vuelio Political Services.
https://www.vuelio.com/uk/wp-content/uploads/2019/02/Mark-Carney-.jpg
430
760
Thomas Stevenson
https://www.vuelio.com/uk/wp-content/uploads/2019/09/vuelio-logo.png
Thomas Stevenson
2019-02-08 11:17:21
2019-02-08 11:17:21
Political Headlines - Carney's warning and the Brexit vote