Political Headlines – UK will not be trapped in backstop and Labour's demands on Brexit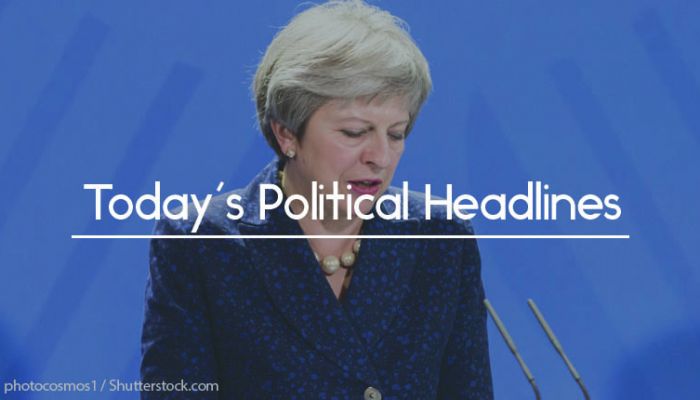 Today's political headlines include May's claim that the UK will not be trapped in backstop, Labour's demands on Brexit, Tusk remarks leave Brexiteers raging and Ross Thomson escorted from Parliament bar for groping. 
UK will not be trapped in backstop
The BBC is reporting on what it is anticipated Theresa May will say to the EU, they are expecting her to say that the UK will not be trapped in the backstop. Despite the EU stating they will not make any changes to the withdrawal agreement May will say it needs to change to win the support of MPs. The Prime Minister is not expected to come back from this trip to Brussels with any major changes to the agreement that has been reached on the backstop.
Labour's demands on Brexit
Jeremy Corbyn has written to the Prime Minister to outline what the Labour Party want to see come out of Brexit, this is being reported in the Independent. Corbyn has said Labour's demands will bring the country together, he has also said that changes to the backstop will be insufficient in winning the support of his party. The five demands set out are: a permanent and comprehensive UK-wide customs union, shared institutions, dynamic alignment on rights and protections, commitments on future UK participation in EU agencies and clear agreements on future security arrangements.
Tusk remarks leave Brexiteers raging
Sky News reports on the comments made by President of the European Council, Donald Tusk on the 'special place in hell' for those who campaigned to leave the EU without a plan. The report has also gathered reactions from Brexiteers who reacted with anger at the remarks. Sammy Wilson called Tusk a 'devilish euro maniac', Andrea Leadsom called him 'spiteful' and Nigel Farage accused Tusk of being a bullying. Tusk also got reaction out of those who are not seen as the biggest supporters of Brexit with Sajid Javid sayings the comments were out of order.
Ross Thomson escorted from Parliament bar for 'groping'
The Scottish Sun report on allegations against Conservative MP for Aberdeen South, Ross Thomson that he had to be escorted by police out of a bar in Parliament for groping two men. It is alleged that Lord Duncan and fellow MP, David Duguid attempted to encourage Thomson to leave. The Met Police confirmed that they were called to Strangers Bar following a report of sexual touching, no formal allegations or arrests have been made.
Boris receives £51,000 for a speech
The Guardian report on Boris Johnson making £51,000 for a speech in Dublin, the fee was paid by Pendulum Events. The article goes on to speak about how Johnson has made large sums of money since leaving his position as Foreign Secretary, he is paid £23,000 a month by the Telegraph, he was also paid £10,000 by JCB three days before he gave a speech at their headquarters. Johnson was also paid £94,000 for a speech to an asset management firm in New York last November.
What German Businesses thinks of Brexit
The Telegraph report on what German business is making of the Brexit negotiations. According to the report German business is concerned about the prospect of a no-deal Brexit and rarely a day passes without warnings from business leaders. There are currently no signs of German business urging Angel Merkel to change her negotiating position. Despite this the Federation of German Industry feel that a no deal could cause a massive crisis and the VDA (car industry trade body), feel that a no deal could have fatal consequences.
Working in policy and public affairs? You need intelligence from Vuelio Political Services.
https://www.vuelio.com/uk/wp-content/uploads/2018/07/Theresa-May-looking-down.jpg
430
760
Daniel Loman
https://www.vuelio.com/uk/wp-content/uploads/2019/09/vuelio-logo.png
Daniel Loman
2019-02-07 11:21:17
2019-02-07 11:21:17
Political Headlines - UK will not be trapped in backstop and Labour's demands on Brexit