Political Headlines – May on Brexit backstop latest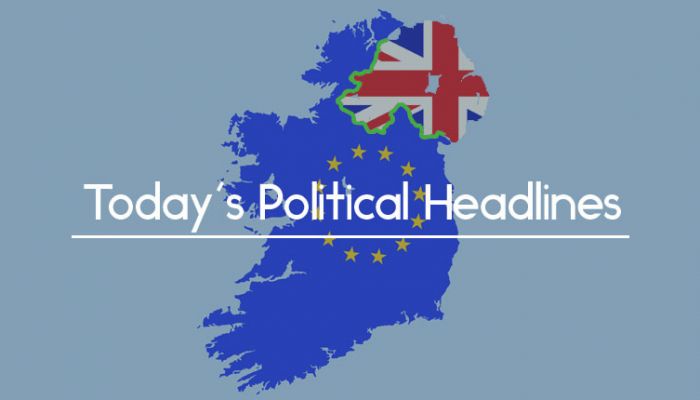 Today's political headlines include May's denial that she plans to abandon the backstop, holding talks with Northern Irish parties, Merkel putting pressure on Ireland and May's visit to Brussels. 
May denies she plans to abandon backstop
The Daily Telegraph says that Theresa May is now on a 'collision course' with the DUP and Eurosceptic backbenchers after she told business leaders in Northern Ireland that she was 'not proposing' to get rid of the Northern Irish backstop, and just wanted 'changes' to it including addressing 'the potentially indefinite nature of the backstop'. She reiterated that she had an 'unshakeable' commitment to avoiding a hard border on the island of Ireland.
May to hold talks with Northern Irish parties
The BBC reports that Theresa May is to use the second day of her visit to Northern Ireland to hold talks with its five main political parties, discussing both Brexit and the collapse of the Northern Ireland Assembly. Separately, Irish Taoiseach Leo Varadkar is in Brussels for discussions about Brexit, while the Government's Alternative Arrangements Working Group of MPs will conclude its discussions about alternatives to the backstop.
Merkel puts pressure on Ireland over backstop
The Times claims that the German Chancellor Angela Merkel is attempting to rescue the Brexit deal by pressuring Ireland to abandon its insistence on the backstop, suggesting that it could be solved through what the paper describes as 'a combination of technology and a sophisticated customs scheme', perhaps by adding extra clauses in the agreement committing both sides to develop alternative arrangements during the transition period.
May to visit Brussels for talks
The Guardian reports that Theresa May is visiting Brussels tomorrow for Brexit talks, meeting both the European Commission President Jean-Claude Juncker and the European Council President Donald Tusk. She is expected to seek the reopening of the Withdrawal Agreement after the Brady amendment calling for an alternative to the backstop passed yesterday.
Fox considering zero tariffs in no-deal Brexit scenario
The Financial Times says that International Trade Secretary Liam Fox is considering reducing tariffs on most imports to zero in the event of a no-deal Brexit, in an attempt to keep consumer prices low. However, critics warn that this would damage British manufacturers and reduce other countries' incentive to agree trade deals with the UK.
Fully driverless car trials could be underway by end of year
The Times says that advanced trials of fully driverless cars on public roads will be possible by the end of the year as the Government is to end the requirement for a dedicated safety driver, subject to a strict application process. However, critics have raised safety concerns about the proposals.
Children's Commissioner proposes fines for social media firms
The Daily Telegraph reports that the Children's Commissioner, Anne Longfield, has commissioned a law firm to draft a bill to introduce a statutory duty of care to protect children online, which could lead to social media firms being fined millions of pounds, and is urging the Government to adopt it. Labour is to commit to a similar policy.
Labour membership falls
In an exclusive, Labour membership figures have been leaked to The Mirror showing that it has fallen to 512,000, a decline of around 10% since December 2017. However, this suggests that the party is still over four times larger than the Conservatives, based on membership figures released in March 2018.
May steals the headlines but there's more news than just Brexit – keep up to date with what matters to you with Vuelio Political Services.
https://www.vuelio.com/uk/wp-content/uploads/2018/04/Irish-border-Brexit.jpg
430
760
Thomas Stevenson
https://www.vuelio.com/uk/wp-content/uploads/2019/09/vuelio-logo.png
Thomas Stevenson
2019-02-06 11:18:03
2019-02-06 11:18:03
Political Headlines - May on Brexit backstop latest