Political Headlines – Brexiteers reject EU concessions and May's speech in Northern Ireland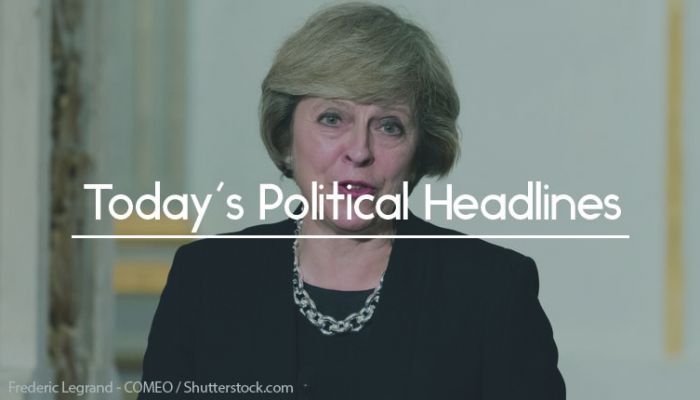 Today's political headlines include Brexiteers rejecting EU concessions, May to deliver speech in Northern Ireland, Clark criticised over Nissan offer and Labour MPs pass motion criticising party's handling of antisemitism. 
Brexiteers reject EU concession
The Times says that Brexiteers have rejected an offer from the Secretary-General of the European Commission, Martin Selmayr, who offered to give Theresa May a legally binding assurance that the backstop would not result in a permanent customs union between the UK and the EU during a meeting he held with the Commons Exiting the EU Committee. Brexiteer members of the committee, including Andrea Jenkyns and John Whittingdale reportedly rejected the idea.
May to deliver speech in Northern Ireland
The BBC reports that Theresa May will give a speech in Northern Ireland today, telling business leaders that she wants a Brexit deal which 'commands broad support' and 'honours commitments to Northern Ireland'. However, the DUP leader Arlene Foster has called for the 'toxic backstop' to be removed.
Clark criticised over Nissan offer
According to The Daily Telegraph, Business, Energy and Industrial Strategy Secretary Greg Clark is facing criticism after an October 2016 letter in which he promised Nissan £80m to build two new models in Sunderland was published. He had previously claimed that there was 'no chequebook' involved in the firm's decision. He said yesterday that Nissan's decision not to build the X-Trail in Sunderland after all was a 'warning sign' about a no-deal Brexit.
Labour MPs pass motion criticising party's handling of antisemitism allegations
The Guardian says that Labour's General Secretary Jennie Formby was criticised at a meeting of the party's MPs, who suggested that she had been slow to tackle antisemitism in the party. They unanimously passed a motion warning that this failure 'risks antisemitism in the party appearing normalised and the party seeming to be institutionally antisemitic'.
Trimble to challenge Brexit deal in court
The Daily Telegraph reveals that Lord Trimble is planning to challenge Theresa May's Brexit deal because he believes that it undermines the Good Friday Agreement, setting up a crowdfunding page to fund the legal action, which he expects to launch either this week or next week.
Flint will vote for 'reasonable' Brexit deal
Writing in The Sun, Labour MP Caroline Flint says she will vote for any 'reasonable' Brexit deal the Government agrees, so long as it commits to workers' rights and environmental protections, denying her vote had been 'bought' and refusing to 'apologise for demanding a Rebuilding Britain fund' to provide 'a new deal for our small towns after Brexit.'
EU imports won't be checked in a no-deal Brexit
The Financial Times reports that HMRC has announced that goods being shipped from the EU to the UK will not be checked at ports for a limited period after a no-deal Brexit in a bid to reduce gridlock. Importers will be able to make a full declaration about their imported goods until after the border has been crossed.
EU to blame for no-deal Brexit, Grayling says
Speaking to The Daily Telegraph, Transport Secretary Chris Grayling has claimed that if a no-deal Brexit happened, it would be the result of the EU's being unwilling 'to work with us to find common ground' and that Article 50 would not be delayed. He also claimed that Nissan's X-Trail decision 'has much more to do with the diesel car market than Brexit'.
When it comes to political intelligence, don't get left behind Vuelio Political Services.
https://www.vuelio.com/uk/wp-content/uploads/2018/10/Theresa-May-Brexit.jpg
430
760
Jake O'Neill
https://www.vuelio.com/uk/wp-content/uploads/2015/10/vuelio-logo-transparent.png
Jake O'Neill
2019-02-05 11:17:15
2019-02-05 11:17:15
Political Headlines - Brexiteers reject EU concessions and May's speech in Northern Ireland