Political Headlines – May's fortnight, Irish warnings and Philip May's pivotal role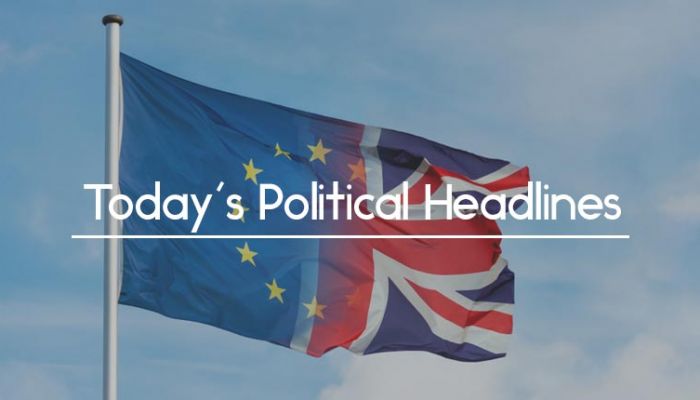 Today's political headlines include the May's fortnight to pass deal, warnings from Irish Foreign Minister, Philip May's pivotal role and the extremely valuable amendment. 
Pro-European ministers give May a fortnight to pass deal
The Daily Telegraph says that a dozen pro-European Government ministers held a phone call last night in which they decided that Theresa May had a fortnight to secure her deal with the EU and hold a second meaningful vote, abandoning a possible rebellion to support Yvette Cooper's amendment ruling out a no-deal Brexit. The Times adds that Conservative MPs who voted for May's deal are preparing to push for a softer Brexit if Cooper's amendment passes tomorrow, and that Downing Street is 'desperate' to stop it from doing so.
Irish minister warns that the backstop 'isn't going to change'
The Guardian claims that Theresa May has suffered a 'blow' after the Irish Foreign Minister, Simon Coveney, warned that the backstop 'isn't going to change', was only in the Brexit agreement because of red lines set by the UK, and was expanded to cover the whole of the UK at the request of the British government.
May's husband plays 'pivotal role' in Brexit strategy
The Daily Telegraph reveals that Philip May, the Prime Minister's husband, has assumed a 'pivotal role' in a disagreement between those, such as Gavin Barwell and David Lidington, who want to build a consensus with Labour, and others include Julian Smith, Brandon Lewis and Robbie Gibb who have warned that if May does not gain the support of Brexiteers and the DUP she may destroy her party, with her husband backing the latter faction.
Hancock describes Irish backstop amendment as 'extremely valuable'
According to The Times, Health and Social Care Secretary Matt Hancock has described the work done by those backing an amendment tabled by Sir Graham Brady calling for the Northern Ireland backstop to be replaced by 'alternative arrangements' as 'extremely valuable. The paper says this is 'the clearest indication yet' that Downing Street is backing the amendment, but Government sources fear the Speaker won't select it to be voted on.
May secretly rules-out a no-deal Brexit
In an exclusive, The Sun claims that Theresa May has told Cabinet ministers that she won't pursue a no-deal Brexit, but cannot yet say so publicly because it would weaken her hand in negotiations with the EU. A senior Tory told the paper that the Prime Minister is 'terrified' of job losses resulting from such a scenario.
Hancock pressures social media firms to tackle harmful content
The Financial Times says that Health and Social Care Secretary Matt Hancock has 'stepped up the pressure' on social media firms to tackle content which may encourage self-harm and suicide, saying that the Government could 'legislate if we need to', although 'it would be far better to do it in concert' with the companies.
Senior Tories back attempt to end indefinite detention of immigrants
The Guardian reports that Harriet Harman has secured the backing of senior Conservatives such as David Davis for an amendment to the Immigration Bill which would stop people from being indefinitely held in immigration detention centres. Harman said that the support meant that she was 'very confident' that the Home Office would accept her amendment.
Government to offer teachers cash in effort to solve shortage
The BBC says that Government is publishing new plans today in an attempt to increase teacher retention and solve the teacher shortage in England. The plans will offer some young teachers payments of £5000 in their third and fifth years teaching, more support for training and a reduced teaching timetable.
What will May's deal look like? Keep up with the latest with Vuelio Political Services.
https://www.vuelio.com/uk/wp-content/uploads/2018/12/Brexit-flag.jpg
430
760
Thomas Stevenson
https://www.vuelio.com/uk/wp-content/uploads/2015/10/vuelio-logo-transparent.png
Thomas Stevenson
2019-01-28 10:23:37
2019-01-28 10:23:37
Political Headlines - May's fortnight, Irish warnings and Philip May's pivotal role