Political Headlines – new Tory Brexit compromise in Brexit latest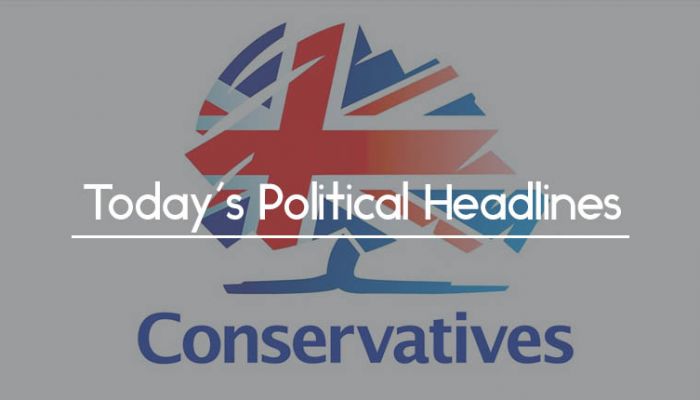 Today's political headlines include the new Tory Brexit plan, Corbyn yet to confirm Labour support for Cooper's amendment, food firms warning of no-deal disruption and EU negotiators warning of the high risk of no-deal. 
New Tory Brexit compromise plan emerges
The Times reports that Conservative Brexiteers have refused to back a Government-supported amendment to today's Brexit motion calling for the Irish backstop to be replaced with 'alternative arrangements'. However, a new plan, called the 'Malthouse Compromise' after MP Kit Malthouse, has emerged following negotiations between the European Research Group and supporters of May's deal, which would extend the transition period and replace the backstop with a 'safety net' allowing trade on WTO terms with no tariffs should a future relationship not be agreed. The paper notes that this proposal is 'unlikely to be accepted by the EU'.
Corbyn yet to confirm Labour support for Cooper amendment
The Guardian reports that Jeremy Corbyn has yet to confirm if Labour will officially support Yvette Cooper's amendment which aims to rule-out a no-deal Brexit. While several Labour MPs say they've been told that the party will back the plan, concerns have been raised about the policy by shadow ministers including Shadow Cabinet Office Minister Jon Trickett, who'd prefer a shorter extension to Article 50, and party chair Ian Lavery.
Food firms warn of no-deal disruption
The Mirror carries details of a warning from food retailers including Sainsbury's, Waitrose and McDonald's which warns of 'significant disruption' to food supply chains in a no-deal Brexit scenario. The letter to MPs also warns that it is 'impossible to stockpile fresh produce' and that space to stockpile other products is running out.
EU negotiator warns that there's a 'very high' risk of no-deal
The Guardian says that Sabine Weyand, the EU's deputy chief Brexit negotiator, has warned that there is a 'very high' risk of a no-deal Brexit, explaining that a 'stable majority' for the deal is needed in Parliament, but it was difficult to see how a 'positive majority' could be found, and that negotiations between the bloc and the UK were 'finished'.
Javid unveils no-deal Brexit immigration plan
The Daily Telegraph reports that Home Secretary Sajid Javid has announced that EU citizens who arrive in the UK after 29 March in the event of a no-deal Brexit will have to apply for visas to stay in the UK in order to obtain temporary leave to remain, entitling them to stay for three years before applying through the new immigration system which begins in 2021.
Labour in U-turn over Immigration Bill
The Guardian says that Labour 'was forced into an embarrassing U-turn' yesterday after the party initially said that it wouldn't oppose the Immigration Bill, which ends free movement after Brexit. However, following an online backlash it announced that it would vote against the bill, rather than abstain, although a number of MPs missed the vote, which the Government won comfortably.
UK would have to elect MEPs if Brexit delayed
The Times claims that it has been told by 'senior Brussels sources' that the UK would have to hold EU elections this spring if the Commons were to vote to delay Brexit by nine months. Otherwise, legal advice suggests that all EU decisions would be vulnerable to challenge.
MPs vote for proxy-voting trial
The BBC reports that last night MPs voted unanimously in favour of introducing a year-long trial of proxy-voting for MPs who are on parental leave, which is expected to be in place in time for this evening's Brexit votes. An amendment to the trial by Philip Davies allowing MPs who've suffered a miscarriage to benefit was also passed without opposition.
Are you ready for the results of today's votes? Vuelio Political Services is.
https://www.vuelio.com/uk/wp-content/uploads/2019/01/Conservative-party.jpg
430
760
Thomas Stevenson
https://www.vuelio.com/uk/wp-content/uploads/2019/09/vuelio-logo.png
Thomas Stevenson
2019-01-29 10:47:41
2019-01-29 10:47:41
Political Headlines - new Tory Brexit compromise in Brexit latest