Political Headlines – Ministers in plot to stop Brexit delay and the 'flexstension'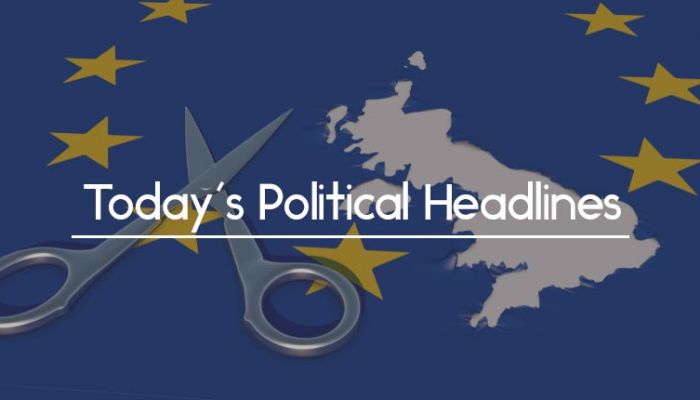 Today's political headlines includes Ministers in plot to stop Brexit delay, second referendum discussed in Lab/Con talks, Tusk to tell EU leaders to offer flexstension and Eurosceptic peers delay extension bill. 
Ministers in plot to stop Brexit delay
According to The Times, Cabinet ministers are attempting to prevent Theresa May from agreeing a delay to Brexit of up to a year. She will set out her intentions in a letter to European Council President Donald Tusk shortly, and has not clarified if the Cabinet is to be consulted beforehand. Attorney-General Geoffrey Cox said that May would have 'little choice' but to accept the extension offered by the EU. The Daily Telegraph adds that ministers have discussed holding a mass walkout in protest, with the 'Pizza Club' of Eurosceptic ministers meeting twice yesterday.
Second referendum discussed in Brexit talks with Labour
The Daily Telegraph says that the potential to give MPs a vote on a second referendum has been discussed by ministers during the Brexit talks with Labour, whose Shadow Brexit Secretary Keir Starmer is understood to have said that it must be an option presented to MPs in the indicative votes to take place next week of a deal is reached. However, Government sources have been playing down the likelihood of this happening. The Sun claims that the Prime Minister is expected to make a 'make or break' offer to Corbyn today, including promises to enter a customs union and to match the EU on workers' rights.
Tusk to tell EU leaders to offer one-year 'flextension'
The Guardian says that European Council President Donald Tusk is asking EU leaders to offer Theresa May a one-year Brexit 'flextension', under which the UK would be able to leave the EU at any point once Parliament has ratified the withdrawal agreement. The plan will need to be agreed unanimously when leaders meet for a summit on Wednesday.
Brexit extension bill delayed in Lords by Eurosceptic peers
The Financial Times reports that the bill to force Theresa May to consult MPs over a Brexit extension fast-tracked through the Commons on Wednesday suffered a 'sustained attack' in the Lords yesterday, with Eurosceptic peers using procedural amendments in an attempt to stop it from clearing the house in one day. As a result, it will now not finish making its way through the Lords until at least Monday.
Social media executives to be held personally liable for harmful content
The Guardian has obtained leaked plans for the online harms white paper, due to be published in Monday, which show that social media executives could be held personally liable for harmful content distributed via their sites. A new statutory duty of care will be overseen by a regulator (initially Ofcom), likely to be funded by a levy on the industry.
Labour holds Newport West in by-election
The BBC reports that Labour has held the constituency of Newport West following a by-election caused by the death of the incumbent MP, Paul Flynn. The new MP, Ruth Jones, has a majority of 1591, down from 5658 at the last general election, and was previously a NHS physiotherapist, but most recently worked for the Chartered Society of Physiotherapy.
Investigation into no-deal Brexit Facebook adverts launched
The Guardian says that following its revelation of the links between Lynton Crosby's consultancy and adverts promoting a no-deal Brexit on Facebook, the Information Commissioner's Office has opened an investigation, using its legal powers to request information and examine how the data is being handled.
Ministerial vacancies filled
As the Financial Times reports, Theresa May filled six junior ministerial posts yesterday evening, with Institute for Government research showing that she has lost more ministers than any other modern prime minister. The new ministers include James Cleverly, Justin Tomlinson, Will Quince, Seema Kennedy, Andrew Stephenson and Kevin Foster.
Brexit is due in one week – can you afford to miss out? Vuelio Political Services. 
https://www.vuelio.com/uk/wp-content/uploads/2018/12/Brexit-cut-out.jpg
430
760
Thomas Stevenson
https://www.vuelio.com/uk/wp-content/uploads/2019/09/vuelio-logo.png
Thomas Stevenson
2019-04-05 09:22:36
2019-04-05 09:22:36
Political Headlines - Ministers in plot to stop Brexit delay and the 'flexstension'