Political Headlines – more Brexit talks and tech firms to be regulated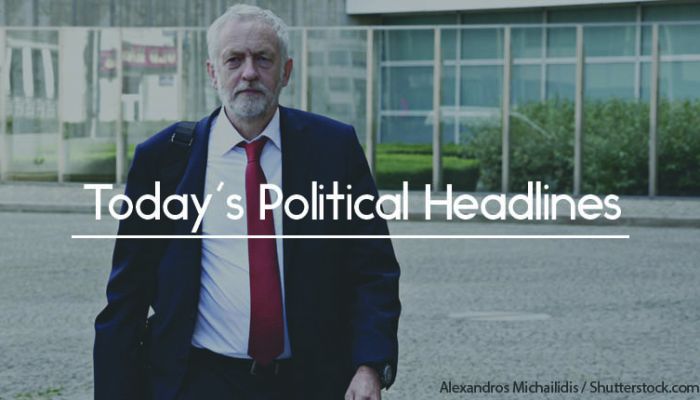 Today's political headlines includes Labour expecting to hold further Brexit talks with the Government, tech firms to face new regulation, Johnson's thoughts on Brexit latest and the majority who want a strong leader. 
Labour expects to hold further Brexit talks with Government
The BBC reports that Labour has said it is expecting to hold further talks to find a Brexit compromise with the Government, as peers continue considering a bill put forward by Yvette Cooper which would force Theresa May to request a Brexit extension, rather than accepting a no-deal Brexit. Solicitor General Robert Buckland said the likely outcome of talks was 'something approximating a customs arrangement or customs union'. The Financial Times says French President Emmanuel Macron is demanding 'tough political conditions' on any Brexit extension, including guarantees that the UK will not disrupt the EU's business.
Tech firms to face new regulation as Wright says industry has 'reached a turning point'
Writing in The Sun, Digital, Culture, Media and Sport Secretary Jeremy Wright says that he used a face-to-face meeting with Facebook's Mark Zuckerberg to warn him that the UK had 'reached a turning point' over the social media firm's failure to tackle harmful content, with new laws the 'only option'. The Online Harms White Paper, published today, will contain new measures to make firms responsible for protecting their users, with senior management at risk of prosecution, and companies potentially being banned from the UK.
Johnson says May shouldn't 'surrender' to Corbyn over customs union
Writing in The Daily Telegraph, Boris Johnson insists that Conservative MPs won't let Theresa May 'surrender' to Jeremy Corbyn, insisting that agreeing to a customs union with the EU 'cannot, must not and will not happen.' The paper adds that May has given 'the clearest signal yet' that she will agree a customs union, saying that a cross-party deal is needed and would require 'compromise on both sides'.
Over half the population want a 'strong leader'
The Times reports that new research by the Hansard Society finds that over half the population wants a 'strong leader willing to break the rules', with nearly-three quarters agreeing that the country's governance needed 'quite a lot' or 'a great deal' of improvement. Ruth Fox, the society's director said that this 'would challenge core tenets of our democracy' and was 'a potentially toxic recipe for the future of British politics'.
Jewish Labour Movement says it has no confidence in Corbyn
The Guardian reports that the Jewish Labour Movement has voted for a motion of no confidence in Jeremy Corbyn's leadership of the Labour Party which claimed that the party was 'institutionally antisemitic'. Separately, the party has denied a story in The Sunday Times criticising its handling of complaints about antisemitism.
No Afghan translators have arrived in the UK despite Williamson's promise
The Daily Mail reveals that despite Defence Secretary Gavin Williamson's pledge last June to allow 50 Afghan interpreters who had helped British troops to settle in the UK with their families, none have yet arrived despite increasing danger in their home country. So far just one interpreter has been given permission to come to the UK, and will arrive within weeks.
Brexit confusion could cause problems for EU tenants
The Guardian says that the Residential Landlords Association has warned that confusion over Brexit will cause problems for tenants from the EU, criticising the Government for not giving clear guidance about the settled status scheme. Landlords face fines of up to £5000 if they are found to be renting a property to an illegal immigrant.
Rudd plays down Johnson alliance rumours
According to The Times, Work and Pensions Secretary Amber Rudd has been playing down suggestions that she will back Boris Johnson's campaign for the Conservative leadership in a 'Bamber' alliance, which would see her become Chancellor and unite the remain and leave strands of the party.
Tech regulation could change social media as we know it. Don't let politics get the best of you, stay ahead with Vuelio Political Services. 
https://www.vuelio.com/uk/wp-content/uploads/2018/09/Jeremy-Corbyn-walking.jpg
430
760
Thomas Stevenson
https://www.vuelio.com/uk/wp-content/uploads/2019/09/vuelio-logo.png
Thomas Stevenson
2019-04-08 09:08:38
2019-04-08 09:08:38
Political Headlines - more Brexit talks and tech firms to be regulated