Political Headlines – May, Merkel and Macron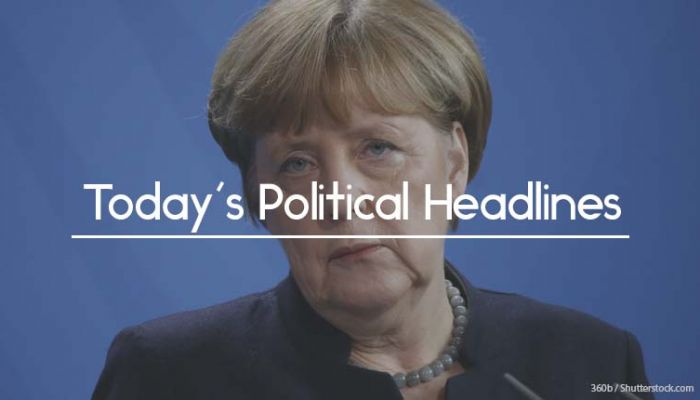 Today's political headlines includes May's visit to Merkel and Macron, Tory backbenchers tell May she's the problem, Parliament passes bill allowing MPs to vote on brexit delay and May mulls offering MPs a vote on a second referendum. 
May visits Merkel and Macron
The Times says that Theresa May is to visit German Chancellor Angela Merkel and French President Emmanuel Macron today prior to tomorrow's European Council summit. The paper claims she will be told that in return for a delay to Brexit, the UK will lose its say over the EU budget and trade deals, probably by agreeing to vote with the majority of EU members, with the extension expected to be much longer than that requested, potentially until March 31 2020, although it could be terminated earlier if MPs approve the withdrawal agreement.
Tory backbenchers tell May she is 'the problem'
The Daily Telegraph says that Theresa May was visited by executives of the 1922 Committee of backbench Conservative MPs yesterday, who told her that she had become 'the problem', with MPs demanding that she 'stand won immediately'. Brexiteer Mark Francois yesterday wrote to Sir Graham Brady, the chair of the committee, requesting a 'indicative ballot' of Conservative MPs on May's future as leader.
Parliament passes bill allowing MPs to vote on Brexit delay
The Guardian reports that Parliament yesterday passed a bill drawn-up by Yvette Cooper and Oliver Letwin which will force the Government to seek a Brexit delay and to put the duration of the delay to a vote by MPs today. The Government had announced that it would not seek to block the final stages of the bill, which passed by 392 votes to 85.
May mulls offering MPs a vote on a second referendum
According to The Daily Telegraph, Theresa May is considering whether to give MPs a vote on a second referendum, as she tries to end the deadlock in her negotiations with Labour, with Chief Whip Julian Smith confident that such a vote would be unsuccessful. Jeremy Corbyn claimed yesterday that May had not made any 'real movement' on key issues such as a customs union, workers' rights, environmental protections and consumer standards.
Gauke announces reform of divorce laws
As the BBC reports, the Government is announcing reforms of the law on divorce which Justice Secretary David Gauke says will help to end the 'blame game' and make them less acrimonious by speeding up the process and removing the requirement for a spouse to allege adultery or unreasonable behaviour by their partner, though there will be a minimum time period of six months.
Campaigners warn new internet regulations threaten free speech
The Guardian says that the Government's new online harm white paper has led critics to warn that it could lead to the creation of a 'North Korean-style censorship regime'. Sites which allow users to share or discover user-generated content, or interact with each other, would be subject to a duty of care to restrict harmful behaviours, and could be fined, have their senior managers held criminally liable, or be blocked completely if they fail to do so.
Johnson criticised over late declaration of Somerset property
The Times reports that Boris Johnson has been criticised by the Commons Standards Committee for his 'over-casual attitude'. He failed to register a share of a property in Somerset he had acquired for 12 months, despite a 28-day limit for doing so. In December he apologised for four other occasions on which he registered financial interests late.
Tories to suffer 'Brexit penalty' in May's local elections
The Sun reports that analysis by Lord Hayward shows that the Conservatives will face a 'Brexit penalty' in next month's local elections, with many voters deserting the party or choosing to stay at home because they are 'just so hacked off with it all'. The main beneficiaries, he said, were likely to be the Liberal Democrats.
Stay in the loop with Vuelio Political Services. 
https://www.vuelio.com/uk/wp-content/uploads/2018/11/Merkel.jpg
430
760
Thomas Stevenson
https://www.vuelio.com/uk/wp-content/uploads/2019/09/vuelio-logo.png
Thomas Stevenson
2019-04-09 09:47:26
2019-04-09 09:48:17
Political Headlines - May, Merkel and Macron