Political Headlines – Tusk rejects short extension and another vote in days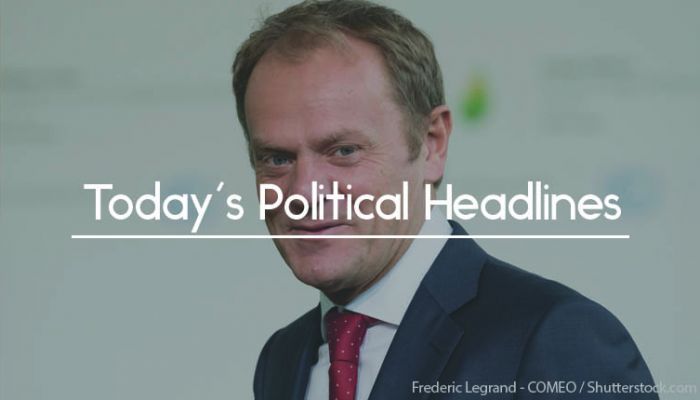 Today's political headlines includes Tusk rejecting the short extension request, Withdrawal Agreement Bill could be voted on in days, talks between Labour and Government having no resolution and plots to end May's premiership. 
Tusk rejects short extension request
The Guardian reports that European Council President Donald Tusk has used a letter to EU leaders ahead of their summit today to reject Theresa May's request for a short delay to Brexit, with an EU diplomat suggesting that the leaders will instead agree an extension until either the end of this year, or until March 2020. Tusk wrote that the EU's 'experience so far' and the 'deep divisions' among MPs meant that there was 'little reason to believe' that the deal would be ratified by the end of May's proposed extension in June. He warned a short extension would lead to more 'short extensions and emergency summits', continuing uncertainty, overshadowing other EU business and risking an 'accidental no-deal Brexit'.
Withdrawal Agreement Bill could be voted on in days
The Daily Mail claims that if a deal is reached with Labour, the Withdrawal Agreement Bill to ratify the deal with the EU could be put to MPs within days. One option would allow free votes on issues such as a customs union or a second referendum which, if successful, would then be incorporated. However, this is felt to be a high-risk option as Parliament would have to be prorogued if the bill failed and the Government wanted to try again.
Talks between Labour and Government over Brexit reach no resolution
The Times says that talks between Labour and the Government over Brexit 'broke down without progress' yesterday. According to sources, four hours of negotiation showed that the parties were 'far away' from each other, with Labour claiming that ministers had offered no further concessions while the Conservatives suggested that Labour was not negotiating sincerely. Discussions will resume tomorrow, but the paper suggests the lack of progress will not help Theresa May at today's European Council summit
Local Tories debate telling May to go, while 1922 Committee plots leadership election
According to The Daily Telegraph, a number of local Conservative associations are to debate motions calling for Theresa May to be removed as party leader in an attempt to pressure MPs into taking action. The paper adds that members of the 1922 Committee of backbench Conservative MPs are working on plans for May to step down as leader on May 23 but remain as Prime Minister, allowing a new leader to be in place by July.
Tory MPs fail to vote for Article 50 extension
The Guardian reports that most Conservative MPs either voted against or abstained on a motion to approve Theresa May's request for a delay to Brexit yesterday, with four cabinet ministers joining those abstaining. Just 31% of the MPs who voted for her proposal were Conservatives, with Brexiteers suggesting that this showed that the party would not back a softer Brexit, such as a customs union with the EU.
IMF warns of no-deal Brexit economic impact
The Financial Times reports that analysis by the International Monetary Fund shows that the British economy would be hit seven times harder than that of the EU in a no-deal Brexit scenario, and would fall into a recession. The IMF has modelled two no-deal scenarios, with the economic impact being even worse if there is also border disruption.
160 MPs make £42m profit on taxpayer-subsidised homes
The Daily Mirror reveals that 160 MPs have made a £42m profit by selling homes whose mortgage interest was paid for under the old expenses system. Beneficiaries include Michael Gove, Maria Miller and Sir Graham Brady. The former chair of the Committee on Standards in Public Life, Sir Alistair Graham, has suggested that they ought to 'repay any gain'.
Stanley Johnson says he wants to be Conservative MEP
Stanley Johnson, the father of Boris Johnson and a former MEP, has confirmed to The Daily Telegraph that he has put his name forward to stand as a Conservative candidate in the forthcoming European elections, saying there was 'a really important job to do. Current MEP David Campbell Bannerman is stepping down as it would be 'dishonourable' to continue.
Are you up to date on Brexit? Don't miss anything, get Vuelio Political Services. 
https://www.vuelio.com/uk/wp-content/uploads/2018/09/Donald-Tusk.jpg
430
760
Thomas Stevenson
https://www.vuelio.com/uk/wp-content/uploads/2019/09/vuelio-logo.png
Thomas Stevenson
2019-04-10 10:11:06
2019-04-10 10:11:06
Political Headlines - Tusk rejects short extension and another vote in days