Political Headlines – Rory the spy, Gove's Brexit beliefs and homeless camps removed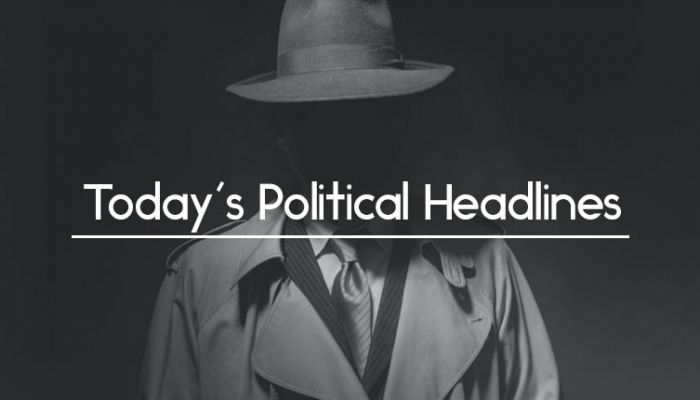 Today's political headlines includes suggestions Rory Stewart could have been a spy, Gove's claims that the final two candidates must believe in Brexit, homeless camps removed and half of Tories would be happy with Farage as leader. 
Stewart may have been MI6 spy
The Daily Telegraph suggests that Rory Stewart may have worked for MI6 as a spy prior to his election, with a 'Whitehall security source' telling it that he was recruited while at university and worked for the service for seven years. He has denied being a spy but has also pointed out that even if he had been, he would be legally obliged to deny it. He has now secured the backing of David Lidington, the de-facto deputy prime minister, in the leadership contest, and is the second favourite with the bookmakers. 
Gove claims that the final two candidates must 'believe in Brexit'
Writing in The Times, Michael Gove calls on MPs to ensure the two leadership candidates they put to the party membership 'believe in Brexit', arguing against choosing a pair of candidates who will 'polarise our party'. The paper claims that this is an attempt by Gove to undermine Rory Stewart's campaign and secure his own place in the final round. Sajid Javid has also claimed that 'blue on blue' attacks are damaging the party's prospects. 
Number of homeless camps removed trebles
In an exclusive, The Guardian claims that the number of homeless camps which local authorities forcibly removed has more than trebled since 2014, rising from 72 to 254. Charities say that this is a sign of a growing homelessness problem due to changes to welfare, poorly-funded support services and insecure housing. Over the same period, complaints about such camps have grown by 448%. 
Almost half of Tory membership would be happy with Farage as leader, poll finds
A YouGov poll of Conservative members for The Times finds that 46% of them would be happy for Nigel Farage to become party leader, while 40% would be unhappy. 68% of members want to attract voters from UKIP and the Brexit Party, compared to just 25% from Labour and the Liberal Democrats. Farage has admitted that he has been approached by Tory donors but rejected the idea of a pact between the two parties. 
Parliamentary standards authority doesn't recognise maternity leave, Creasy says
Writing in The Guardian, Labour MP Stella Creasy claims Parliament is effectively telling her to 'choose between being a mum and being an MP'. She is pregnant but has been told by the Independent Parliamentary Standards Authority that it does not recognise maternity leave and won't automatically provide extra support. She was also forced to work as normal without further support after suffering two miscarriages. 
Mothers should live with children in prison
The Daily Telegraph carries details of a new report commissioned by the Ministry of Justice and conducted by Lord Farmer, which argues that women in prison should be kept with their children in mini-prisons in the community in an attempt to break the reoffending cycle. Such a scheme would target those jailed for less than two years for offences such as theft, fraud or minor assaults. 
Government rejects 'fast fashion tax'
The Daily Mail says that the Government is being criticised after it rejected the Commons Environmental Audit Committee's suggestion of a 'fast fashion tax' of 1p per item in order to cover the costs of collecting and recycling the 300,000 tonnes of clothes incinerated or sent to landfill each year. Instead, ministers claim to have developed their own initiatives, including encouraging voluntary efforts by the industry. 
Hammond criticises Johnson over unfunded spending commitments
According to The Sun, Chancellor Philip Hammond has criticised Boris Johnson for making unfunded spending commitments on tax cuts and faster broadband, with just Rory Stewart acceding to his request that leadership candidates stick to sensible spending plans. Speaking at Mansion House in the City of London, Hammond urged 'all candidates to be cautious' and said the lack of agreements was 'a disappointment'. 
Does Rory's rise matter to you? Find out with Vuelio Political Services.  
https://www.vuelio.com/uk/wp-content/uploads/2019/06/Spy.jpg
430
760
Thomas Stevenson
https://www.vuelio.com/uk/wp-content/uploads/2023/09/vuelio-logo-200px.png
Thomas Stevenson
2019-06-18 09:54:14
2019-06-18 09:54:14
Political Headlines - Rory the spy, Gove's Brexit beliefs and homeless camps removed