Political Headlines – Tory leadership debate and Watson to challenge Labour to back remaining in the EU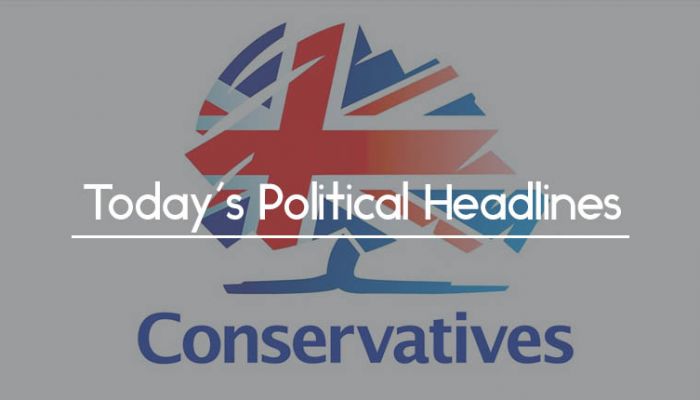 Today's political headlines includes criticism of Johnson for missing debate, Watson to challenge Labour to back remaining in the EU, May to announce mental health package and Johnson makes broadband pledge. 
Johnson criticised for missing debate
The Times reports that Boris Johnson was taunted by rival leadership contenders during yesterday's Channel Four debate for refusing to participate, with Jeremy Hunt asking how Johnson would be able 'to deal with 27 European countries' when 'his team won't allow him out with five fairly friendly colleagues'. The paper adds that the other candidates criticised Dominic Raab for refusing to rule out suspending Parliament to enable a no-deal Brexit, with Rory Stewart branding the suggestion 'undemocratic' and 'deeply disturbing'.
Watson to challenge Labour to back remaining in the EU
According to The Guardian, Labour's Deputy Leader Tom Watson will use a speech today to challenge Jeremy Corbyn, claiming Labour 'must argue strongly to remain in Europe', adding that he supports 'Europe because I am a socialist'. A Shadow Cabinet meeting has been cancelled at short notice, supposedly because some members couldn't attend, but the paper says that some remainers believe that the leadership wished to avoid a confrontation.
May to announce mental health package
The Sun is claiming a 'huge victory' for its 'You're Not Alone' campaign as Theresa May is set to announce today that all teachers will be trained to spot mental health issues, with updated statutory guidelines on schools' responsibilities, more support for schools to tackle self-harm and greater funding for councils.
Johnson makes superfast broadband pledge
Writing in The Daily Telegraph, Boris Johnson promises to give every home in the UK access to superfast broadband within six years if he becomes Prime Minister, eight years quicker than the Government's current plans, which he says are 'laughably unambitious'. He argues that ending the 'deep digital divide' is part of his 'moral mission to unite Brexit Britain'.
Hancock backs Johnson
The Times reports that Matt Hancock has endorsed Boris Johnson's leadership campaign, calling him 'the best candidate to unite the Conservative Party' and vowing to 'hold him' to his promises to be a One Nation Conservative and to support business. A cabinet minister from a rival campaign said it was 'less of an endorsement and more of a surrender'.
Campaigners worried cannabis is being unofficially legalised
An investigation by the Daily Mail has found that nine out of ten users and growers of cannabis do not receive criminal charges, with the proportion of users charged for possession falling from 27% in 2017 to 22% last year. David Green of the thinktank Civitas sad that the police had 'unofficially legalised cannabis in many parts of the country' despite doctors being 'increasingly worried about the impact on the mental health of cannabis users'.
Tory donors in talks about electoral pact with the Brexit Party
The Daily Telegraph claims that donors to the Conservatives are in secret talks with Nigel Farage about the potential for an electoral pact between the Tories and the Brexit Party. It would see Farage agree not to stand candidates against Brexiteer Conservatives, while the Tories would not stand in northern Labour-held seats. A businessman told the paper that talks were at a 'very preliminary' stage.
Corbyn supports 'Grenfell: Never Again' campaign
The Daily Mirror says Labour leader Jeremy Corbyn has given his party's support to its 'Grenfell: Never Again' campaign. Corbyn said the Grenfell Tower fire was 'a symbol of a failed housing system and the grotesque inequality in modern Britain', criticising the Government's lack of progress in removing flammable cladding from private buildings.
What policy areas do you need to monitor? Get it all with Vuelio Political Services.  
https://www.vuelio.com/uk/wp-content/uploads/2019/01/Conservative-party.jpg
430
760
Rebecca Potts
https://www.vuelio.com/uk/wp-content/uploads/2023/09/vuelio-logo-200px.png
Rebecca Potts
2019-06-17 09:22:37
2019-06-17 09:22:37
Political Headlines - Tory leadership debate and Watson to challenge Labour to back remaining in the EU