Political Headlines – Tory leadership race dominates the headlines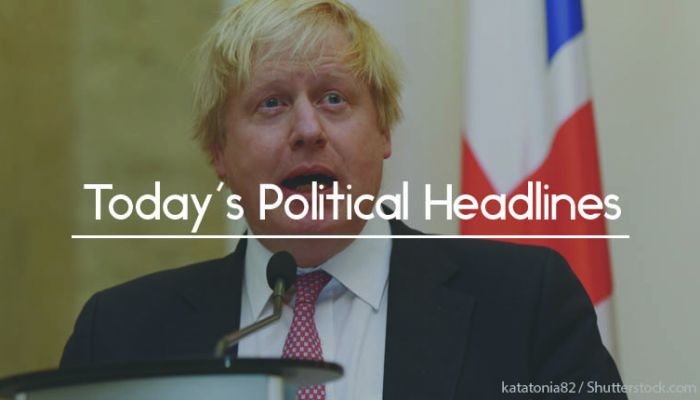 Today's political headlines includes Johnson allies telling vanity candidates to withdraw, Johnson under pressure over TV debates, Umunna joining Lib Dems and the Mirror's Grenfell, Never Again campaign. 
Johnson allies tell 'vanity candidates' to withdraw from contest
The Daily Telegraph reports that supporters of Boris Johnson are calling on 'vanity candidates' to pull out of the Conservative leadership election after seven of the ten candidates got through the first round, but Johnson secured 114 votes, ahead of Jeremy Hunt who had 71 fewer than him. Matt Hancock is apparently considering withdrawing and endorsing Sajid Javid.
Johnson under pressure over TV debates
According to The Times, Boris Johnson is under pressure to appear in television debates as all the other candidates did agree to. In a joint statement they said that debates would 'shape and define' their visions for the UK, while a spokesman for Johnson said that he was in talks with Channel 4. David Gauke, who supports Rory Stewart, said that if candidates 'have something to hide they should not be running'.
Umunna joins Lib Dems
The Times reports that Chukka Umunna has joined the Liberal Democrats, saying that he was 'wrong' when he thought that a new party could succeed and had 'vastly underestimated the importance of having an infrastructure'. He called on others to follow him and 'to grab the chance to fundamentally change the system for ever now'. Lib Dem leader Vince Cable added that he was in talks with other MPs about possible defections.
Mirror launches 'Grenfell, Never Again' campaign
The Daily Mirror has launched a 'Grenfell, Never Again' campaign, marking two years after the fire at Grenfell Tower. It says that 'tens of thousands of people are still living in unsafe buildings, families are still waiting to the rehoused and fire service funding has been cut' and calls for the removal of risky cladding, sprinkler fitment, fire service cuts to be reversed and an independent body to oversee it, and an independent tenants' rights regulator.
Major attacks leadership candidates over proroguing
The Guardian says that Sir John Major has 'launched a blistering assault' on the Tory candidates who have suggested that Parliament could be prorogued in order to ensure a no-deal Brexit. He accused them of 'hypocrisy on a gold-plated standard' and said that it was 'fundamentally unconstitutional'. It adds that Rory Stewart has said that he would set up an 'alternative parliament' if Boris Johnson were to prorogue Parliament.
Raab claims he's the candidate most feared by the EU
The Daily Telegraph says Dominic Raab has claimed that he is the Tory leadership contender who the EU would fear the most, telling the paper that as Prime Minister he would focus on those earning £15,000 a year, not those earning £50,000 a year. He denied having a 'short temper' and said he couldn't speak about the NDA involving a former colleague.
IoD warns businesses aren't prepared for October Brexit
The Financial Times reports that the Institute of Directors has warned that businesses have not made much progress in preparing for Brexit in October despite the growing probability of a no-deal Brexit. It calls on them to step up their preparations as they 'cannot afford to put their faith in politicians to produce a Brexit resolution'.
Hammond tells candidates to promise to keep national debt falling
The Sun reports that Philip Hammond has written to the Conservative leadership candidates to ask them to commit to keeping the national debt falling, warning that failing to do so would risk losing the distinction between his party's 'fiscal responsibility' and Labour's 'reckless promises'.
Keep on top of the policy areas that matter to you with Vuelio Political Services.  
https://www.vuelio.com/uk/wp-content/uploads/2018/08/Boris-open-mouth.jpg
430
760
Thomas Stevenson
https://www.vuelio.com/uk/wp-content/uploads/2019/09/vuelio-logo.png
Thomas Stevenson
2019-06-14 09:30:26
2019-06-14 09:30:26
Political Headlines - Tory leadership race dominates the headlines