Political Headlines – Boris, Brexit and the Tory leadership race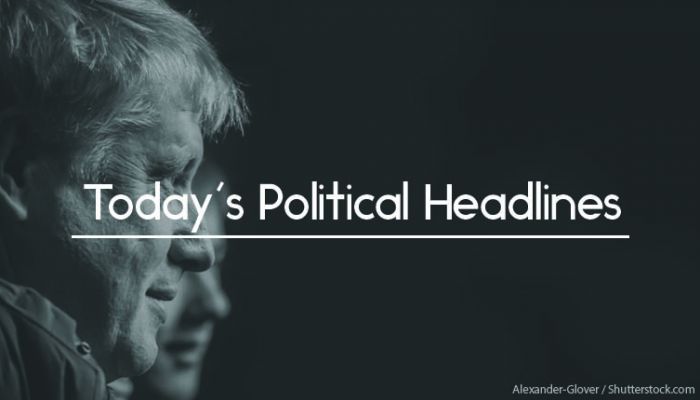 Today's political headlines includes Johnson vows to leave the EU, Labour fails to block no-deal, Tory candidates campaigning for the top job and Sedwill criticised for online talking to leadership front runners.  
Johnson vows to leave EU on 31 October but faces criticism for dodging questions
The Daily Telegraph says that Boris Johnson has said he has the 'guts and the courage' to ensure that the UK leaves the EU by 31 October, warning of 'mortal retribution' from voters if MPs stopped Brexit. He now has 81 declared supporters, more than twice as many as any other candidate. The Times claims that Johnson has assured senior Brexiteers that he will not rule out suspending Parliament to stop it from blocking a no-deal Brexit, while the Daily Mirror reports that he ducked questions about his past use of cocaine and other issues.
Labour attempt to block no-deal Brexit blocked
The Guardian reports that a Labour-led cross-party move to prevent a no-deal Brexit was blocked by 11 votes yesterday. Labour's Shadow Brexit Secretary Keir Starmer warned Conservative leadership candidates that his party would 'use whatever mechanism it can' to prevent such an outcome, though former Conservative MP Nick Boles cautioned that 'it is very hard to see where any further legislative opportunities will come from'.
Stewart appeals for votes, Javid is the 'change candidate' and Hancock can beat Corbyn
The Sun says that Rory Stewart is appealing for votes so that he can get through the first round of the leadership contest, telling the paper he is 'one or two votes short' and MPs should 'give me a chance'. The Times reports that Sajid Javid used his campaign launch yesterday to claim that he was the 'change candidate' and criticised 'the same old insiders with the same old school ties', while The Guardian says Matt Hancock claimed he could beat Jeremy Corbyn by 'turning the page' on Brexit and 'putting pounds in people's pockets'.
Sedwill criticised for only talking to leadership frontrunners
According to The Times, Cabinet Secretary Mark Sedwill is being criticised for only having held talks with the two frontrunners in the Conservative leadership contest, Boris Johnson and Jeremy Hunt. A spokesman for Dominic Raab described the news as 'disappointing' while another campaign said 'the civil service should be treating all candidates equally'.
Mail hails victory in Post Office campaign
The Daily Mail is hailing a victory in its campaign against Post Office closures after business minister Kelly Tolhurst announced a new review of the pay of postmasters, which she wants to 'be concluded as soon as possible to ensure postmasters receive a fair wage', starting with a summit today.
NAO issues warning about Help to Buy
The Financial Times reports that the National Audit Office has warned that the Government's Help to Buy scheme has exposed the Government to 'significant market risk' and that some buyers who have made use of it are at risk of entering negative equity. The scheme was introduced in 2013 in a bid to help more people buy homes for the first time.
Channel 4 may 'empty chair' Johnson if he refuses debate invite
The Sun claims that Channel 4 may 'empty chair' Boris Johnson in its planned televised leadership debate on Sunday. Johnson is apparently the only one of the candidates not to have agreed to appear. His campaign insists that it is in talks with all broadcasters, with the BBC planning a debate on Tuesday and ITV a head-to-head between the last two candidates.
Cabinet note warns UK not ready for no-deal in October
The Financial Times has seen a confidential Cabinet note which warns the UK is not prepared for a no-deal Brexit on 31 October, especially with regard to medicines and border control. The note, prepared for a meeting on 21 May but not circulated, claims many plans in place have only 'a minimum viable level of capability', while others had 'material' shortcomings.
The leadership race is not the only important political story – stay up to date with the areas that matter to you with Vuelio Political Services.  
https://www.vuelio.com/uk/wp-content/uploads/2018/09/Boris-Johnson-looking.jpg
430
760
Thomas Stevenson
https://www.vuelio.com/uk/wp-content/uploads/2023/09/vuelio-logo-200px.png
Thomas Stevenson
2019-06-13 09:33:16
2019-06-13 09:33:16
Political Headlines - Boris, Brexit and the Tory leadership race