Political Headlines – Boris on top and Labour's attempt to block no-deal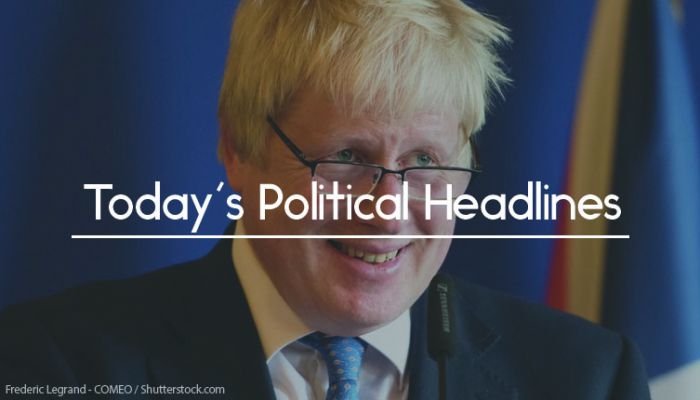 Today's political headlines includes polls favoring Boris for PM, Labour launching an attempt to block no-deal, May to make net zero emissions target legally binding and Oxfam given three weeks to reform. 
New poll shows Johnson would deliver best election results for Tories
The Daily Telegraph reports that Boris Johnson is to launch his Conservative leadership campaign today, pledging to leave the EU on 31 October no matter what, and warning that further delays will ensure that the party will 'kick the bucket'. A new poll by ComRes released today suggests that Johnson could win up to 140 seats if he led the party, increasing its share of the vote from 23% to 37% – much more than any of his rivals.
Labour launches attempt to block no-deal Brexit
The Guardian says that Labour is today launching the first stage of a cross-party attempt to block a no-deal Brexit. It is tabling a motion backed by the SNP, Plaid Cymru, the Liberal Democrats, the Greens and Conservative MP Oliver Letwin which would give MPs control of the parliamentary agenda on 25 June, allowing legislation to prevent a no-deal Brexit to be commenced. To pass, the support of more Tory MPs will be needed.
May to make net zero emissions target legally-binding
The Guardian reports that Theresa May is to make a commitment to reach net zero carbon emissions by 2050 law, putting forward an amendment to the Climate Change Act today. This has been welcomed by environmental campaigners, though concerns have been raised by the use of international carbon credits which Greenpeace argues will 'shift the burden to developing nations'.
Oxfam given three weeks to reform or it will lose aid funding
The Times reports that the Charity Commission has told Oxfam to produce a reform plan within three weeks or lose access to funding from the taxpayer permanently. The official warning was issued following a report into the charity after revelations about sexual exploitation in Haiti and harassment and discrimination in the UK became public last year. A source at the commission said that Oxfam's 'broken promises were a recurring theme'.
Javid tells Tories not to pick a 'comfort zone choice'
The Times reports that Sajid Javid will today tell Conservative MPs that they shouldn't make a 'comfort zone choice', arguing that he offers 'a new kind of leadership and a new kind of leader'. He will be introduced by the Scottish Tory leader Ruth Davidson who will claim that her leadership shows that success follows picking 'someone totally different'.
MPs raise concerns about NHS waiting times
The Financial Times carries details of a warning by the Public Accounts Committee that health leaders have a 'troubling' lack of understanding about the harm caused to patients by growing waiting lists. Just 38% of NHS trusts meet the 62-day waiting time limit to treat urgently-referred cancer patients.
Thousands sign petition on pensioners' TV licences
The Sun says that over 249,000 people have signed an Age UK petition calling on the BBC to change its mind about abolishing free TV licences for the over-75s. Tory leadership candidate Matt Hancock said that the decision should be reversed, while Michael Gove and Esther McVey pledged to decriminalise non-payment of the licence fee.
Cabinet bickers over no-deal Brexit preparations
According to The Times, Cabinet ministers were split over no-deal Brexit preparations at their meeting yesterday. Brexit Secretary Steve Barclay criticised the Treasury, raising concerns about a 'drift' in planning, while Home Secretary Sajid Javid claimed that Chancellor Philip Hammond had ignored a request for more border force funding; Hammond said that he hadn't seen it, with Javid later submitting a formal request.
Don't miss anything that matters to you, find out how Vuelio Political Services can help you.  
https://www.vuelio.com/uk/wp-content/uploads/2018/05/Boris-Johnson2.jpg
430
760
Thomas Stevenson
https://www.vuelio.com/uk/wp-content/uploads/2019/09/vuelio-logo.png
Thomas Stevenson
2019-06-12 09:37:39
2019-06-12 09:37:39
Political Headlines - Boris on top and Labour's attempt to block no-deal