Political Headlines – Tory leader candidates attack BoJo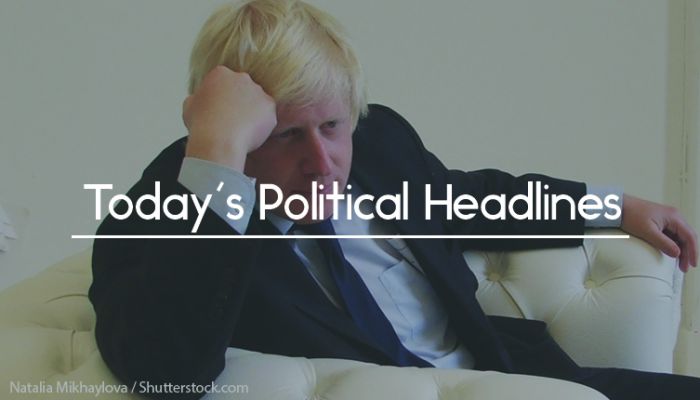 Today's political headlines includes Gove's personal attacks on Boris; Hunt, Gove and Raab attack Boris' tax cut plans; and BBC faces backlash over acing of free TV licences for over 75s.
Gove's personal attacks on Boris
The front page of The Daily Telegraph focuses on Michael Gove's 'personal attack' on Boris Johnson, which it calls 'an act of desperation'. Yesterday Gove joked 'whatever you do, don't pull out – I know you have before'. The newspaper says Gove is quickly losing ground to Jeremy Hunt, who it claims is now Boris' main rival in the leadership race.
Hunt, Gove and Raab attack Boris' tax cut plans
The Times reports that Conservative leadership contenders have criticised Boris Johnson's plans to cut taxes for the wealthiest. Boris has been accused of making the Conservative Party look like the 'party of privilege', as he revealed plans to raise the threshold for higher rate income tax from £50,000 to £80,000.
BBC faces backlash over axing of free TV licences for over 75s
The Daily Mail reports on the BBC's decision to scrap free TV licences for the over 75s, which is referred to as 'BBC betrayal of the elderly'. From June 2020, only those on pension credit will be eligible for a free TV licence. The Daily Mirror claims that a lot of anger is being aimed at the Government, as during the 2017 election, the Conservatives promised that free TV licences for the over 75s would be maintained.
Rory Stewart warns 'electoral bribes' by Tory Leadership candidates risk party reputation
According to the BBC, Rory Stewart has warned leadership rivals against offering 'cheap electoral bribes', saying the Tory membership are 'smarter than this'. As opposed to 'being straight with the people', Stewart said his opponents had pledged 'eye-watering' tax cuts worth £84bn. He is expected to propose that any money available from a negotiated Brexit deal should instead go towards technical education and digital infrastructure.
EU take 'deeply critical' view of Tory leadership candidates
The Guardian reports that after a Brexit hiatus, Brussels is watching the Tory leadership race with both 'amazement and exasperation'. According to the Guardian, the EU see bookies' favourite Boris Johnson as a 'Trumpian figure', remembered for his time working as Brussels correspondent of the Daily Telegraph in the 1990s where he mocked EU regulations and promoted 'Euromyths'. Meanwhile, Dominic Raab is said to be held in low esteem after losing the trust of EU counterparts during his time as Brexit Secretary.
We're only on day two of a six week campaign – keep up to date with Vuelio Political Services.  
https://www.vuelio.com/uk/wp-content/uploads/2018/07/Boris-Johnson-sitting.jpg
430
760
Jennifer Prescott
https://www.vuelio.com/uk/wp-content/uploads/2023/09/vuelio-logo-200px.png
Jennifer Prescott
2019-06-11 09:17:21
2019-06-11 09:17:21
Political Headlines - Tory leader candidates attack BoJo