Political Headlines – Gove's campaign blow and BoJo's tax cuts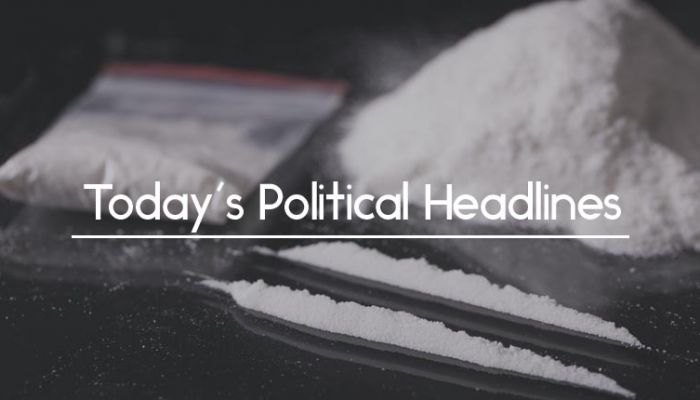 Today's political headlines includes Gove battling to save his leadership bid after cocaine revelations, Johnson to cut income tax for three million, Rudd backs Hunt for leader and Corbyn defending Lisa Forbes. 
Gove battles to save campaign after cocaine revelations
The Times reports Michael Gove is in a battle to 'save his campaign' after he was accused of hypocrisy over his past use of cocaine. He has insisted that 'people should be given the chance to redeem themselves and to change', but leadership rival Sajid Javid said that drug-users 'should be thinking about the impact they're having on others'. As Education Secretary he introduced rules saying that teachers should be permanently banned if convicted of using Class A drugs, while as a journalist he condemned drug-using 'middle-class professionals'.
Johnson to cut income tax for three million
The Daily Telegraph says that Boris Johnson would cut three million people's income tax if he becomes Prime Minister, increasing the 40p rate threshold to £80,000 from £50,000. This will cost £9.6bn a year, which he intends to fund from the £26.6bn 'fiscal headroom' set aside by the Treasury for no-deal Brexit preparations. He claims that this will 'stimulate' the economy, allowing 'for much greater economic growth'.
Rudd backs Hunt for leader as he endorses cutting abortion time limit
The Times says that Amber Rudd is backing Jeremy Hunt's campaign for the Tory leadership, claiming he would be a 'serious leader', adding the UK needs 'a skilled negotiator and deal-maker, not an instruction for more optimism'. The Guardian adds Hunt has been criticised after he argued in favour of halving the legal time limit for abortions from 24 to 12 weeks.
New Labour MP 'not a racist', Corbyn says
The Guardian says Jeremy Corbyn has defended Lisa Forbes, elected for the party in last week's Peterborough by-election, as 'not a racist in any way'. The Jewish Labour Movement has called for Forbes to have the whip suspended over antisemitic posts on social media, including liking a Facebook post claiming Theresa May had a 'Zionist slave masters agenda' and endorsing a post which claimed that the CIA and Mossad had created Islamic extremists.
Concerns raised about 'secretive' Home Office visa algorithm
According to the Financial Times, the Home Office has been criticised for its use of a 'secretive algorithm' to process visa applications, grading them prior to forwarding them to caseworkers. It has refused to provide details about the factors the algorithm uses to makes decisions, leading Christina Blacklaws, President of the Law Society, to warn that it 'may well disadvantage certain groups of people' on grounds such as age or country of origin.
Corbyn considers reshuffling Thornberry over second referendum support
The Guardian claims Jeremy Corbyn is considering reshuffling his frontbench and moving Emily Thornberry from Shadow Foreign Secretary as punishment for calling for the party to back a second Brexit referendum. Some of Corbyn's allies are also backing a new contest for Deputy Leader, so that Tom Watson can be replaced after his calls for a referendum.
Godsiff to be rebuked over support for anti-LGBT education campaigners
The Daily Mirror says Labour MP Roger Godsiff is to be rebuked by the party's chief whip Nick Brown after he told campaigners protesting against the teaching of LGBT relationships at primary schools in Birmingham that they were 'right' and had a 'just cause'. A party spokesperson said that it 'has long supported and campaigned for LGBT inclusive education'.
Hancock vows to raise National Living Wage while Javid promises schools investment
The Sun says that Matt Hancock is to promise to make the next decade the 'soaring twenties' and increase the National Living Wage to £10.21 by 2022, giving millions an extra £3500 a year. The paper also reports that Sajid Javid has promised to end austerity if he becomes Prime Minister, and give 'a multi-year, multibillion-pound boost' to schools spending.
Keep up to date with the campaigns for our next PM and the policy areas that matter to you with Vuelio Political Services.  
https://www.vuelio.com/uk/wp-content/uploads/2019/06/Cocaine.jpg
430
760
Thomas Stevenson
https://www.vuelio.com/uk/wp-content/uploads/2023/09/vuelio-logo-200px.png
Thomas Stevenson
2019-06-10 09:29:23
2019-06-10 09:29:23
Political Headlines - Gove's campaign blow and BoJo's tax cuts