Political Headlines – Labour wins Peterborough and the Queen's terrible conflict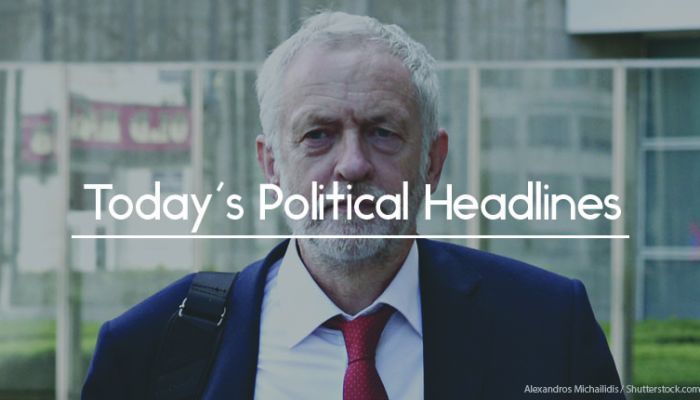 Today's political headlines includes Labour winning the Peterborough by-election, Queen could be put in a terrible conflict over suspending Parliament, Hammond and May in row over money and Johnson more likely to win back Brexit Party supporters. 
Labour wins Peterborough by-election
As the BBC reports, Labour's Lisa Forbes has won the Peterborough by-election, seeing off the Brexit Party's Mike Greene by 683 votes. She claimed that the electorate had 'rejected the politics of division', embracing the 'politics of hope', but Brexit Party leader Nigel Farage said that his party's result was 'very significant. Labour MPs Margaret Hodge and Jess Phillips have raised concerns about Forbes after it emerged that she'd liked a social media post claiming that Theresa May had a 'Zionist slave masters agenda'.
Queen could be put in 'a terrible conflict' over suspending Parliament
The Times says Hannah White of the Institute for Government has warned that suspending Parliament in order to enable a no-deal Brexit would put her in 'a terrible conflict', suggesting the palace might delay the process long enough to allow Parliament to prevent itself from being prorogued. Tory leadership candidate Dominic Raab, has refused to rule it out, but rivals including Matt Hancock and Rory Stewart have criticised this stance, with Stewart claiming that such a move would be 'unlawful, undemocratic and unachievable'.
Hammond and May in row over May's £10bn leaving announcements
The Financial Times says that Theresa May and Chancellor Philip Hammond are arguing over a number of spending announcements she wants to make before her departure as Prime Minister, including increasing education spending. The Treasury is apparently concerned that May's plans might cost over £10bn, and Hammond doesn't want to spend his 'war chest' until a no-deal Brexit is ruled out, in case it is needed as a 'cushion'.
Polling shows Johnson most likely to win back Brexit Party supporters
The Daily Telegraph says that private polling of the Conservatives' 48 most marginal seats by CTF Partners has found that Boris Johnson is the leadership candidate who is most likely to regain supporters lost since Theresa May became party leader. 59% Brexit Party and UKIP backers said that they were more likely to back the Tories under Johnson's leadership, with just 31% saying that his nearest rival, Michael Gove, would have the same effect.
Javid in 'veiled' attack on Johnson over 'exploiting division'
The Times says that Sajid Javid has made 'a thinly veiled attack' on Boris Johnson, telling an event that the worst thing you can do to 'get votes is to appeal to division, to exacerbate division, to get angry people to vote for you', adding that he believes that some of his rivals would 'try to win a general election' through 'exploiting division'. He said that to deliver Brexit, people's 'underlying frustrations' that led them to vote for it need to be dealt with.
Hancock promises business rates cut for small retailers
Interviewed by The Daily Telegraph, Health and Social Care Secretary Matt Hancock has promised to axe small retailers' business rates at a cost of £1.5bn and set the new digital services tax at a higher level in order to fund this, arguing that this would help to 'level the playing field' and 'save the high street'.
DWP extends benefits assessment contracts
The Daily Mirror reveals that the Government has extended its contracts with Atos and Maximus to test people's eligibility for benefits without going out to tender, giving them an extra £630m. Labour's Shadow Minister for Disabled People, Marsha De Cordova said the decision was 'scandalous' and criticised the firms' assessments for 'appalling inaccuracies'.
Badenoch backs Gove
The Sun says that Conservative vice chair and 'rising star' Kemi Badenoch has resigned from her post in order to support Michael Gove's campaign for the Tory leadership. Writing in the paper, she says that she is a 'realist' and is 'suspicious of anyone proposing simple answers' to Brexit, and praises Gove's education reforms.
Stay up to date with the political stories that matter to you, get Vuelio Political Services.  
https://www.vuelio.com/uk/wp-content/uploads/2018/04/Jeremy-Corbyn.jpg
430
760
Thomas Stevenson
https://www.vuelio.com/uk/wp-content/uploads/2019/09/vuelio-logo.png
Thomas Stevenson
2019-06-07 09:21:58
2019-06-07 09:21:58
Political Headlines - Labour wins Peterborough and the Queen's terrible conflict