Political Headlines – Gove would delay Brexit to get a deal and Peterborough by-election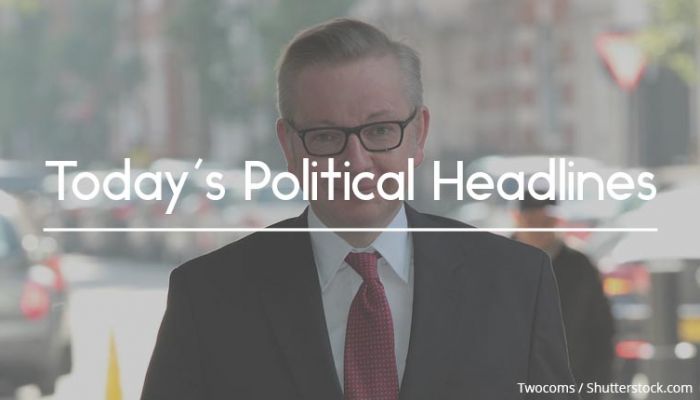 Today's political headlines includes Gove saying he would delay Brexit to get a deal, the 'very close' Peterborough by-election, Hancock comparing Corbyn to Hitler and the £1tn cost of net zero emissions. 
Gove says he would delay Brexit to get a deal
The Daily Telegraph reports that Michael Gove told the One Nation group of centrist Conservative MPs that he would delay Brexit beyond 31 October, if it would deliver a deal, and that, while no-deal should be 'on the table', it wasn't 'the best option'. However, Dominic Raab told the same group that he would definitely leave by that date, and was prepared to suspend Parliament in order to do so, and Jeremy Hunt warned that a 'hardline approach' from the UK would merely lead the EU to respond in kind.
Brexit Party and Labour 'very, very close' in Peterborough by-election
The Guardian reports from today's by-election in Peterborough, with a source in the local Labour party claiming it is 'very, very close' between them and the Brexit Party, and warning Labour may find it hard to get its voters to turn out. According to the paper, the Tories, who held the seat from 2005 to 2017, 'are widely thought to be out of the running'.
Hancock compares Corbyn to Hitler
The Times reports that Health and Social Care Secretary Matt Hancock has compared Jeremy Corbyn to Hitler, warning that if the Conservative Party did not pick someone who could beat him, the UK 'could end up with the first antisemitic leader of a western nation' since World War Two. Shadow Chancellor John McDonnell said that the remarks were 'a disgrace'.
Chancellor warns of cost of net zero emissions
According to the Financial Times, Chancellor Philip Hammond has written to Theresa May to warn that reaching net zero emissions by 2050 will cost the country more than £1tn, meaning that less would be available for other areas of public spending and making some sectors of British industry 'economically uncompetitive'.
Trump compares Irish border to that between USA and Mexico
The Guardian reports that Donald Trump started his visit to Ireland by comparing its border with Northern Ireland to that between the USA and Mexico, saying that he thought it would 'all work out very well' after Brexit 'with your wall, your border'. Irish Taoiseach Leo Varadkhar later said that Trump 'shares our objective to keep the border open'.
Small employers may have to report gender pay gap
The Financial Times reports that Hilary Spencer, Director of the Government Equalities Office told members of the Commons Treasury Committee yesterday that the Government was considering bringing employers with under 250 employees into the scope of gender pay reporting, and increasing enforcement powers.
Grayling confirms HS2 is being reviewed
The Daily Mail says that Transport Secretary Chris Grayling has confirmed that a review is being conducted into the deliverability of HS2, with the new chairman of the rail projects, Allan Cook, assessing whether it can be built within its current £65bn budget. He also indicated that elements could be scaled back, following the problems with Crossrail.
Gibb defends teaching of same-sex relationships
Writing in The Times, schools minister Nick Gibb says that pupils in Birmingham schools, should be taught about British values, including same-sex relationships, despite protests against this by Muslim parents. He also describes Ann Widdecombe's defence of gay conversion therapy as 'deeply offensive' and warned Conservative leadership candidates that members and the public would not be 'impressed' if they sided with the protesters.
Don't miss the results of the by-election and stay up to date with the policy that matters to you. Get Vuelio Political Services.  
https://www.vuelio.com/uk/wp-content/uploads/2018/09/Michael-Gove-2.jpg
430
760
Thomas Stevenson
https://www.vuelio.com/uk/wp-content/uploads/2019/09/vuelio-logo.png
Thomas Stevenson
2019-06-06 09:43:26
2019-06-06 09:43:26
Political Headlines - Gove would delay Brexit to get a deal and Peterborough by-election