Political Headlines – Johnson warns Conservatives face 'extinction' if they don't deliver Brexit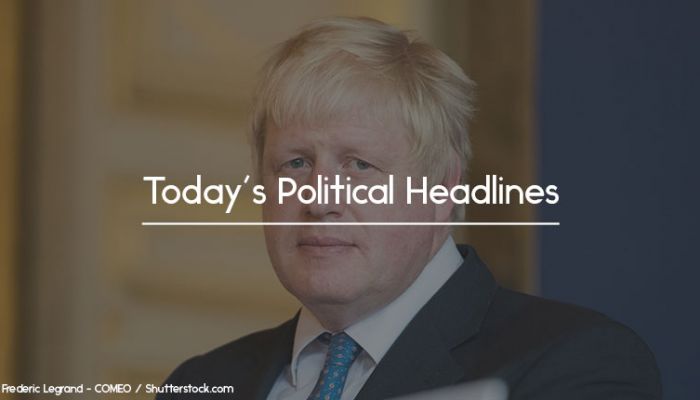 Today's political headlines includes a warning from Johnson that the Conservatives face 'extinction' if they don't deliver Brexit, Trump says NHS could be part of future trade deal and Tories change leadership election rules.
Johnson warns Conservatives face 'extinction' if they don't deliver Brexit
The Daily Telegraph says that Boris Johnson told a leadership hustings that the Conservative Party was facing 'extinction' if Brexit doesn't happen by 31 October, adding that 'delay means defeat'. The Times adds that Johnson has secured the support of three moderate 'rising stars', Rishi Sunak, Robert Jenrick and Oliver Dowden, who say that he is a 'One Nation' Conservative who can 'inspire the country and revitalise our party'.
Trump says NHS could be part of future trade deal
The Daily Mirror says that Donald Trump yesterday claimed that 'everything is on the table' when asked if the NHS would be part of a 'phenomenal' future UK-USA trade deal. Labour leader Jeremy Corbyn said that 'our NHS is not for sale', while a number of Conservative leadership contenders weighted in to reject the idea, including Matt Hancock and Dominic Raab. The paper adds that Trump has now rowed back on these remarks, telling Piers Morgan on ITV that he doesn't 'see if being on the table' and 'that's not trade'.
Tories change leadership election rules
The Times reports that the Conservative Party has changed the rules of its leadership contest in order to reduce the number of contenders. Candidates will now need eight MPs to nominate them, and will be eliminated if they get 5% or fewer votes in the first round or 10% of fewer votes in the second round, with the 'working assumption' being that the new leader will be announced on 23 July. Ahead of the changes being announced, Kit Malthouse and James Cleverly pulled out of the competition.
Over half of Change UK's MPs quit party
The Guardian reports that six of Change UK's eleven MPs, including spokesman Chuka Umunna and interim leader Heidi Allen have quit the party, with Anna Soubry becoming the new leader. The departing MPs will initially sit as a group of independents, but some are believed to be considering defecting to the Liberal Democrats.
Baker to unveil hard Brexit plan
The Sun claims that Steve Baker is to unveil a plan for a 'hard Brexit', backed by 16 fellow Conservative MPs, and will call on leadership candidates to back it. If they fail to do so, he is expected to say that he will stand. Another candidate claimed that Baker 'is setting the bar too high purposely, so he can run himself' but allies claimed that he had yet to decide.
Gauke goes ahead with plan to axe short prison sentences
The Daily Telegraph reports that Justice Secretary David Gauke is to go ahead with plans to abolish prison sentences of less than six months, promising to bring forward 'firm' proposals by the summer, although violent and sexual offences would have some exceptions. He added that there would be 'robust' measures to stop re-offending and protect the public.
Leadsom promises monthly phone-ins if she becomes PM
The Daily Telegraph has interviewed Andrea Leadsom, who promises that she would host a monthly phone-in should she become Prime Minister, saying that she would be 'more accessible', both to the public and to backbenchers. She also attacks Boris Johnson and Dominic Raab, claiming that by resigning from the Cabinet they 'made Brexit harder'
Hancock says UK needs home-grown rival to Huawei
According to The Sun, Matt Hancock will today use a speech on foreign policy to say the UK should develop 'a British champion' to replace Huawei, claiming that the country cannot follow the lead of the US and ban the Chinese firm until there is a 'viable replacement'.
Stay up to date with the latest political news with instant alerts from Vuelio Political Services.  
https://www.vuelio.com/uk/wp-content/uploads/2019/06/political-headlines-05.06.jpg
430
760
Thomas Stevenson
https://www.vuelio.com/uk/wp-content/uploads/2019/09/vuelio-logo.png
Thomas Stevenson
2019-06-05 09:36:55
2019-06-05 09:36:55
Political Headlines - Johnson warns Conservatives face 'extinction' if they don't deliver Brexit