Political Headlines – Russia, London murders, benefits and sugar tax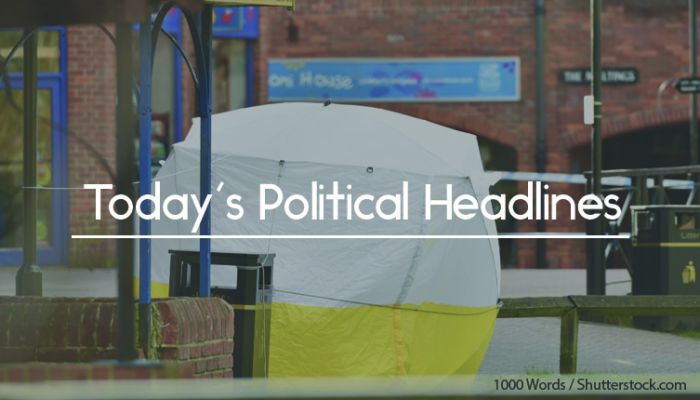 Today's Political Headlines include Russia accusing UK of creating a fake story, Lammy's criticism of the Government, Labour's warning over benefit changes and the sugar tax. 
Russia accuses UK of creating a 'fake story'
The BBC says that Russia has accused the UK of inventing a 'fake story' and 'playing with fire' over the Salisbury poisoning at a UN Security Council meeting. Former foreign secretary Sir Malcom Rifkind has accused Russia of an 'attempt to obfuscate'. The Times reports that British intelligence has identified the source of the nerve agent as Russia's Shikhany facility, in a briefing used to persuade allies that Russia was the source.
Lammy criticises Government over London murders
The Guardian reports that Labour MP David Lammy has accused the Prime Minister and Home Secretary of abdicating responsibility over a 'culture of violence that's now becoming endemic'. The Daily Telegraph says that Cressida Dick, the Metropolitan Police Chief Commissioner, has vowed to use Al Capone tactics to target violent gang members, while The Times claims that use of stop-and-search has fallen, despite Dick endorsing the tactic.
Labour warns that benefit changes may lead to vulnerable people struggling to pay mortgages
The BBC carries details of a warning by Labour that benefit changes may lead to vulnerable people struggling to pay their mortgage. Around 90,000 people on some benefits claim support for mortgage interest, but this is being replaced by Government loans from today.
Sugar tax on soft drinks comes into force
As the BBC reports, the sugar tax on soft drinks has come into force in the UK. Treasury estimates suggest that 50% of manufacturers have reduced sugar content ahead of the change, but some experts warned that consumer's response to the levy was uncertain. Public health Minister Steve Brine described the levy as 'a ground-breaking policy'.
Peers write to police to report antisemitic abuse
The Guardian says that a cross-party group of peers, including Lord Sugar, have written to the Metropolitan Police, reporting antisemitic abuse on pages backing Jeremy Corbyn. The Times adds that Joshua Garfield, a Jewish Momentum official in Newham, has quit his post after witnessing 'more antisemitism in the past week' than in eight years as a party member.
Justice Secretary on the side of homeowners who defend their property
According to The Daily Telegraph, Justice Secretary David Gauke has said that he is on the side of homeowners who defend their property, following the arrest of a pensioner on suspicion of murdering a man following a burglary. Former justice minister Mike Penning said that the decision appeared 'heavy-handed'.
Momentum founder outlines plans to make it easier to oust MPs
The Daily Mirror has obtained a recording of Momentum founder Jon Lansman, in which he outlines a plan to make it easier for Corbyn supporters to force out MPs who oppose the Labour leadership, and to curb the power of the unions. The Times reports that the party's new General Secretary Jennie Formby has placed two senior staff members, the head of the compliance unit and the secretary of the parliamentary party, on gardening leave.
Thirty organisations under investigation by ICO
The Daily Mail reports that thirty organisations, including Facebook, are being investigated by the Information Commissioner's Office as part of its probe into the use of personal data and analytics for political purposes. Other organisations include Cambridge Analytica and Aggregate IQ.
Learn more about what Vuelio political services could do for you.  
https://www.vuelio.com/uk/wp-content/uploads/2018/04/Russia-poisoning.jpg
430
760
Thomas Stevenson
https://www.vuelio.com/uk/wp-content/uploads/2019/09/vuelio-logo.png
Thomas Stevenson
2018-04-06 09:37:27
2018-04-06 10:14:59
Political Headlines - Russia, London murders, benefits and sugar tax