Political Headlines – police cuts, new centrist party, immigration and Badenoch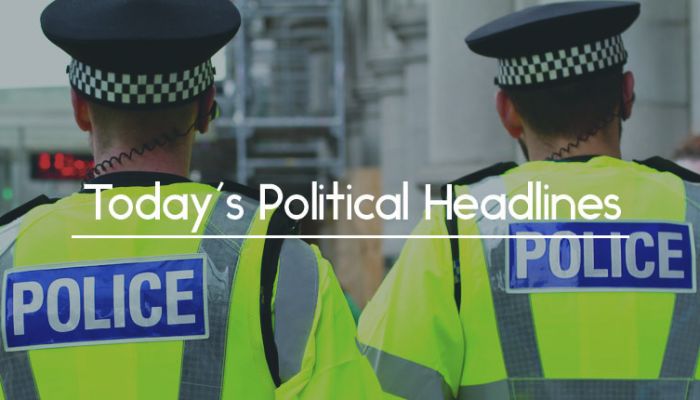 Today's Political Headlines include the leaked Home Office police cuts document, the new centrist party, criticism of the Government's immigration policy and Badenoch's apology to Harman over hacking.  
Leaked Home Office documents link violence increase to Government cuts
Leaked Home Office documents obtained by The Guardian reveal that Government cuts to the police 'may have encouraged' violent offenders and 'likely contributed' to a rise in serious violent crime. The paper adds that Jeremy Corbyn is to put increasing levels of violent crime and housing issues at the heart of Labour's local election campaign. Meanwhile, the i has details of a new Serious Violence Strategy, backed by £40m of funding, to be launched by Home Secretary Amber Rudd in a speech today.
Labour figures criticise new centrist party
The Times reports that senior Labour figures have criticised a new centrist political movement set up by former donor Simon Franks, with access to up to £50m. Lord Hattersley said that 'third parties all end in fiascos', while John McDonnell, the Shadow Chancellor, dismissed it as 'A party of the rich, by the rich, for the rich. A party for the few not the many'.
Report criticises Government's 'hostile environment' policy to immigration
A report by groups including Liberty, the National Union of Students and the Migrants Rights Network claims that the Government's 'hostile environment' policy towards immigration has encouraged 'discriminatory' and 'racist' behaviour, The Guardian says. The report asserts that the policy encourages discrimination against black and ethnic minority people and disproportionately affects people who are young, homeless, or on lower incomes.
Badenoch apologises to Harman over hacking
The BBC reports that Harriet Harman has accepted an apology from the Conservative MP Kemi Badenoch for hacking into her website over ten years ago. Badenoch became an MP last year and the Conservative Party's vice-chairwoman for candidates this January.
Outsourcing firms have wider gender pay gap than Government
A report in The Times claims that outsourcing companies used by the Government have worse gender pay gaps than the civil service. 18 out of the 27 'strategic suppliers' have wider disparities than the Civil Service. Shadow Cabinet Office Minister Jon Trickett said 'Public money should be used for the public good, not to hold people back.'
Housing Minister claims immigration increased house prices by 20% over 25 years
Housing Minister Dominic Raab has claimed that immigration has increased house prices by 20% over the last 25 years, The Times reports. He has passed his concerns to the Migration Advisory Committee, but according to the paper a leading expert has cast doubt on them and urged him to publish the Government's analysis.
Two thirds of child refugees questioned over age are actually adults
The Sun claims that an official report has revealed that two-thirds of child refugees quizzed over their real age are actually adults. Overall, one in seven refugees who arrive in the UK claiming to be under 18 are revealed to be adults following checks of documentation.
NHS spends £40m a year on useless back pain injection
The Times reveals that tens of thousands of patients a year are being given a useless injection for back pain, costing the NHS almost £40m, despite doctors having been told to stop using it. The health service has promised to crack down on use of the treatment.
Learn more about what Vuelio political services could do for you.  
https://www.vuelio.com/uk/wp-content/uploads/2018/04/Police.jpg
430
760
Thomas Stevenson
https://www.vuelio.com/uk/wp-content/uploads/2019/09/vuelio-logo.png
Thomas Stevenson
2018-04-09 08:41:18
2018-04-09 09:22:32
Political Headlines - police cuts, new centrist party, immigration and Badenoch