Political Headlines – Ryan quits Labour and Javid strips ISIS bride's citizenship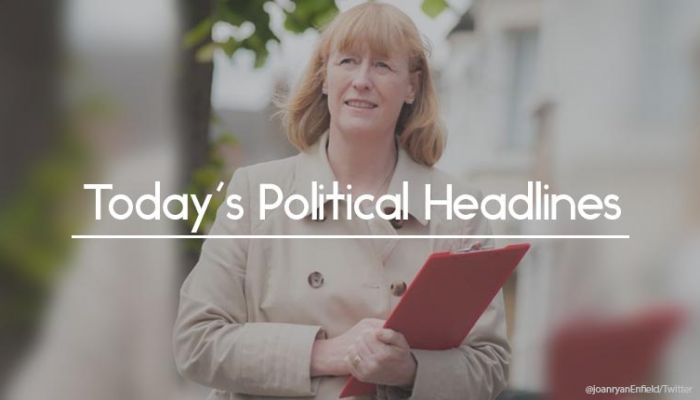 Today's political headlines include Ryan quitting the Labour party, Shamina Begum's family to sue the Home Office, Independent Group to announce first Tory defector within days and May to visit Brussels for Brexit talks. 
Ryan quits Labour citing antisemitism
The Times reports that Joan Ryan has now also resigned from the Labour Party to join the Independent Group. In an interview with the paper, she accused Jeremy Corbyn of 'presiding over a culture of antisemitism and hatred of Israel', adding that she couldn't 'be part of a party that allows racism to flourish'. Labour MP Ruth George has apologised after suggesting that it was 'possible' that the new group was being supported by Israel.
ISIS runaway's family to sue Home Office over loss of citizenship
The Daily Mail reports that the family of Shamina Begum, who fled the UK to join ISIS, are to take the Home Office to court after Home Secretary Sajid Javid said he would remove her British citizenship. While being left stateless is illegal, the Government believes that as Begum's mother was born in Bangladesh, she also has Bangladeshi citizenship.
Independent Group hopes to announce first Tory defector 'within days'
According to The Sun, the Independent Group hopes to unveil their first defector from the Conservatives 'within days', with talks taking place between Chuka Umunna, Chris Leslie and Tory backbenchers. It adds that either Heidi Allen or Sarah Wollaston might announce their defection before Prime Minister's Questions today.
May to visit Brussels for Brexit talks
The BBC reports that the Prime Minister is to visit Brussels today for continued Brexit negotiations, where she is expected to request a legally-binding assurance that the Irish backstop will not be indefinite. European Commission President Jean-Claude Juncker has warned that a 'breakthrough' should not be expected. The Times adds that Theresa May has told Brexiteers that the so-called 'Malthouse compromise' cannot be negotiated in time for 29 March, but that both sides had established a taskforce to work on it after the UK had left the EU, although she did not promise that it would be legally binding.
Brexit vote may be brought forward to next week
The Daily Telegraph suggests that Theresa May will bring forward the meaningful vote on her Brexit deal to next week, following revisions being approved by EU leaders at a summit in Egypt this weekend, allowing her to avoid mass resignations from ministers who want Brexit to be delayed if a deal is not reached.
Major warns that 'extremists' are manipulating both main parties
The Daily Telegraph says that Sir John Major has warned that moderate members of both the Conservatives and Labour are being sidelined while the parties are 'manipulated' by extreme fringes such as the European Research Group, which he described as a 'party within a party'. However, he also argued against establishing a new centrist party.
Report shows Universal Credit will boost incomes for almost 4m people
In an exclusive, The Sun reports that Work and Pensions Secretary Amber Rudd has welcomed a report from the Joseph Rowntree Foundation which shows that 3.9m working people will see their incomes increase by an average of £3,400 a year under Universal Credit. However, the report also shows that 1.7m people will be an average of £2,500 a year worse off, with Rudd promising to 'continue to make improvements to the system'.
Thinktank warns against Huawei
The Financial Times carries details of a new report by the Royal United Services Institute which warns that permitting Huawei to equip the UK's future 5G mobile networks would be 'naïve' and 'irresponsible', despite GCHQ's National Cyber Security Centre having concluded that the risks associated with Chinese influence can be mitigated.
Another resignation with more potentially to come. Stay on top of the latest announcements with Vuelio Political Services.
https://www.vuelio.com/uk/wp-content/uploads/2019/02/Joan-Ryan.jpg
430
760
Thomas Stevenson
https://www.vuelio.com/uk/wp-content/uploads/2015/10/vuelio-logo-transparent.png
Thomas Stevenson
2019-02-20 09:59:47
2019-02-20 10:03:09
Political Headlines - Ryan quits Labour and Javid strips ISIS bride's citizenship