Political Headlines – short notice evictions to be banned and Tory leadership contenders want May to stay for months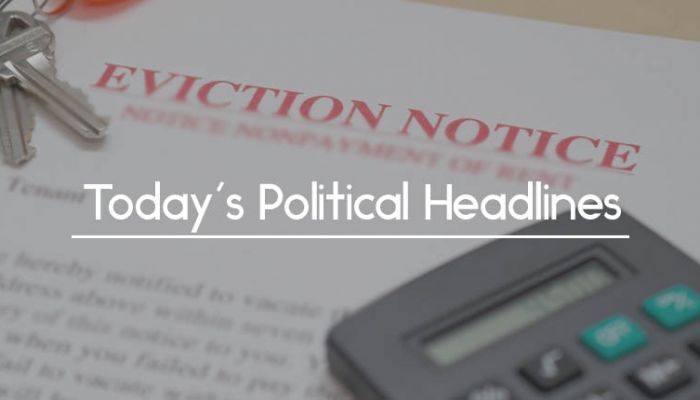 Today's political headlines includes short notice evictions to be banned, Leadership contenders want May to stay for months, Hammond mocks Brexiteer leadership campaigners and progress unlikely in Brexit talks. 
Short notice evictions to be banned
The Guardian says that housing campaigners have backed Government plans to ban 'no-fault evictions', with a consultation on abolishing 'section 21 evictions' which allow landlords to evict tenants at short notice and with no good reason. The Government says that this is one of the main causes of family homelessness, and Theresa May said the change 'will not only protect tenants from unethical behaviour, but also give them the long-term certainty and the peace of mind they deserve.' The news was welcomed by Shelter but the Residential Landlords Association warned that it could result in fewer homes being available to rent.
Leadership contenders want May to stay for months
According to The Times, Cabinet contenders for the leadership want Theresa May to stay in place until the first stage of Brexit is completed, even if this takes until the end of the year. They fear that a summer leadership content would aid those, such as Boris Johnson and Dominic Raab, who want to reopen the Brexit deal. However, former leader Iain Duncan Smith yesterday called on May to step down by the end of June.
Hammond mocks Brexiteer leadership campaigners
The Daily Telegraph says Chancellor Philip Hammond used a speech in Washington to mock Brexiteer candidates in the last Conservative leadership election, saying Boris Johnson and Michael Gove formed an 'unintended suicide pact' while Andrea Leadsom had a 'private suicide pact'. He also joked he was the only Tory MP not running for leader and that if a no-deal Brexit had happened he would have been visiting as the 'designated survivor'.
Progress unlikely in Brexit talks unless red line shifts
The Guardian has been told by 'sources close to the talks' between Labour and the Government over Brexit that further advances are unlikely unless the Government's red line over a customs union with the EU moves. Cabinet Office Minister David Lidington said 'there is going to have to be movement on both sides'. Three working groups are to be established next week, covering security, environmental protection and consumers' and workers' rights.
Corbyn links youth service cuts to crime
The Daily Mirror reveals that Jeremy Corbyn will use a visit to an educational activity centre in Yorkshire to claim that the Conservatives have cut council spending in youth services by 70% since 2010. He will warn that 'these cuts are creating the conditions in which crime can thrive' and pledge to legislate 'to guarantee quality youth services'.
NHS giving doctors cash to avoid early retirements
The Financial Times says that there is a 'growing staffing crisis' in the NHS, with the service topping-up doctors' salaries with cash to help them avoid higher taxes as a result of stricter pension rules which have led many staff to take early retirement or to reduce the hours they are working. The paper warns that this 'threatens to undermine the multibillion-pound funding injection' announced by Theresa May last year.
Javid to make 'veiled leadership pitch'
The Daily Telegraph reports that Home Secretary Sajid Javid is to make a speech on crime today, which it describes as a 'veiled leadership pitch'. He will say that 'we cannot afford to leave anyone behind' and advocate a 'public health' approach to tackling knife crime, coordinating teachers, medical professionals and other branches of Government.
Lammy criticised over 'Nazi' remarks
The Times says that Labour MP David Lammy has been criticised after he compared Conservative Brexiteers to Nazis yesterday, saying that they should not be 'appeased'. He said the 'BBC should not allow this extreme hard-right fascism to flourish', but Conservative MP Conor Burns suggested that Lammy had 'lost it'.
Domestic policy is back on the agenda, stay up to date with what matters to you – get Vuelio Political Services.  
https://www.vuelio.com/uk/wp-content/uploads/2019/04/Eviction-notice.jpg
430
760
Thomas Stevenson
https://www.vuelio.com/uk/wp-content/uploads/2019/09/vuelio-logo.png
Thomas Stevenson
2019-04-15 09:47:38
2019-04-15 09:47:38
Political Headlines - short notice evictions to be banned and Tory leadership contenders want May to stay for months