Political Headlines – 3,000 apply to be Change UK MEP candidates and Javid's close call with a 'life of crime'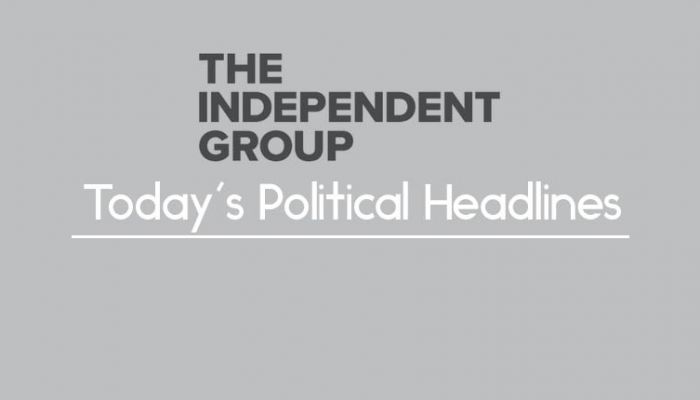 Today's political headlines includes thousands applying to be Change UK MEP candidates, Tories worrying about leadership contest, Javid's close brush with a life of crime and climate change protesters closing down parts of London. 
Over 3,000 people want to be Change UK MEP candidates
According to The Times, over 3,000 people have applied to stand as candidates for Change UK at the European elections. Its MPs are working through the applications and will pick candidates from a shortlist of 100 at the weekend. Meanwhile, Foreign Secretary Jeremy Hunt has admitted that the elections will be 'disastrous' for the Conservatives, with the paper adding that they have yet to make various key campaign decisions.
Tories worry about leadership contest
The Sun reveals that 'senior Tories' are worried that their party is being infiltrated by Brexit activists hoping to influence the elections for its new leader. Membership has grown by 30,000 over the last year, reaching a total of over 150,000 – the highest in at least seven years. Some of this has been attributed to a recruitment drive, but others are thought to be both former UKIP members and remainers, who want to vote in a leadership contest.
Javid says he could have embarked on life of crime
The Daily Telegraph reports that Home Secretary Sajid Javid admitted in a speech yesterday that he could have entered a life of crime, having been brought up on 'the most dangerous street in Britain', and that he was worried about the safety of his children, staying 'up late at night waiting to hear the key turning in the door'. He said that the Government needed to change its 'mindset' to 'stop the violence before it begins'.
Climate change protesters close roads in capital
The Financial Times reports that Extinction Rebellion, the environmental activist group, shut down four roads in London yesterday, including Waterloo Bridge and Oxford Circus, as part of its bid to draw attention to climate change. It said it would try to keep the roads blockade for 'as long as possible', unless the Government would agree to talks. It wants a climate emergency to be declared, zero greenhouse emissions by 2025 and a citizen's assembly to discuss climate issues.
Government under pressure to end Brexit talks
The Guardian claims that the Government is feeling under pressure to end its talks over Brexit with Labour and move on to its alternative, finding a compromise in the Commons through a series of votes or amendments to the withdrawal bill. Theresa May's former advisor Nikki da Costa suggested that doing this before the European elections would need 'a level of legislative aggression' this Government had not displayed so far.
German foreign minister warns Brexit won't be delayed after October
Germany's Foreign Minister Heiko Maas has used an interview with the Financial Times to warn that Brexit will not be delayed after October, saying that 'they will have to decide what they want' as 'you cannot drag out Brexit for a decade'. He added that a further extension might be interpreted as a 'signal that they plan to stay in the EU after all'.
Corbyn defends Begum's right to legal aid
The Guardian says that Jeremy Corbyn has defended Shamima Begum's right to legal aid. Begum, who left the UK to join ISIS, may be applying for the funding to challenge the Government's decision to strip her of her British citizenship in the courts. Corbyn said 'she has legal rights, just like anybody else does' and being represented in court was 'a fundamental point in any democratic society.'
Labour suspends council candidate for sharing antisemitic conspiracy theories
The Daily Telegraph says that Labour has suspended a council candidate in Brighton and Hove after the paper revealed that she had posted 'highly offensive' conspiracy theories about the Rothschilds and Israel online. The party refused to comment on the case, while the candidate, Alexandrina Braithwaite, said she was 'sorry for the offence I have caused.'
Are you in the loop? Make sure you don't miss anything with Vuelio Political Services.  
https://www.vuelio.com/uk/wp-content/uploads/2019/04/Independent-Group.jpg
430
760
Thomas Stevenson
https://www.vuelio.com/uk/wp-content/uploads/2019/09/vuelio-logo.png
Thomas Stevenson
2019-04-16 09:22:32
2019-04-16 09:22:32
Political Headlines - 3,000 apply to be Change UK MEP candidates and Javid's close call with a 'life of crime'