Political Headlines – Corbyn will abolish SATs and Tories plot against May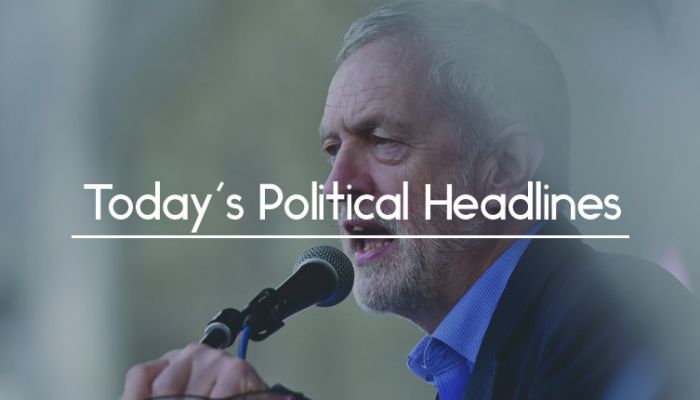 Today's political headlines includes Corbyn's promise to abolish SATs, Corbyn's warning, Tory chairs plotting against May and Burgon regrets his Zionism remarks. 
Corbyn promises to abolish SATs
The Times says that Jeremy Corbyn has promised to abolish the SATs exams sat by primary school children in a bid to tackle the 'extreme pressure' on teachers and pupils. They would be replaced by a more flexible system, which Labour will consult on over the summer. However, the Conservatives have said that this would be a 'retrograde' move which would 'keep parents in the dark'.
Corbyn warns that Government inflexibility is stalling Brexit talks
The Guardian reports that Jeremy Corbyn has said that talks over Brexit between Labour and the Government are stalling because of the Government's plans for deregulation and a trade deal with the USA after Brexit. He said he didn't want a 'deregulated, low-tax society' and hinted that he would rather hold binding Indicative votes in the Commons.
Tory chairs plot no confidence vote in May
The Daily Telegraph claims chairs of local Conservative associations are circulating a petition asking the party's National Convention to call an emergency general meeting at which a vote of no confidence in Theresa May would be held. The party is obliged to hold the meeting if over 65 chairs sign the petition; between 40 and 50 are believed to have done so. Such a vote would not force May to resign, but it would put pressure on her.
Burgon regrets Zionism remarks
The Guardian says that the Shadow Justice Secretary Richard Burgon has expressed regret after a video of him saying 'Zionism is the enemy of peace' emerged. He had previously denied making such a remark, but when the evidence emerged said that 'it is now clear that I did and I regret doing so'. The Jewish Leadership Council called for a 'full apology'.
Javid reviews disclosure of criminal records
The Daily Telegraph reports that Home Secretary Sajid Javid is reviewing the rule which means that anyone with more than one criminal conviction will automatically have them disclosed to prospective employers for the rest of their lives. He wants to give juvenile criminals a second chance, but victims' rights groups have raised concerns.
Electoral Commission approves Change UK's application
The Times reports that the Electoral Commission has approved a request from The Independent Group of breakaway MPs to register a new political party under the name of Change UK ahead of next month's European elections. However, the new party's proposed logo has been rejected as it was 'likely to mislead voters'.
Candidate in Tory video accused of selling fake wine
The Daily Mirror says that Gurch Singh, a council candidate in Theresa May's constituency who appeared in the Conservatives' most recent election broadcast ran a shop which had additional conditions placed on its licence after it was found to be stocking counterfeit wine and selling alcohol to under-age children. Singh said that the wine came from a reputable supplier and that the only proof of the sales to children came from an anonymous complaint.
Westminster at risk of Notre Dame style fire
The Sun reports that Labour MP Chris Bryant has warned that the Palace of Westminster could be ravaged by fire if a further two year delay to restoration work goes ahead. Under the revised plans work would not start until 2028. Bryant said 'Parliament has become a potential death trap of catastrophic proportions because we have allowed years of neglect.'
Up to date with education policy? What about Brexit? Crime? Change UK? You need Vuelio Political Services.  
https://www.vuelio.com/uk/wp-content/uploads/2018/06/Jeremy-Corbyn-mic.jpg
430
760
Thomas Stevenson
https://www.vuelio.com/uk/wp-content/uploads/2019/09/vuelio-logo.png
Thomas Stevenson
2019-04-17 09:19:55
2019-04-17 09:19:55
Political Headlines - Corbyn will abolish SATs and Tories plot against May