Political Headlines – the NHS's ten-year plan and Brexit latest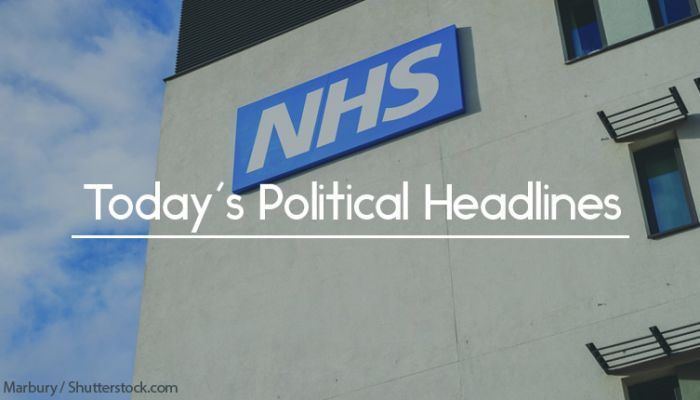 Today's political headlines include the NHS ten-year plan, May's 2021 deadline request, MPs in a move to rule out a no-deal Brexit and the Common Market 2.0. 
NHS to announce ten-year plan
The BBC reports that the NHS's ten-year plan is to be announced later today, and that a focus on prevention could lead to 500,000 lives being saved. The greatest rises in funding will be seen by GPs, mental health and community care in an attempt to reduce dependence on hospitals, with NHS England Chief Executive Simon Stevens describing it as a 'practical, costed and phased route map'.
May to request 2021 deadline from EU
The Times says that Theresa May is to ask the EU for a 2021 deadline for the final Brexit agreement, which is one of three elements of a package designed to reassure those worried about the Northern Ireland backstop. She used an appearance on The Andrew Marr Show to warn that if her deal was rejected by MPs, the country would be in 'uncharted territory'.
Over 200 MPs sign cross-party letter calling on May to rule out no-deal Brexit
The BBC says that over 200 MPs have signed a cross-party letter calling on Theresa May to rule out a no-deal Brexit. The letter, organised by Tory MP Dame Caroline Spelman and Labour MP Jack Dromey, warns of job losses as a result of no-deal Brexit, and its signatories have been invited to meet May tomorrow.
Halfon and Powell propose 'Common Market 2.0'
The Daily Telegraph reports that Tory MP Robert Halfon and Labour MP Lucy Powell have co-authored 'Common Market 2.0', a new Norway-style proposal for the future relationship between the UK and the EU. The plan would see the UK continue to follow single market rules, but make greater use of ways to reduce immigration, and see the country leave the jurisdiction of the European Court of Justice, the Common Agricultural Policy and the Commons Fisheries Policy.
Cross-party effort to stop no-deal Brexit
The Times says that a cross-party effort to prevent a no-deal Brexit has begun, with MPs including Yvette Cooper and Nicky Morgan tabling an amendment to the Finance Bill, allowing ministers to change taxes after Brexit, only if Parliament has votes for one of a deal, no-deal, or an extension to Article 50. It is unclear if the Speaker, John Bercow, will select the amendment to be voted on by MPs.
Rudd delays Universal Credit rollout
The Financial Times reports that Work and Pensions Secretary Amber Rudd has delayed the rollout of Universal Credit to a further three million claimants. Instead, she will seek the approval of the House of Commons to move 10,000 claimants to a pilot scheme, which will be monitored.
Villiers accuses BBC of bias
According to The Sun, the BBC is being accused of bias by former cabinet minister Theresa Villiers because it refers to a no-deal Brexit using terms such as 'cliff edge' and 'crashing out'. She has written to BBC Director-General Lord Hall to demand the use of more neutral language.
Former minister compares social care treatment of the elderly to 'Amazon parcels'
The Daily Telegraph reports that former pensions minister Baroness Ros Altmann has claimed that council-funded social care in the home treats elderly people like 'Amazon parcels' and that care workers are low paid and under 'enormous pressure'. She also suggested that the recent 'sudden deterioration in mortality' was related to cutbacks in elderly care'.
Find out the latest from the world of politics with Vuelio Political Services.
https://www.vuelio.com/uk/wp-content/uploads/2018/06/NHS.jpg
430
760
Thomas Stevenson
https://www.vuelio.com/uk/wp-content/uploads/2019/09/vuelio-logo.png
Thomas Stevenson
2019-01-07 10:32:57
2019-01-07 10:33:35
Political Headlines - the NHS's ten-year plan and Brexit latest