Political Headlines – UK officials sound out EU about extending Article 50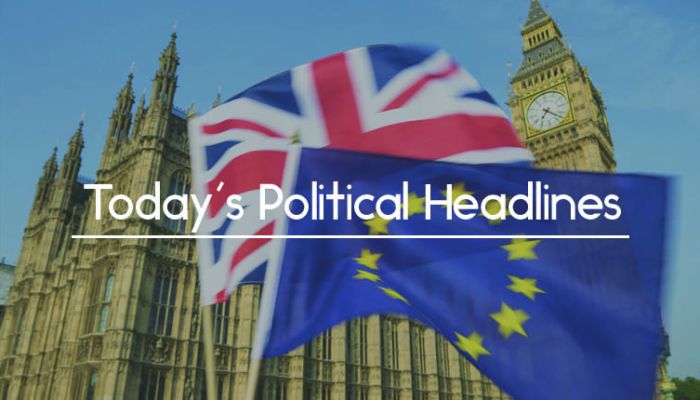 Today's political headlines include UK officials attempting to extend Article 50, Skype appointments with your doctor, new social homes needed and the Brexit latest. 
UK officials sound out EU about extending Article 50
According to The Daily Telegraph, UK officials have been sounding out their EU counterparts about the possibility of extending Article 50, although one source described this as just officials 'doing their homework'.  Digital Minister Margot James yesterday admitted that Article 50 might needed to be extended if Theresa May lost the vote on her Brexit deal, although 10 Downing Street denied this.
More patients to have Skype appointments, while NHS targets will be relaxed
The Times reports on yesterday's NHS long-term plan, highlighting the news that 30m hospital visits a year will be avoided by using Skype, smartphones and other forms of technology, reducing face-to-face consultations by a third. However, The Guardian claims that the NHS leadership is 'preparing to risk a backlash' by relaxing waiting time targets, such as dealing with patients in A&E within four hours, following a clinical review that is due to report in the spring.
Cross-party call for 3m new social homes by 2040
The Guardian carries details of a new report by a cross-party on social housing commissioned by the charity Shelter. It claims that over 3m new social homes are needed by 2040, at a cost of up to £225bn. However, economic modelling suggests that this investment would be repaid within 40 years. Ed Miliband, one of the commissioners, said that the Government needed to 'act now', while Baroness Warsi described the report as 'a vital opportunity'.
Cabinet ministers to urge May to 'play hardball' with EU
The Times claims that cabinet ministers will today urge Theresa May to 'play hardball' with the EU and give MPs a chance to vote on the deal with conditions attached, including Parliament having to approve entering the backstop. However, the paper adds that 'Downing Street figures' are sceptical that this would change the EU's position on the deal.
MPs seek to curb UK powers in no-deal Brexit scenario
The BBC reports that MPs who want to block the UK from leaving the EU without a deal are putting forward an amendment to the Finance Bill later today, which will limit the Government's financial powers in a no-deal Brexit scenario. International Trade Secretary Liam Fox claimed that the amendment was 'irresponsible', but business minister Richard Harrington said that he was prepared to resign to stop a no-deal Brexit.
Grayling seeks legal changes to tackle drones
The Daily Telegraph says that Transport Secretary Chris Grayling is seeking to change the law to give police and airports powers to tackle drones, allowing officers to rapidly respond to drone attacks. He also plans to expand no-fly zones around prisons and airports, following the recent shutdown of Gatwick Airport following sightings of a drone.
MPs raise concerns about abuse outside Parliament
The BBC reports that over 50 MPs have written to Cressida Dick, the Metropolitan Police Commissioner, to raise 'serious concerns' about the 'deteriorating public order and security situation' outside Parliament. Conservative MP Anna Soubry was verbally abused by protestors, including being called a 'liar', a 'Nazi' and 'scum' while giving TV interviews.
No-deal checks at Dover could lead to 'permanent gridlock'
The Financial Times has obtained analysis produced for the Government by UCL which shows that if new customs checks at Dover were introduced following a no-deal Brexit, a 70-second delay to each vehicle would lead to six-day queues for ferries, while an 80-second delay would lead to a 'no recovery' scenario with 'widespread permanent gridlock'.
Brexit, healthcare and social housing – just three topics Vuelio Political Services covers for clients every day.
https://www.vuelio.com/uk/wp-content/uploads/2018/07/Brexit-parliament-flags.jpg
430
760
Thomas Stevenson
https://www.vuelio.com/uk/wp-content/uploads/2019/09/vuelio-logo.png
Thomas Stevenson
2019-01-08 11:13:11
2019-01-08 11:13:11
Political Headlines - UK officials sound out EU about extending Article 50